Under the terms of the development agreement for the West Bedford Sub-area 7 Subdivision, gravel trails will be built and connected to an existing trail along Black Duck Brook, offering opportunities for local daily walking activities. The trails will also provide access to the municipally-owned lands surrounding Hobsons Lake and the Blue Mountain-Birch Cove Lake Wilderness Area. In addition, a trailhead area has been reserved along Brookline Drive.
The municipality is interested in hearing how this trailhead might impact how people enter the Blue Mountain-Birch Cove Lakes area, via the survey link below. The information gathered from this engagement will be incorporated into a future report to Regional Council. The survey will be open to the public until March 5, 2021. 
A few points of information before providing responses to the survey: 
The trailhead will be located off Brookline Drive. The property is currently privately owned and is not publicly accessible at this time. The municipality will obtain the trailhead parcel as the subdivision is developed. The municipality will be responsible for completing the trailhead, which will be able to accommodate approximately 55 cars, and any amenities. Although not necessarily planned at this time, the parcel will have the capability of accommodating a washroom or drinking fountain.
The trailhead will be connected to gravel walking trails that are anticipated to be used for daily walking activities. From these gravel trails, there are opportunities to access the greater Blue Mountain-Birch Cove Lakes area. The distance to Hobsons Lake is approximately 800 metres and is uphill.
Recognizing the possible interest in accessing the greater Blue Mountain-Birch Cove Lakes area, the municipality has planned a trail route to Hobsons Lake. This is envisioned as a backcountry trail that has considered factors such as topography, environmental features, and surrounding developed areas. A broader review of other possible trails is to be the subject of future planning.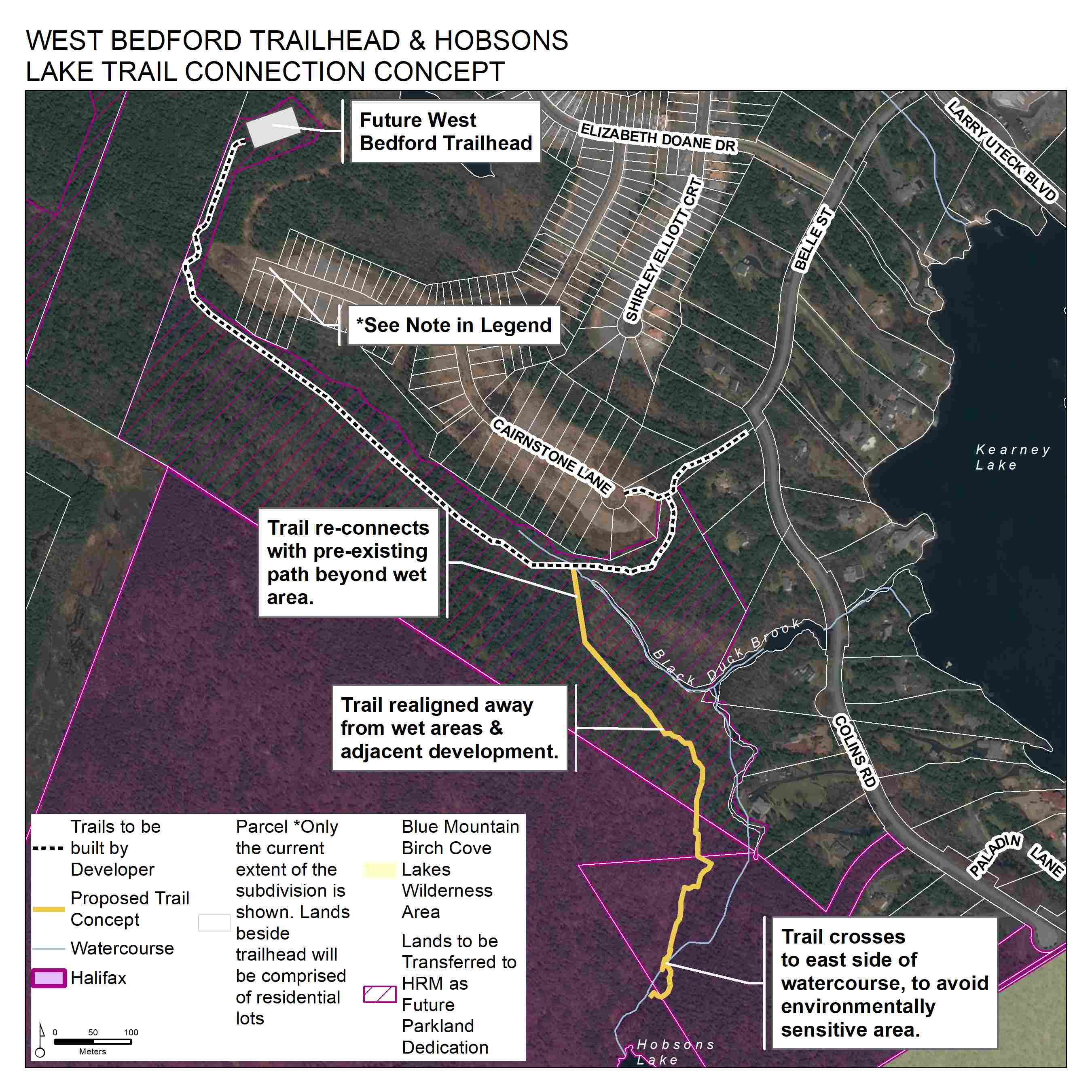 If you have additional questions or comments, you can contact Douglas Reid (reiddo@halifax.ca) or Penelope Kuhn (kuhnp@halifax.ca) at Parks & Recreation. The survey questions take approximately 5 minutes. Space is also provided for any additional comments.
 

The municipality is also engaging residents who live in West Bedford on the development of parks within the community. That engagement is purposefully separate to this survey. You can learn more about the West Bedford Park Planning exercise here.