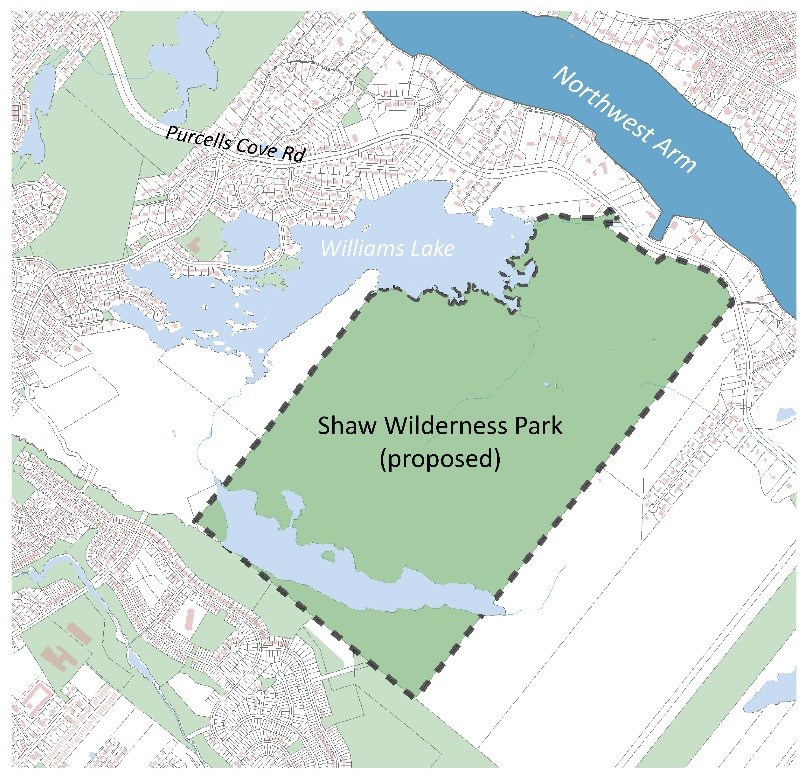 Halifax Regional Council has tentatively agreed to purchase lands from Clayton Developments (Shaw Group) and enter into a conservation easement agreement with the Nature Conservancy of Canada (NCC) to establish a wilderness park in the Williams Lake area of Halifax.
The agreement is subject to public consultation, the development of a suitable park entrance, and NCC fundraising.
The Lands
The lands are recognized for their natural attributes, which include rare vegetation and important habitats. They also have historical/cultural values and are already used for recreational purposes, including hiking and access to Williams Lake.
Details of the Proposal
The municipality will purchase the lands for $6.6 million
NCC will acquire a conservation easement, for which it will pay the municipality $2.5 million
The conservation easement will place limitations on the future use of the lands, largely to maintain them in their natural state
The lands are to be named "Shaw Wilderness Park"
NCC will be fundraising from the public to assist with its acquisition of the conservation easement, which may include donor recognition in the park and the naming of some of its features
Maintenance of the dam at Williams Lake will not be assumed by either the municipality or NCC, as it has been the subject of community-led initiatives
Public Information Meeting
A public information meeting is being held on Thursday, October 5, 2017 at 6:30 p.m. at the Captain William Spry Community Centre, 16 Sussex Road, Halifax.
The purpose of the meeting is to receive feedback regarding the proposal to establish the park. Parks and Recreation staff will be present to provide an overview. The meeting is open to anyone who wishes to learn about the proposal and/or express any comments. Minutes from the meeting will be included in a staff report to Regional Council.
Public Hearing
As noted above, there are a number of conditions that needs to be fulfilled before Regional Council agrees to purchase the lands. One of these is the requirement for public hearing, in addition to the public information meeting, for the conservation easement to NCC for $2.5 million, as this is viewed as being a less-than-market value. This webpage will be updated with notification of such a public hearing.
Contact
For further information about the proposal, please contact Richard Harvey, Manager of Policy and Planning, Parks and Recreation:
 902.476.5822
harveyri@halifax.ca
Halifax Regional Municipality
P.O. Box 1749
Halifax, Nova Scotia
B3J 3A5