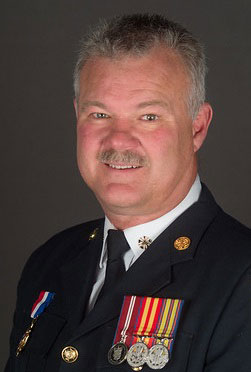 Kenneth (Ken) W. Stuebing, BHSc, Fire Chief
Fire Chief Ken Stuebing is a natural communicator who focuses on breaking down silos to improve transparency, collaboration, respect and trust to help his teams create a safer community for all citizens. His strong track record of overcoming challenges, inspiring a vision and cultivating strong relationships with partners—often within stressful events and environments—reflects a career built on accomplishing organizational goals and objectives.
He has a distinct leadership perspective of international, regional and local expertise, which is helping advance important relationships within the service and with the stakeholders and communities it serves.
Chief Stuebing started his role at HRFE on October 30, 2017 after arriving from his previous position as the Fire Paramedic Chief of Chatham-Kent Fire and Emergency Services. He holds a Bachelor Degree in Health Sciences with Charles Stuart University in Australia, a Masters Certificate in Municipal Leadership with Schulich (York University), in Toronto, a Diploma from Seneca College and Certificate from Conestoga College in Aeromedical and Ambulance & Emergency Care respectively.
He has over 33 years of experience working with both career and volunteer emergency services including small urban, rural and metropolitan communities across Canada, and has a successful track record in managing both Fire and EMS environments. He also served as research coordinator with Sunnybrook and the Research Outcome Consortium (ROC). 
For the past six years, Chief Stuebing has served on the Board of Directors with the Canadian Association of Fire Chiefs (CAFC) and he also represents the Canadian fire service as a director on the International Association of Fire Chiefs (IAFC) board.