Garbage/Green Cart/Recyclables Collection Day Change
Notice:
Portion of Halifax Armdale Area
Effective Wednesday, April 14, 2021 and thereafter, those areas described below will receive garbage, organics, and recyclables collection on a new day.
The following areas/streets, currently receiving collection on FRIDAY will receive collection services on WEDNESDAY, started Wednesday, April 14, 2021:
 
South side of St. Margaret's Bay Rd from Roundabout to Dunbrack St and side streets to the south
Quarry Rd
Walsh Ct
Herbert Rd
Fenwood Rd
Shady Ln
Crescent Ave
Cottage Rd
Bakers Dr
Alderwood Dr
Ferndale Dr
Balcomes Dr
Hart Rd
Fairmount Rd
Birches Dr
Stone Gate Dr
Walter Havill Dr
Ridgepark Ln
Ridgestone Ct
Alton Dt
Glenmore Ave
Kelly St
Brewer Ct
Both sides of Herring Cove Rd from Roundabout south to Osborne St
Both sides of Purcell's Cove Rd from Herring Cove Rd to Anchor Dr
Halef Ct
Stonehaven Rd
Edgehill Rd
Lynn Rd
Bermuda Ave
Elizabeth Dr
Melwood Ave
Lawnwood Ave
Lawnwood Ext
Windmere Rd
Armshore Dr
Forrest Ave
Keddy Rd
Sullivan Ter
Spinnaker Dr
Anchor Dr
Both sides of Osborne St from Herring Cove Rd to Dunbrack St
Trimble Ct
Bald Eagle Pl
Pineridge Dr
Please refer to the map below to verify if your street is in the affected area (unshaded portion of the map).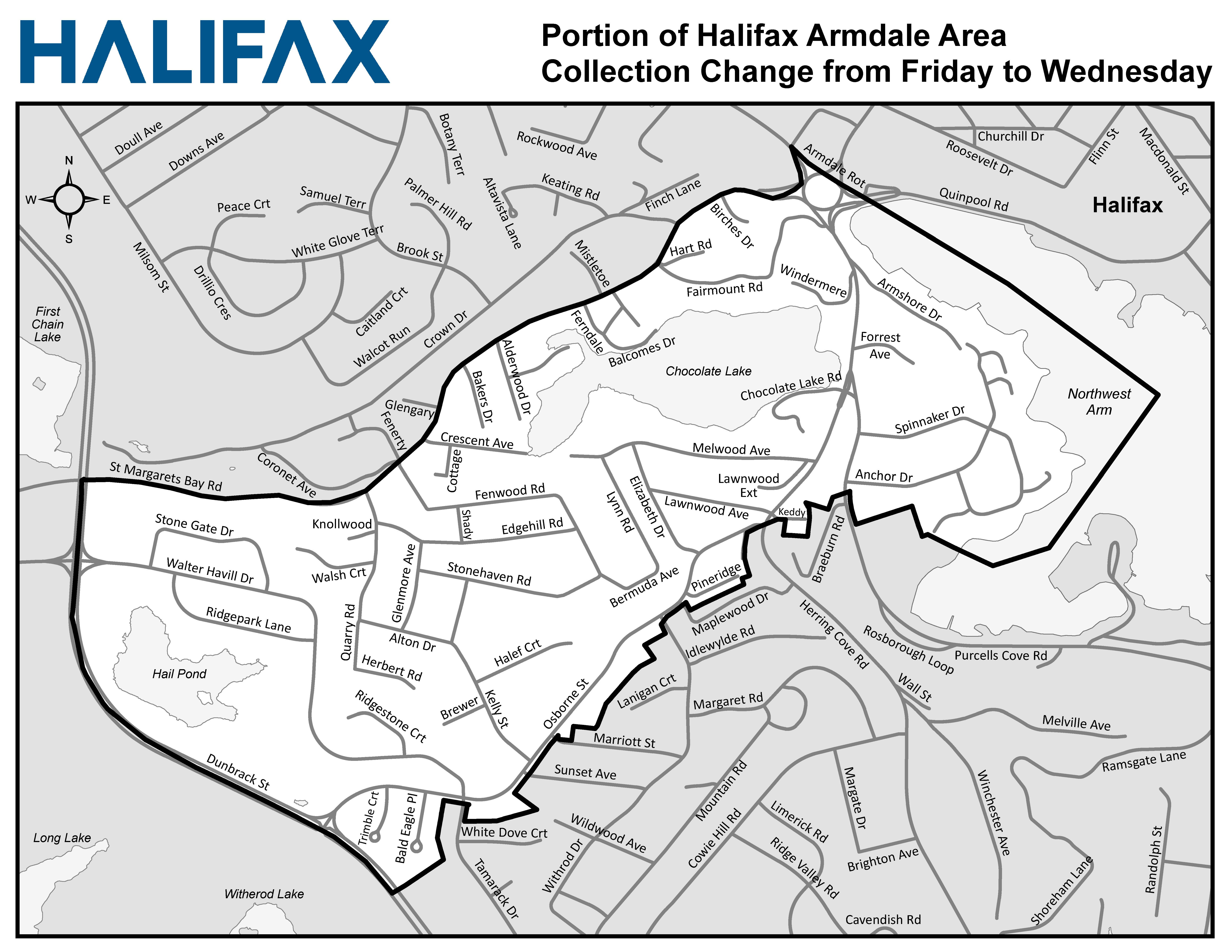 Collection will occur as usual on Friday, April 9 (garbage/recyclables). The next collection for the area as noted will be Wednesday, April 14 (green cart/recyclables).
Your new collection day will be WEDNESDAY
Please be advised that collection times will be subject to change. To ensure collection, please place your materials curbside for 7:00 a.m.
This change is necessary to enhance to the timeliness of the municipal collection service and to balance the number of households serviced on each collection day. If you have received a notice regarding this change and your street is not indicated in the affected area, you may contact one of the numbers listed below. We apologize for any inconvenience.
If you require further clarification, please contact Customer Service:
ReGroup - 902-864-8822
Customer Contact Center at 3-1-1