Garbage/Green Cart/Recyclables Collection Day Change
Notice:
Portion of Halifax Peninsula
Effective Tuesday, April 13, 2021 and thereafter, those areas described below will receive garbage, organics, recyclables collection on a new day.
The following areas/streets, currently receiving collection on WEDNESDAY will receive collection on TUESDAY, starting Tuesday, April 13, 2021:
North side of Bayers Rd from Barnstead Ln east to Windsor St, including side streets to the north of Bayers Rd
North portion of Romans Ave
Federal Ave
St. Andrews Ave
Chisholm Ave
McAlpine Ave
Micmac St
Huron St
Micmac Ct
Regent Rd
Connaught Ave from Bayers Rd north to Windsor St
Chester Ave
Edgewood Ave
South side of Windsor St from Connaught Ave to Bayers Rd
Roslyn Rd
Glendale Rd
Beresford Rd
Portion of Connolly St north of Bayers Rd
Portion of Oxford St north of Bayers Rd
Cloverdale Rd
Dudley St
Warren St
Claremont St
Stanbury St
Maxwell St
Ashton Ln
Please refer to the map below to verify if your street is in the affected area (unshaded portion of the map).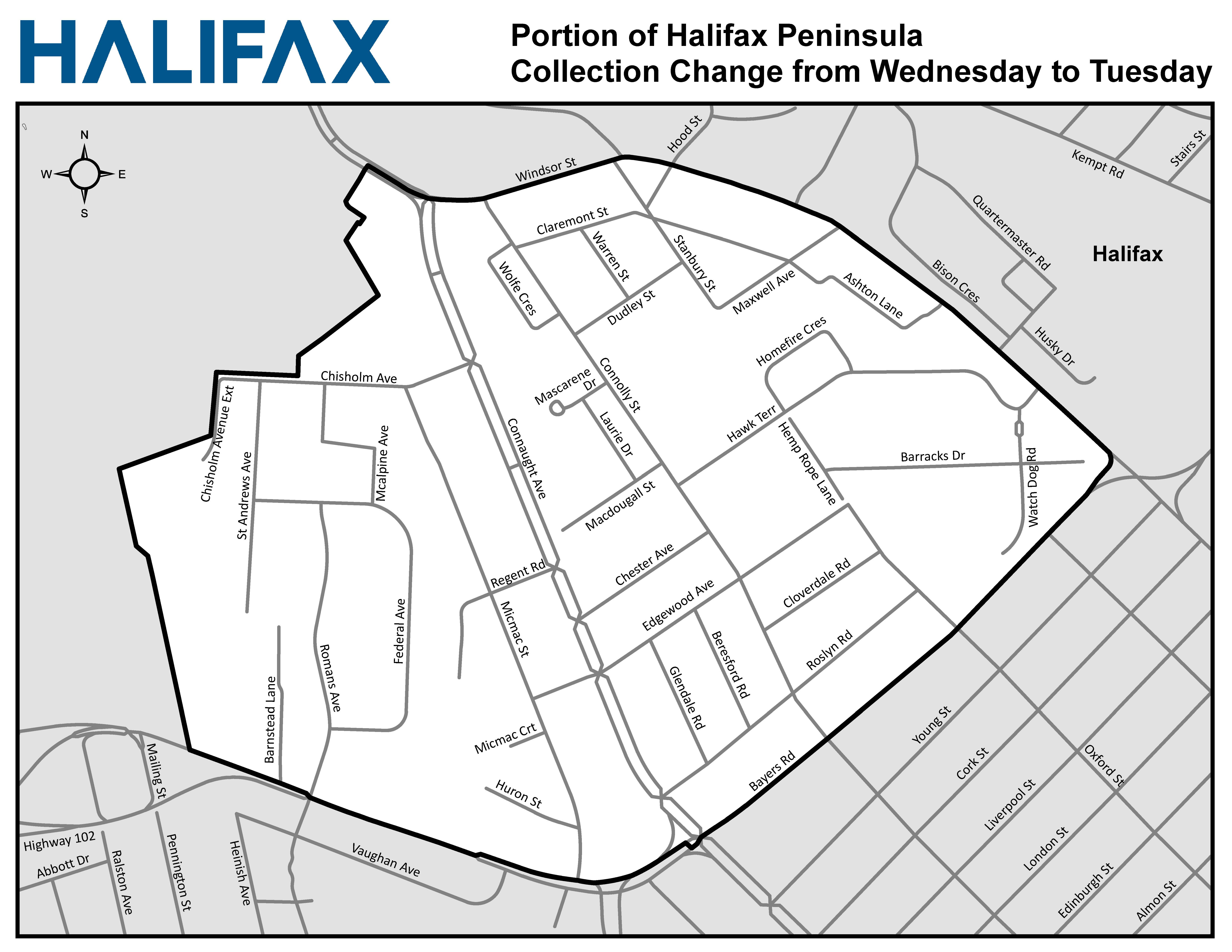 Collection will occur as usual on Wednesday, April 7 (garbage/recyclables). The next collection for the area as noted will be Tuesday, April 13 (organics/recyclables).
Your new collection day will be TUESDAY.
Please be advised that collection times will be subject to change. To ensure collection, please place your materials curbside for 7:00 a.m.
This change is necessary to enhance to the timeliness of the municipal collection service and to balance the number of households serviced on each collection day. If you have received a notice regarding this change and your street is not indicated in the affected area, you may contact one of the numbers listed below. We apologize for any inconvenience.
If you require further clarification, please contact Customer Service:
ReGroup - 902-864-8822
Customer Contact Center at 3-1-1