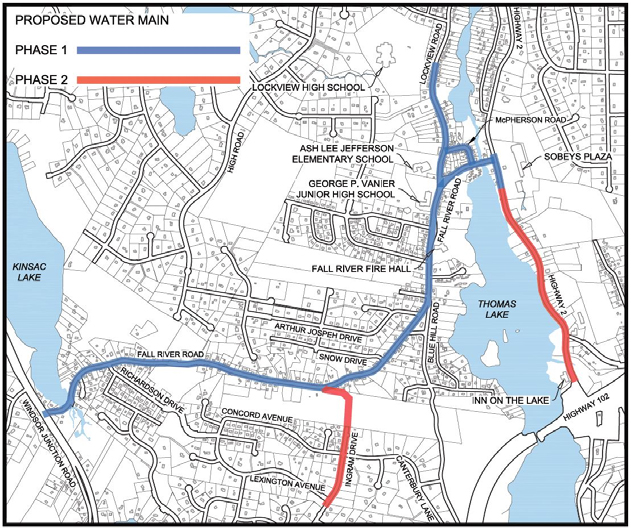 Project overview
Water service is being extended to the community of Fall River through a project partially funded through the Clean Water and Wastewater Fund (CWWF) program. The CWWF Program is funded by Infrastructure Canada and the Province of Nova Scotia. A portion of the project will be funded through a Local Improvement Charge (LIC) administered by the Halifax Regional Municipality. Phase 1 of construction will take place on Fall River Road from Windsor Junction Road to Highway #2, McPherson Road, Lockview Road to the High School, and a small portion of Highway #2 near Fall River Road. Each property will be serviced with a water pipe lateral to their property line.
If your property is along the Phase 1 route or the Phase 2 route, we will place a stake on your property where the proposed location for the water service pipe will be installed. Site representatives from the consultant or contractor will meet with each owner to confirm the location for the service pipe prior to installation. Please contact Alicia Crossland at DesignPoint Engineering & Surveying Ltd. by email alicia.crossland@designpoint.ca or phone 902‐452‐2412 to arrange a meeting with a site representative to discuss the stake locations for service laterals.
Project timing
The project has been awarded to Dexter Construction Company Limited. Construction. Phase 1 began in the Fall of 2017 and will continue through the Summer of 2018. Phase 2 work will start in June 2018 and continue into the Fall of 2018.
What to expect
The contractor will have heavy equipment on the roads for pipe installation. Traffic will at times be delayed as the roads could be down to one lane in the areas of work. Dust and noise is part of heavy civil construction. The contractor will make every effort to minimize impacts.