Halifax Water's website has moved.
This page may be outdated. To visit this page on the new HalifaxWater.ca, click here.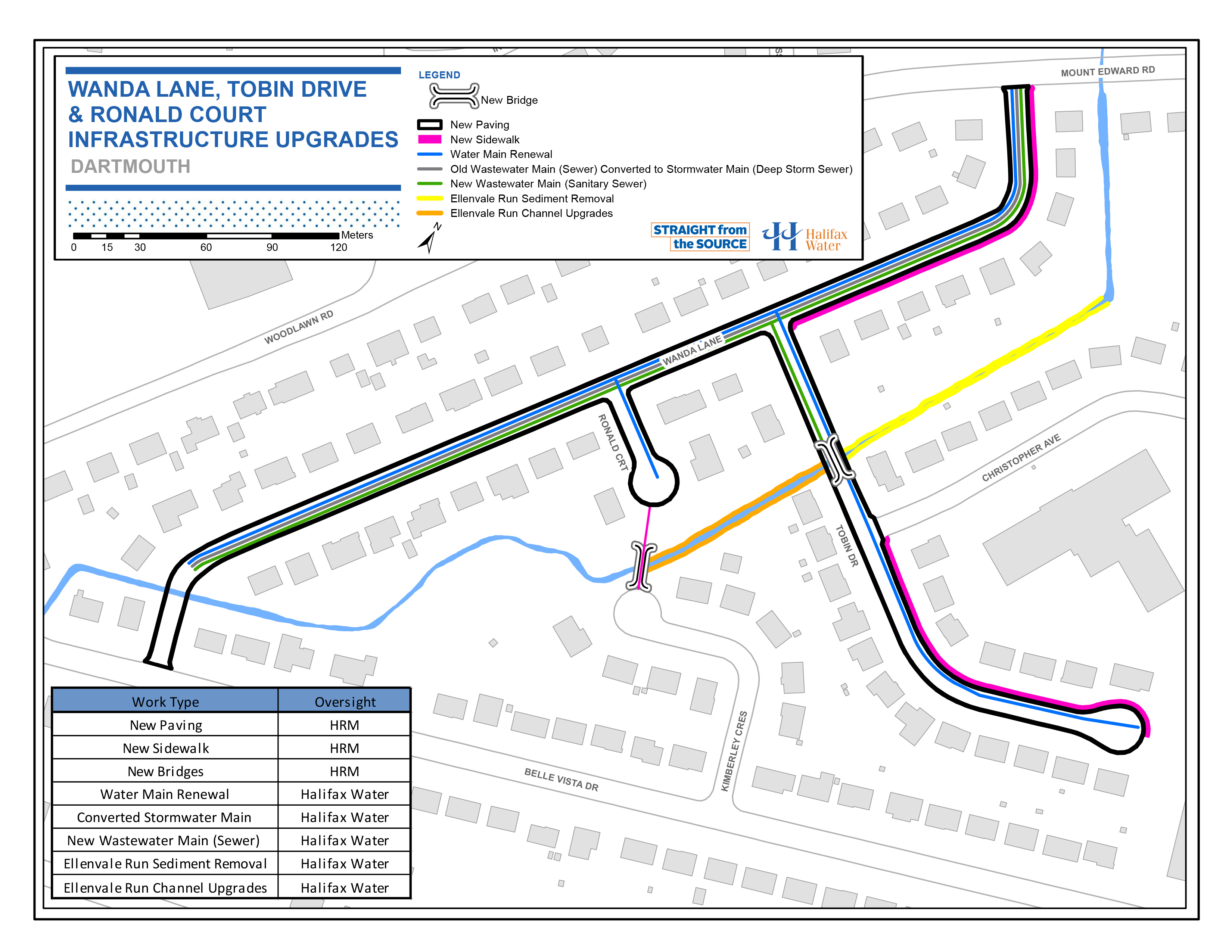 In summer 2019, Halifax Water and the Halifax Regional Municipality will be upgrading infrastructure on Wanda Lane, Tobin Drive and Ronald Court. Halifax Water's work will include the replacement of the water and wastewater system in various areas, the addition of a deep stormwater system on Wanda Lane, and channel improvements in Ellenvale Run. Pending council approval, the municipality will be undertaking various street improvements including curb, gutter and sidewalk work, as well as the replacement of the bridge on Tobin Drive. This will provide road and underground service upgrades and reduce the amount of stormwater entering the wastewater system from public infrastructure.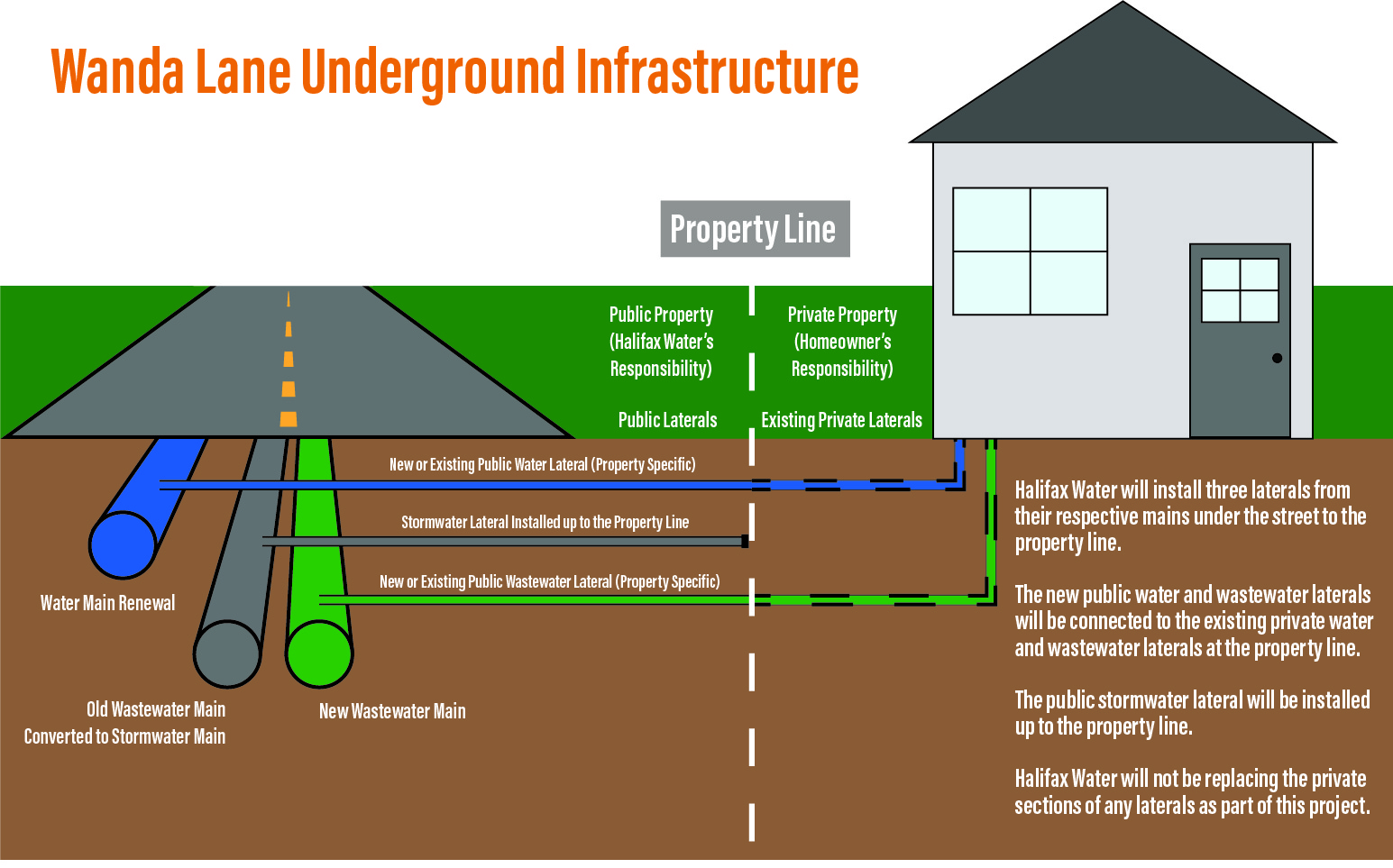 What can you expect during construction?
Activities will include excavation in the street and in front of your property to replace buried pipes, to replace the bridge crossing at Tobin Drive, and to upgrade the streets and sidewalks. At the rear of some properties, excavation will occur along the edge of Ellenvale Run.
Crews will make every effort to maintain road and sidewalk access during this project. Residents may experience periodic traffic delays or rerouting during this time, especially during the bridge replacement.  
The in-stream work to be performed along Ellenvale Run will involve the placement of precast concrete sections into the channel and the addition of natural stone and vegetation.  This will improve the stability of the channel as well as add natural habitat features.  This work will be similar to the work done this year between Ellenvale Avenue and Patterson Street.
When the new wastewater and water pipes are replaced in the street, Halifax Water will reconnect your existing private water and wastewater laterals at your property line. Your private pipes will not be replaced. There may be short-term localized interruptions in your water or wastewater services during this time. Affected residents will be notified in advance of the interruptions.
At the completion of the construction project, a stormwater connection point will also be available at your property line. This will provide property owners with a new underground pipe where you can connect stormwater sources found on your property such as sump pumps and interior/exterior foundations drains (connection of downspouts to the stormwater lateral will not be permitted).
Inflow & Infiltration
Rain water and groundwater that enter the wastewater system either through direct connections (sump pumps, downspouts, foundation drains, etc.) or pipe defects (cracks and breaks) is considered inflow and infiltration (I/I).
Connections allowing I/I into the wastewater system are not permitted by Halifax Water. As part of this project, Halifax Water will be conducting mandatory private property inspections to assess private stormwater and wastewater systems for some properties in the project area. Further information will be sent in the near future to each associated property owner.
For more information on inflow and infiltration homeowner responsibilities, click here.
What will it cost?
The upgrades being undertaken to public infrastructure by Halifax Water and Halifax Regional Municipality are budgeted at approximately $6 million.
Any repairs you make to the private wastewater or water lateral pipes on your property will be at your cost. If you install a new stormwater lateral to connect your house to the new underground stormwater pipe found at your property line, this will be at your cost. Any stormwater sources connected to the wastewater system must be disconnected at your cost.
Where can you get more information?
This information page will be updated as the project progresses. A Community Information Session was held on February 4th, 2019 at the Woodlawn Church.

Ian Guppy, Project Manager, Halifax Water
guppyi@halifaxwater.ca
902.476.1610
Related files