Halifax Water's website has moved.
This page may be outdated. To visit this page on the new HalifaxWater.ca, click here.




What is inflow and infiltration?
Inflow and infiltration happen when unwanted stormwater enters into the wastewater (sanitary sewer) systems and creates extra volumes to be carried in the pipes.
Inflow is stormwater that enters the wastewater system through a direct connection such as foundation drain (weeping tile), roof drains and downspouts, sump pumps, uncapped cleanouts, catchbasins, and other drains from your yard or driveway. Infiltration refers to stormwater (including groundwater) that enters the wastewater system through cracks, leaks, or roots in the pipes.
Inflow and infiltration are most common during wet weather events (rain storms, snow melt, high groundwater), when the pipe network is not able to handle the surplus flow. This causes backups in the system, overflows to the environment (streams, lakes, harbour, beaches, etc.), and flooding of private property including wastewater backups into basements. Exposure to these releases can be hazardous to human health and the environment.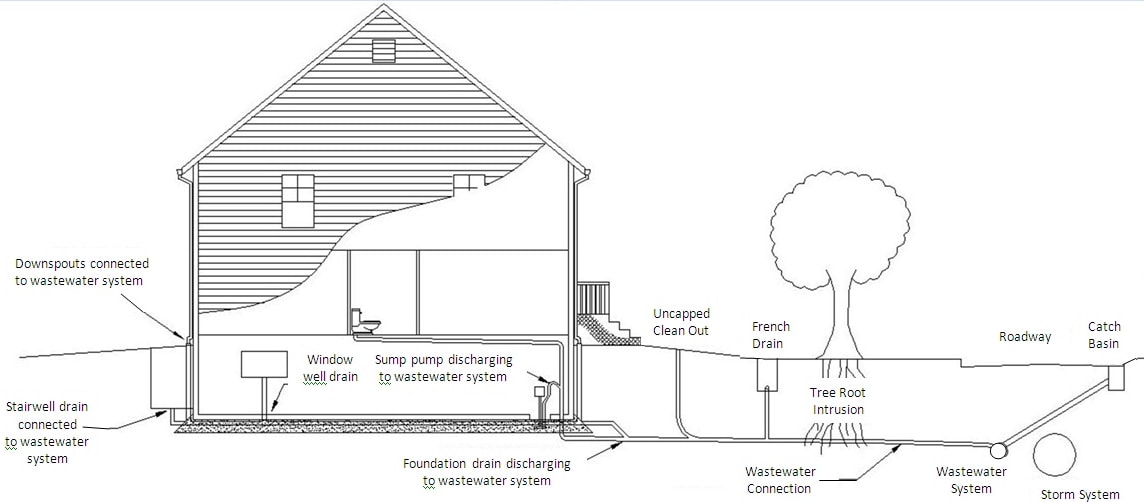 What am I responsible for?
Halifax Water is responsible for, and continually maintains and upgrades, the public wastewater system (the portion of the piped wastewater system found in the streets and within the public right-of-way).
As a property owner, you are responsible for the maintenance and operation of the wastewater pipe (lateral) and associated plumbing located on your private property. Your lateral is the underground pipe extending from your building to the wastewater system in the street which is designed to carry flows from toilets, sinks, bathtubs, showers, dishwashers and washer machines.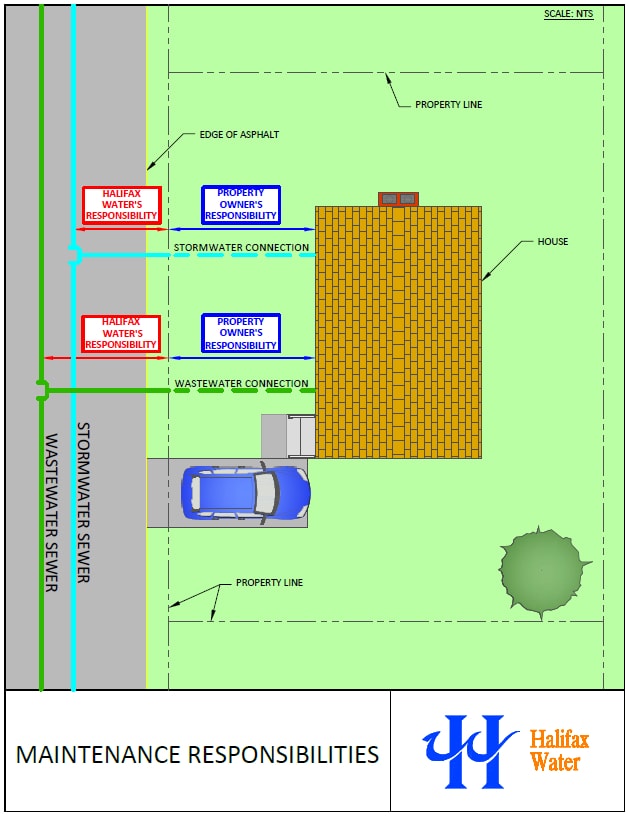 These videos from BC Capital Regional District show common sources of inflow and infiltration in:
Please note that these videos are not exhaustive. For example, sump pumps connected to the wastewater systems are major contributors of inflow in Halifax Municipality and they are not illustrated in these videos.
Inflow and Infiltration Reduction Program
As per the Halifax Water's Rules and Regulations [PDF] discharging stormwater into the Halifax Water separated wastewater system is illegal in the Halifax Regional Municipality. The Regulatory Services Department of Halifax Water manages the Inflow and Infiltration (I&I) Reduction Program.
The goal of the I&I Reduction Program is to reduce stormwater inflow and infiltration from private properties from entering into Halifax Water's wastewater system.
The I&I Reduction Program:
identifies, investigates, and prioritizes areas of significant inflow and infiltration
requires private properties to make repairs to address these issues
Investigation techniques performed by the Halifax Water I&I team include:
flow monitoring
smoke testing
dye testing
Closed Circuit Television (CCTV) videos
property inspections
Where inflow and infiltration are found, the property owner is required to perform actions to fix the problem(s), within a specified timeframe, to bring the property into compliance. Not complying with this requirement may result in suspension of service and/or other penalties.
What do I need to fix?
It is your responsibility as a property owner to manage the stormwater generated on your property and prevent stormwater inflow and infiltration from entering the Halifax Water wastewater system.
You are required to disconnect/repair those fixtures that are directly connected to the wastewater system or are allowing leakage into the wastewater system such as:
sump pumps and interior drains connected to the wastewater pipe in your basement including connection of these to a set tub or floor drain
roof downspouts that extend underground and connect to the underground wastewater pipe
foundation drains (weeping tile) connected to the underground wastewater pipe
damaged/leaking wastewater lateral caused by roots, poor joints, cracks, etc. 
clean-out caps that are missing or damaged and allowing stormwater to flow into the wastewater pipe (these clean outs may be found in your basement floor or outdoors in your yard)
exterior area drains such as French drains in the yard, driveway drains, and exterior stairwell/window drains that are connected to the interior sewer plumbing in your building or to underground wastewater system
Ideally, stormwater should be dissipated across your property, allowing it to flow across the surface and soak into the ground. Roof drains, sump pumps, and foundation drains should be directed to your yard where possible. You need to ensure this does not cause drainage issues on your property or neighbouring properties and will not cause icing concerns on private and public properties during the winter months.
In areas of Halifax where piped stormwater systems exist, you may contact Halifax Water to get a permit to connect your stormwater sources to the underground stormwater system.
You may want to engage a qualified professional (contractor, plumber, or engineer) to help you assess your options about how to best handle your property's stormwater.
Relevant resources
BC Capital Regional District, I&I Reduction Program (including video series)
Downspout Disconnection "Do-It Yourself", City of Toronto Downspout Disconnection Program
Institute of Catastrophic Loss – Basement Flooding Handbook – Flood Reduction Options [PDF]
Insurance Bureau of Canada – Flooding and Sewer Backups – Backwater Valves [PDF]
Better Business Bureau – Request Estimate from Trustworthy Businesses