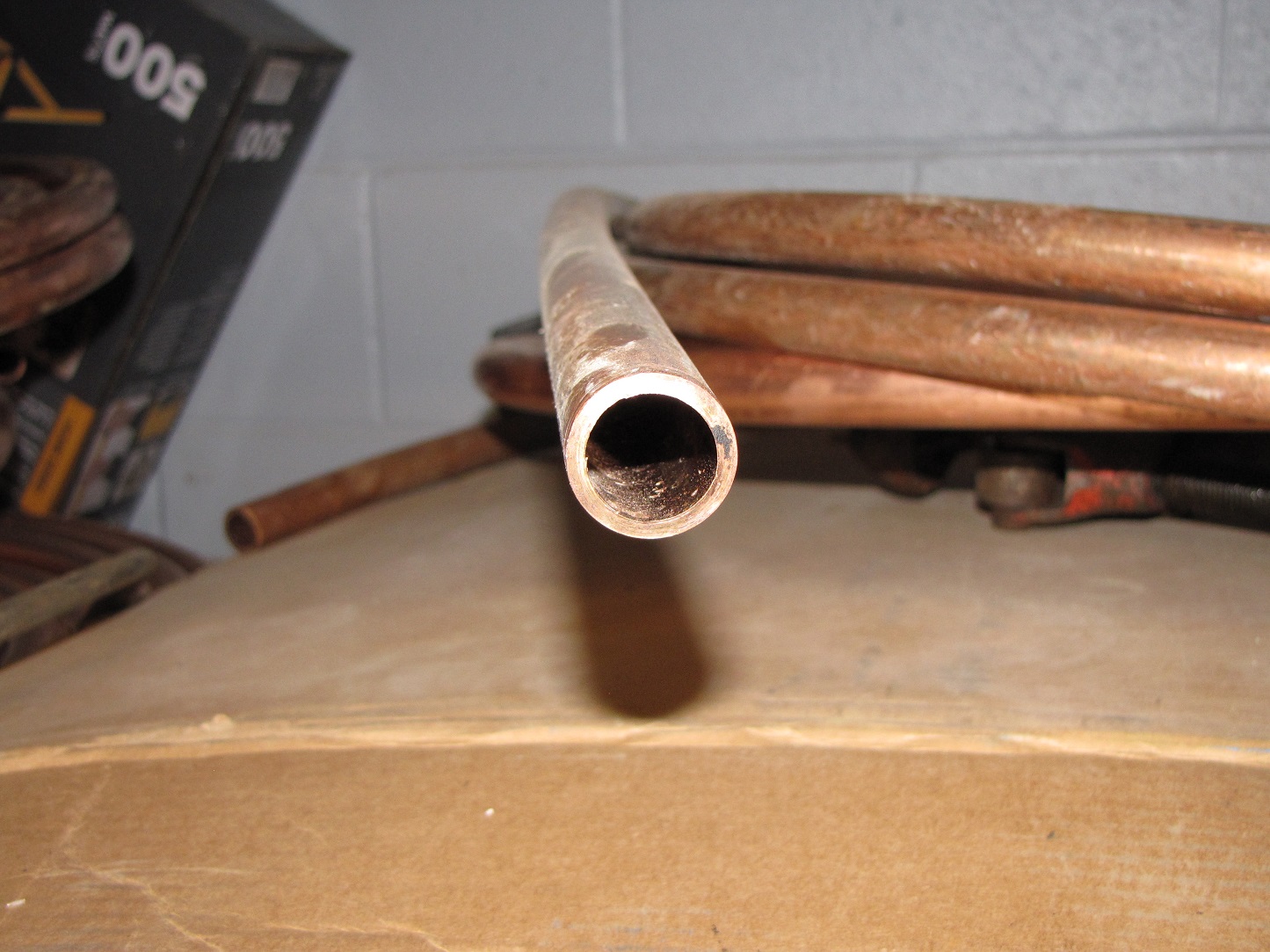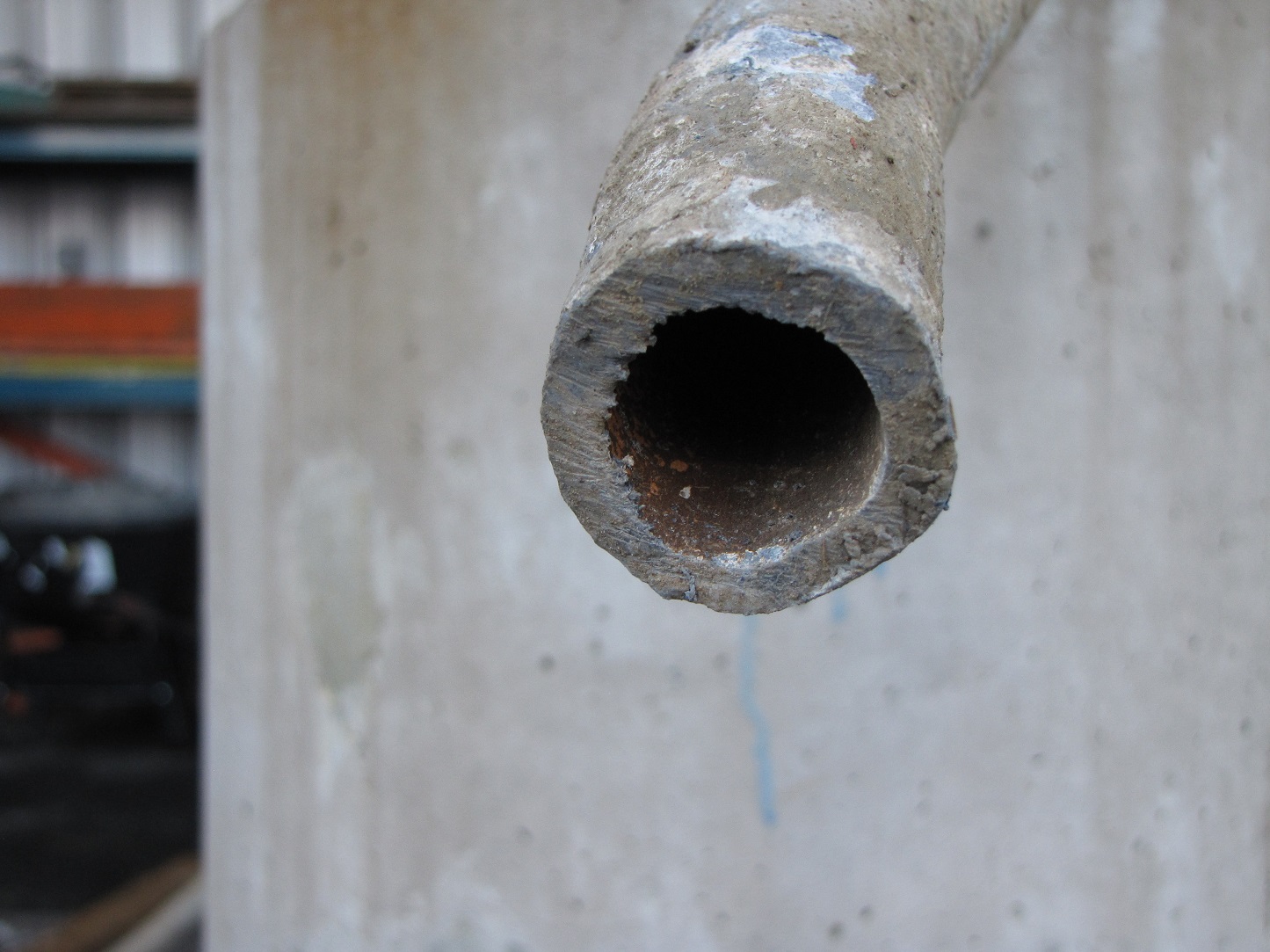 Drinking water is essentially lead-free in Halifax Water's distribution system prior to entering your private water service line. Lead enters water ("leaches") through contact with your plumbing system. This happens through corrosion, when metal dissolves or wears away due to a chemical reaction between water and your plumbing. Lead can leach into water from pipes, solder, brass fixtures and faucets, and fittings.
Halifax Water treats water to minimize lead corrosion and, in most homes with lead components, the level of lead in drinking water is below the level required by Health Canada. However, high levels of lead can be present in homes with lead service lines or in plumbing components in the home. High levels of lead can lead to serious health issues and you are strongly encouraged to take steps to remove lead service lines connecting your home with the water main in the street and lead in plumbing within the home.
On August 22, 2017, the Nova Scotia Utility and Review Board released a decision approving a Halifax Water enhanced lead service line repair and replacement program. The decision is a significant step forward in Halifax Water's on-going effort to replace lead service lines (the lateral/pipe from the water main in the street to a customer's home).
 
Halifax Water works to minimize lead concentrations in drinking water through four programs.
Lead Service Line Replacement Program
The best way to permanently address sources of lead in drinking water is to remove and replace components containing lead, and to remove all lead service lines—both public and private.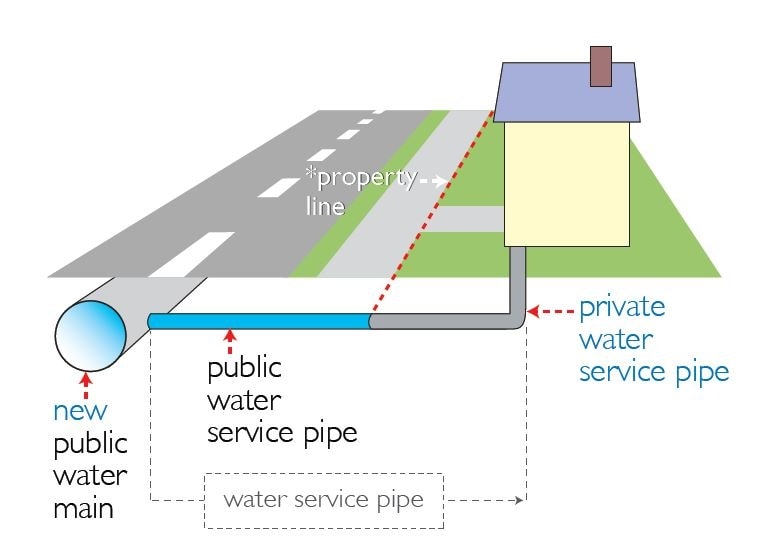 The public portion of the service line runs from the watermain in the street to the shut-off valve near the property line and is the responsibility of Halifax Water.
The private portion of the service line runs from the property line into the home and is the responsibility of the homeowner.
Halifax Water replaces public lead service lines in conjunction with watermain infrastructure upgrades or when a household has replaced the private portion of their service line.
How do I replace my lead service line?
1. Find a contractor
If you are ready to have your private portion of the service line replaced but the public portion has not been replaced yet, you can hire one of the following contractors to do both at the same time:
Atlantic Road Construction and Paving (ARCP): 902.404.8547
G&R Kelly: 902.835.3125
Sackville Trenching: 902.865.8335
The contractors listed above are the only contractors who have permission to replace public portions of the service line.
You may also hire any qualified contractor to replace the private portion. Once your private lead service line has been replaced by your contractor it must be inspected by Halifax Water staff. Once inspection has been passed, Halifax Water will begin the process of scheduling the public portion for replacement.
2. Obtain a permit
Regardless of which option you choose for hiring a contractor, you are required to fill out and submit a New Services and Renewal Application [PDF] to Halifax Water.
Ensuring you have the proper applications and permits in place helps protect you and your property.
3. Schedule an inspection
All service line replacements must be inspected and approved by Halifax Water. Inspections are free of charge.
Inspections must be done prior to covering the new line (backfilling). To avoid delays, it is recommended that you contact Halifax Water at 902.490.4820 once you have confirmed the date of the service renewal with your contractor.
How do I apply for the 25% rebate for my lead service line?
Halifax Water now offers a rebate program for homeowners to help make lead line renewal more accessible.
In order to be eligible for the rebate you must meet all of the following criteria:
Applied for your permit after 9:00 am on August 22, 2017; and
Had a Private Lead Service Lateral prior to this renewal; and
Had an inspection of the new lateral completed by Halifax Water prior to infill; and
Provide an invoice attached from the contractor; and
Provide a completed Rebate Application Form [PDF].
The rebate is calculated based on the homeowners cost for renewal. Halifax Water offers a rebate of 25% of the renewal cost up to a reimbursement cap of $2 500.
The homeowner is responsible for the payment of the bill owed to the contractor in full. The rebate will be given by check to the homeowner once we have received confirmation that the final inspection has been completed, and a completed Rebate Application Form [PDF]  and invoice has been received.
Lead Service Line Replacement Sampling Program
After a lead service line replacement, you may see an increase in lead levels in your water. This is a result of pipes being disturbed during construction.
Anyone who has had a portion of, or their entire service line replaced, should participate in a comprehensive sampling program coordinated between Halifax Water and Dalhousie University. This program monitors lead levels prior to and after a lead service line replacement. Samples are taken at 72 hours and at 1, 3, and 6 months.
If you are interested in participating in this program, contact Halifax Water several days prior to your replacement at lead@halifaxwater.ca or 902.292.2437.
How can I minimize lead exposure following a lead service line replacement or repair?
To help minimize lead exposure following a lead service line replacement or repair, Halifax Water recommends households practice the following measures:
1. Immediately after construction
Flush your plumbing system for 60 minutes by opening your cold water taps and letting them run, one at a time. Start in the basement and work up towards the top level in your home. This will help remove any lead particles or sediment dislodged during construction.
Do not open hot water faucets until the plumbing system is completely flushed.
After flushing, remove and clean all faucet aerators. Lead particles and sediment can build up in the screen.
2. For 30 days after construction
Each day, flush your plumbing by opening at least one cold water faucet for 10 minutes. Flushing can also be achieved by running appliances such as your dishwasher or washing machine.
After flushing, remove and clean faucet aerators.
3. For six months after construction
Use cold tap water for cooking and drinking. Hot tap water can cause a greater release of lead from plumbing. Boiling water does not remove lead.
If water has not been used for more than six hours (i.e., overnight or during work hours), flush the cold water tap for five minutes prior to drinking and cooking.
Periodically remove and clean all faucet aerators.
If you are pregnant, breastfeeding or have children under the age of six, it is recommended that you use a household water filter that is certified to remove lead from drinking water at the tap. Please ensure the filtration device is certified to NSF 53 international standards for the removal of lead.
Corrosion Control Program
Corrosion of lead and other metals occurs from the reaction of water with metal surfaces of the pipes in the distribution system. Halifax Water uses a corrosion inhibitor to minimize the corrosion of lead and other metals in the distribution system.
Inhibitors work by producing a protective layer over pipes in the distribution system, which prevents the corrosive medium from attacking the metal surface. Halifax Water is constantly reviewing new corrosion science and studying the effectiveness of the corrosion inhibitor through a research partnership with Dalhousie University and with the periodic hiring of consultants.
Residential Monitoring Program
Halifax Water voluntarily maintains a residential sampling program to monitor lead levels in customers' homes throughout the distribution system. Once per year, as many as 100 households are tested for various metals, including lead.
In addition to the annual sampling program, Halifax Water provides complimentary lead testing for customers who have a known lead service line, or unknown material, or who live in a house built prior to 1960.
If your home is supplied by Halifax Water you are eligible to participate in the sampling program. Simply call 902.420.9287 or email lead@halifaxwater.ca.