Halifax Water's website has moved.
This page may be outdated. To visit this page on the new HalifaxWater.ca, click here.




Water bills change according to water usage so each household or business unit will differ based on individual usage (or consumption) patterns.
The water meter measures the amount of water used in a household or business which comprises the largest part of water and wastewater charges on your bill, so lower usage means a lower bill.
Average Residential Indoor Water Usage Chart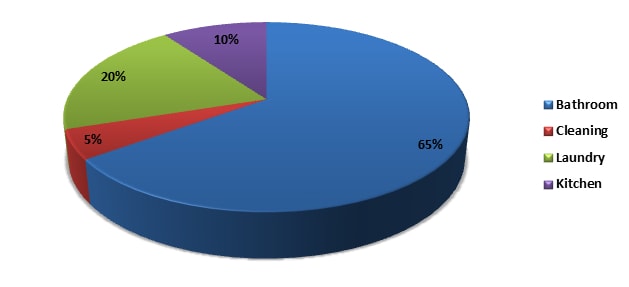 How can I lower my water bill and conserve water?
There are a number of ways to lower your water bill and help conservation efforts:
1. Learn how to read your water meter
Reading your meter helps you to verify the monthly reading on your water bill and to find any water leaks.
To calculate water usage, obtain two meter readings a few days apart and then find the difference between the two readings.
For Example: If your meter reads 3671.6 today and 3666.2 seven days ago, you have used 5.4 M3 or 5400 liters (3671.6-3666.2) during the week. Your average daily use would be 0.77 M3 or 771 liters per day (5400 / 7).
The meter records consumption in Cubic meter (M3) on a numbered register on the top of the meter. The meters read straight across like the odometer on a car. If the meter has been installed since 1996, it should have a small red disc which will rotate to indicate water flow.
2. Check for leaks
Toilets are the most common source of water leakage. A toilet leak of any type should be repaired immediately.
3. Install water saving devices
Adding water-saving devices throughout your home or business can lower your water bill and conserve water. Consider adding:
water faucet aerators
low-flow showerheads
toilet dams
4. Follow some simple conservation tips
Conservation in the bathroom
Turn off the tap while brushing your teeth and use short bursts of water for rinsing.
Flush your toilet only when necessary.
Turn off the taps tightly (but gently) so they do not drip.
Take shorter showers.
Rinse your razor in the sink instead of than under running water.
Check faucets and pipes for leaks. Even the smallest drip from a worn washer can waste 20 or more gallons a day. Larger leaks can waste hundreds.
Conservation in the kitchen
Take foods out of the freezer early to allow plenty time to thaw rather than running water over it.
Keep water in the fridge so you don't have to run the tap to get cold water.
Fill the dishwasher before you turn it on. It can use 35-45 litres per cycle.
If you wash dishes by hand, don't leave the water running for rinsing.
Don't let the faucet run while you clean vegetables. Just rinse them in a stoppered sink or a pan of clean water.
Conservation in the laundry room
Pay attention to the size of your load of laundry and adjust your washers settings accordingly.
Conservation outdoors
Deep-soak your lawn, long enough for the moisture to soak down to the roots where it will do the most good. A light sprinkling can evaporate quickly and tends to encourage shallow root systems.
Water during the cool parts of the day. Early morning generally is better than dusk since it helps prevent growth of fungus.
Don't water the sidewalk or driveway. Position your sprinklers so water lands on the lawn or garden, not on paved areas. Avoid watering on windy days.
Put a layer of mulch around trees and plants. Mulch will slow evaporation of moisture and discourage weed growth too.
Use a broom, not a hose, to clean driveways and sidewalks.
When washing your car, rather than use a running hose consider using a bucket, a sponge, and a hose with a trigger nozzle.
Leaks outside the house may not seem as bad since they are not as visible. But they can be just as wasteful as leaks inside. Check frequently and keep them drip-free.