On September 5, 2017, Regional Council approved a new billing approach for the municipality's Stormwater Right-of-Way Charge. Moving forward, all properties (both residential and commercial) that currently pay for stormwater services on their Halifax Water bill will be charged a flat rate of $39 per year on their utility bill. The municipality's Stormwater Right-of-Way Charge will no longer be included in the municipal property tax bills.
Timing for the introduction of the new billing approach has yet to be confirmed but it is anticipated to start in the fall of 2017. More details will be made available in the coming weeks.
Check out stormwater frequently asked questions
If your property is within the Halifax Water stormwater boundary, your Halifax Water bill will have a "Stormwater Charge" as a line item.
Is my property within the Halifax Water stormwater boundary?
Refer to the following map to see if you have to pay the stormwater charge.
(Open the Halifax Water stormwater service boundary map in a new browser window.)
What is stormwater?
Stormwater, as defined in the Halifax Water Rules and Regulations, is:
"water from precipitation of all kinds, and includes water from the melting of snow and ice, groundwater discharge and surface water".
All properties generate stormwater, even if it is a small amount, under certain conditions. Properties with impervious surfaces such as roofs, asphalt, concrete, bricks and packed gravel tend to generate more stormwater than properties with pervious surfaces such as natural forest, lawns and gardens.
Impervious surfaces generate more stormwater than pervious surfaces as they prevent or limit the entrance or passage of stormwater.
Halifax Water stormwater infrastructure
Halifax Water's (the public) stormwater system is comprised of:
pipes
manholes
roadside ditches
curbs
culverts
stormwater holding tanks
off street drainage corridors
and ponds, dams, or catch basins that eventually discharge into a local brook, river, lake or the ocean.
This is infrastructure located on public property, or within Halifax Water or Halifax Regional Municipality easements. Ditches/culverts that are found at the boundary of a private property/driveway on public land are considered part of Halifax Water's stormwater system (initial installation of culvert is paid by the customer).
Understanding stormwater flow from your property
Halifax Water stormwater infrastructure may be directly adjacent to your property, or they may be some distance away, in which case stormwater may have to flow overland, along roadways, or through watercourses (lakes, rivers, etc.) before reaching the Halifax Water stormwater system. Most of the properties within the boundary receive one or more of the following services from Halifax Water:
stormwater from the property enters any part of Halifax Water's stormwater system
the property is accessed directly by a driveway that crosses over a Halifax Water culvert
These images help you determine how stormwater flows from your property:
Scenario 1: Direct stormwater discharge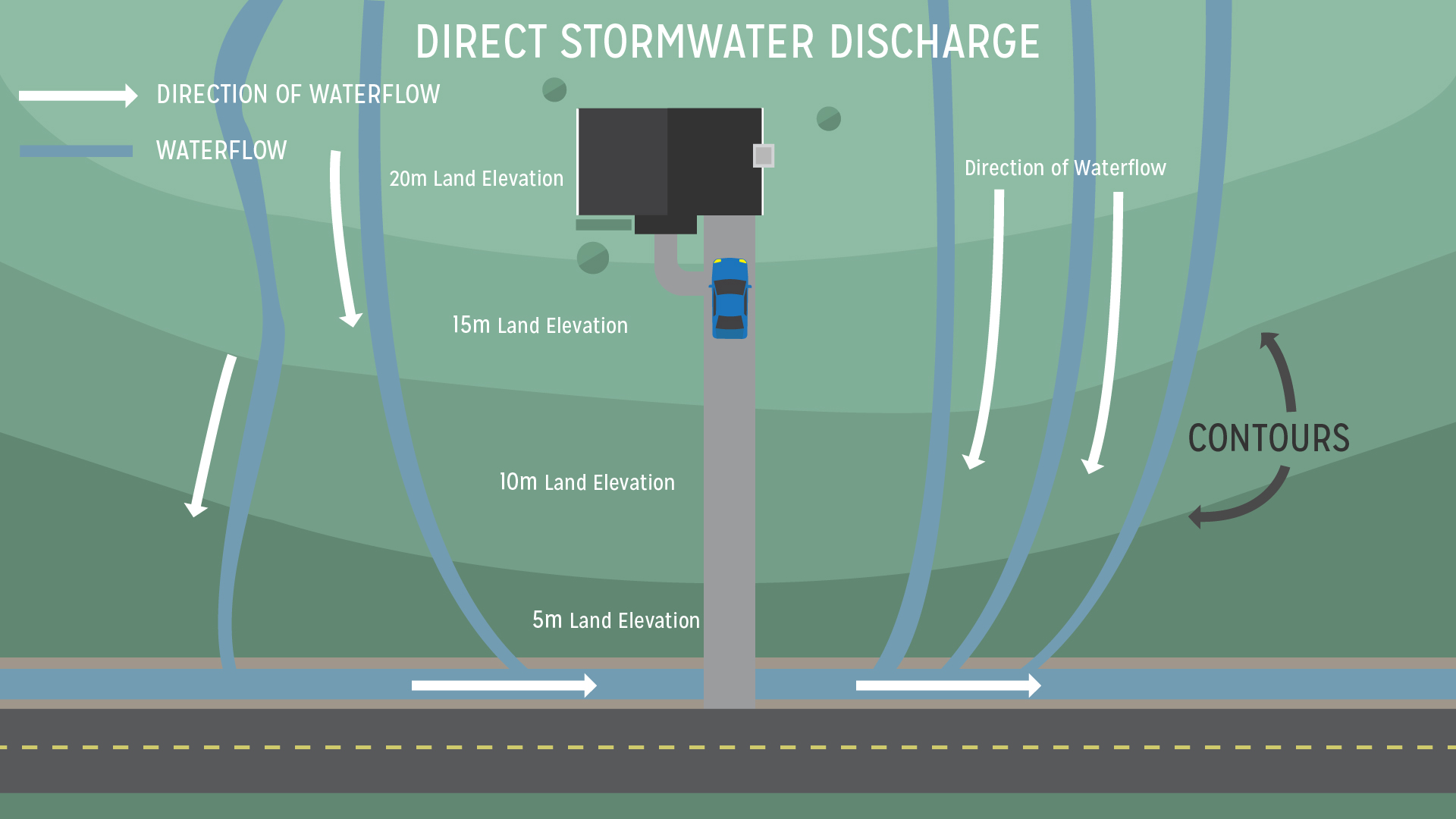 Scenario 2: Off-street stormwater infrastructure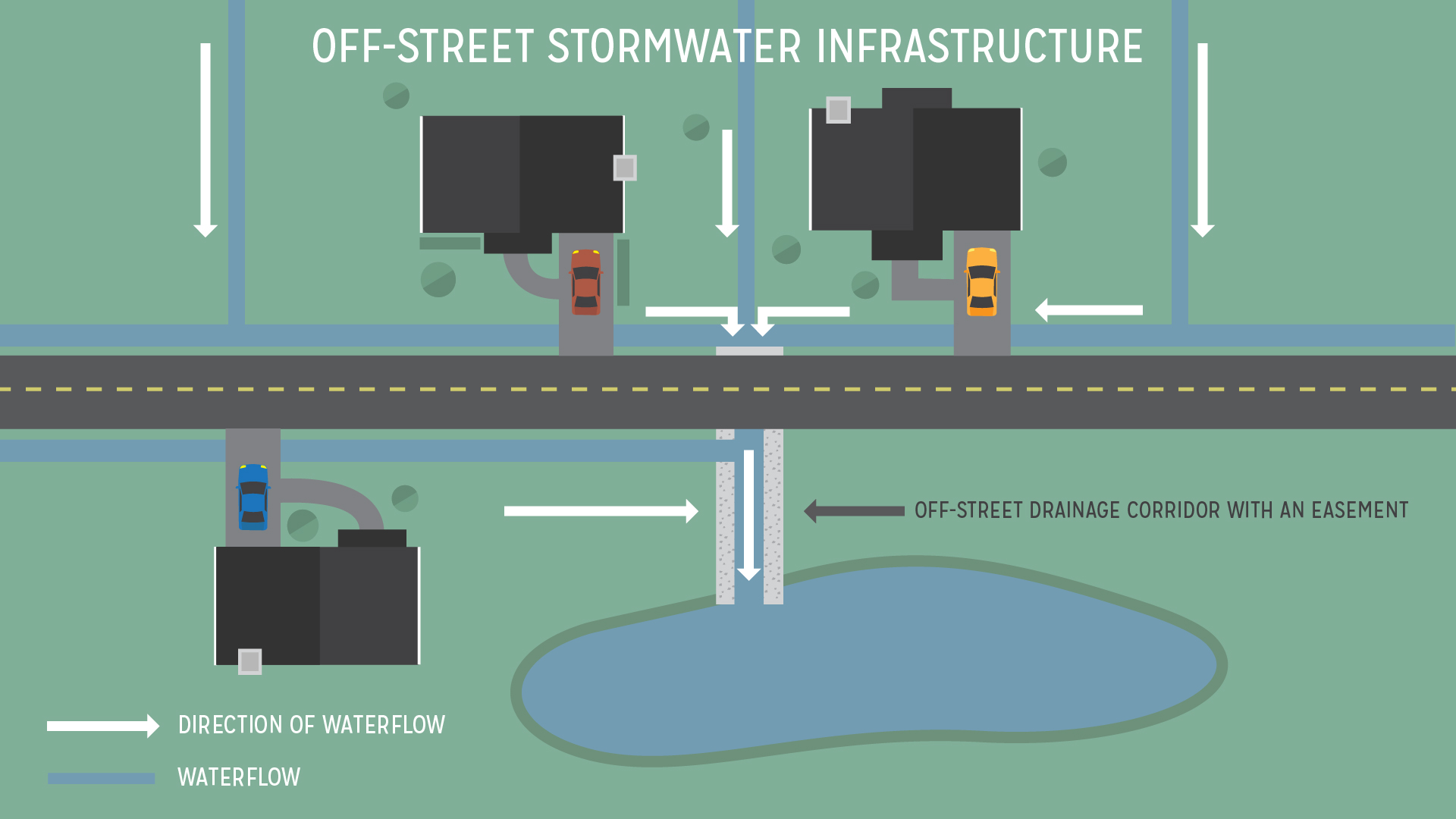 Scenario 3: Piped stormwater systems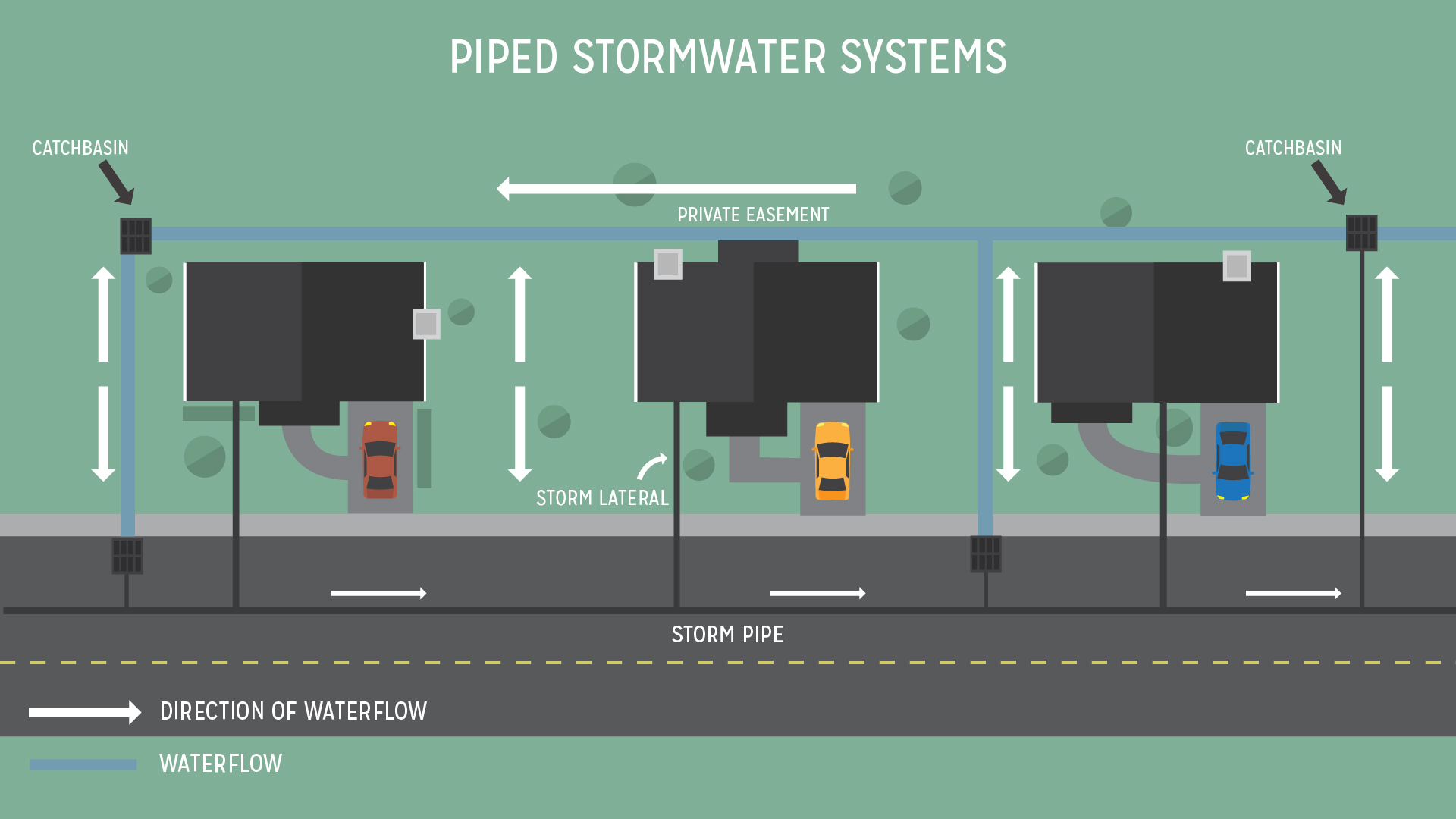 Scenario 4: Stormwater discharge from low-lying area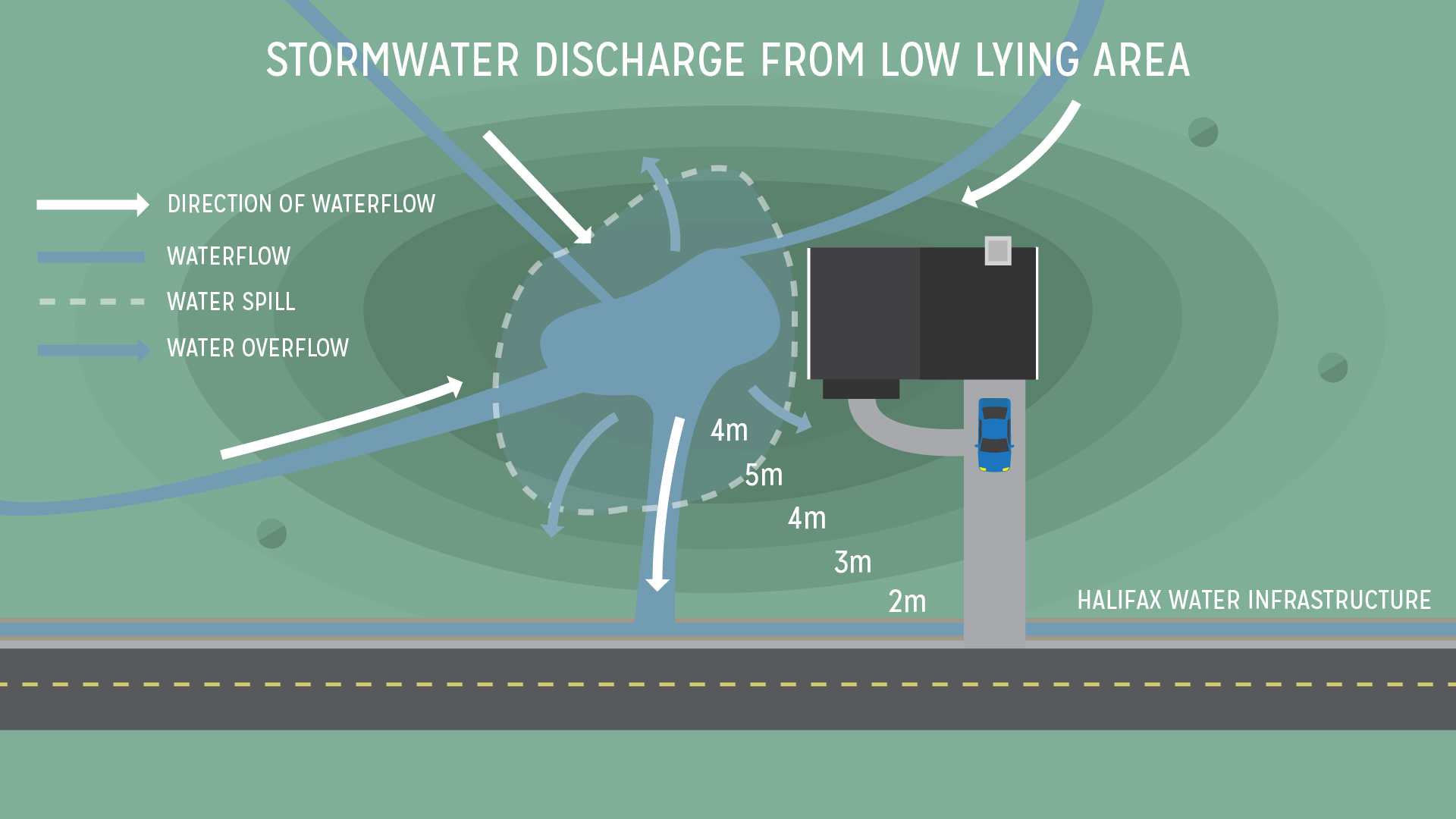 Scenario 5: Stormwater discharge via adjacent property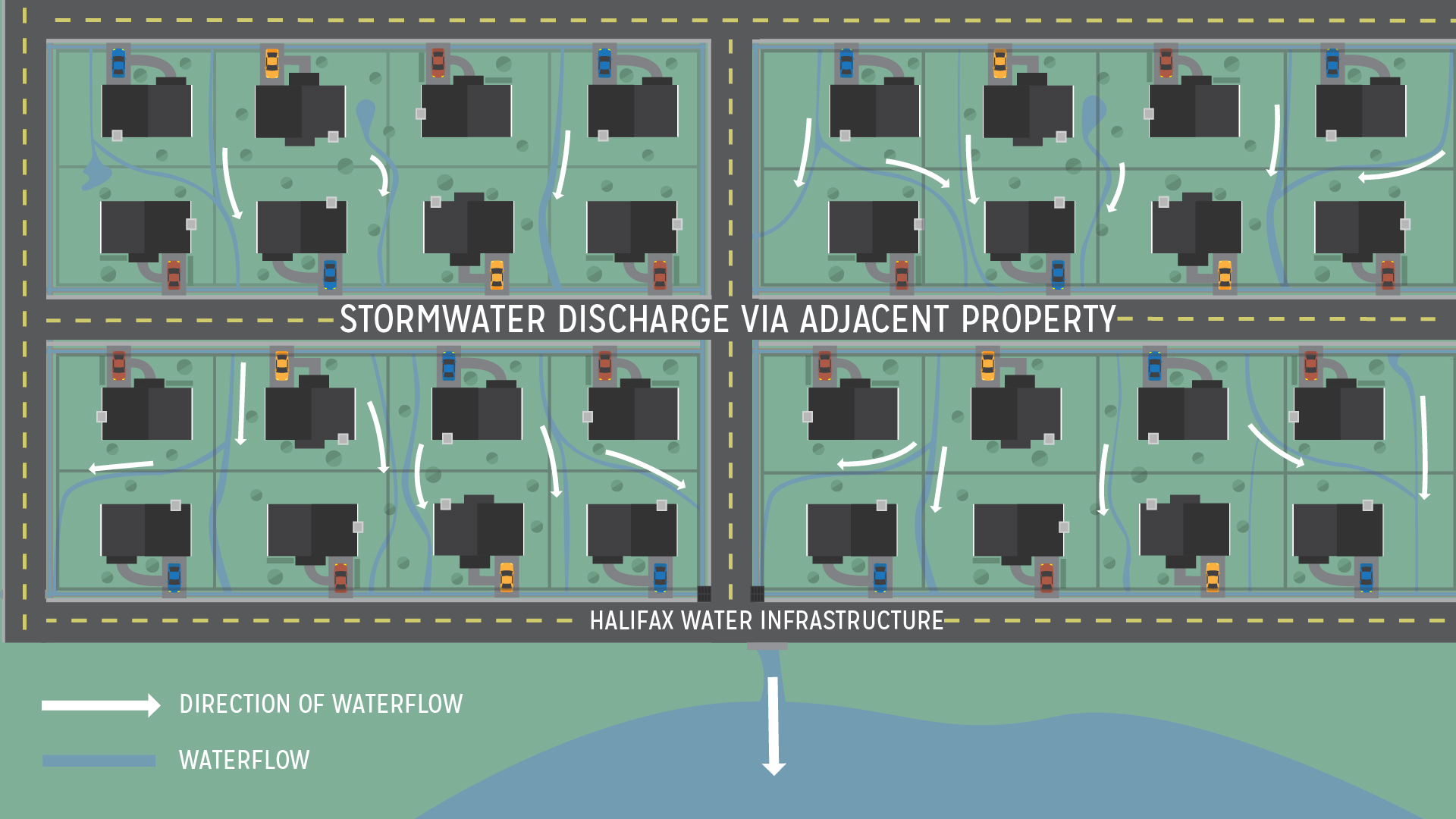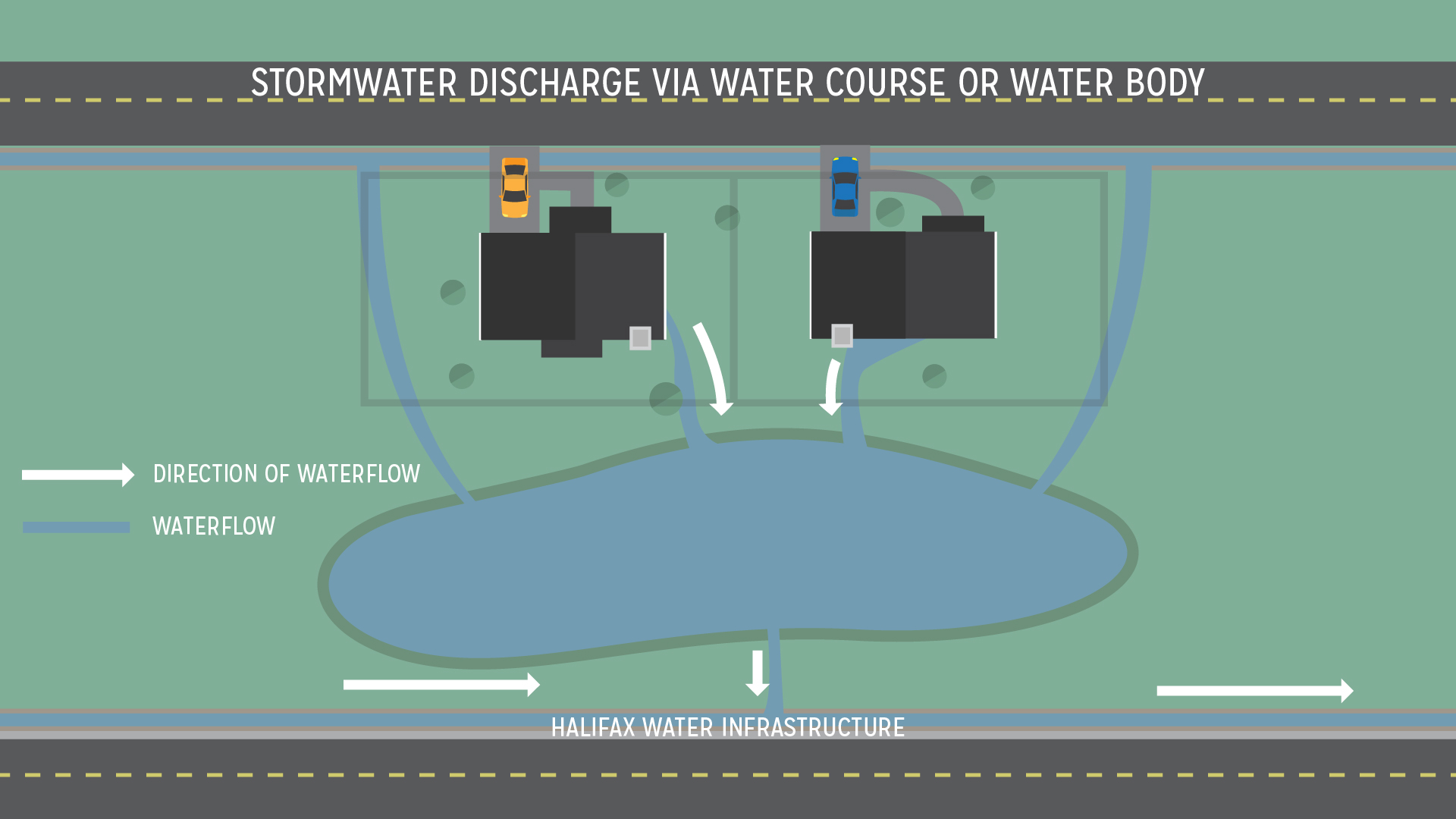 Stormwater Exemptions
Halifax Water has "exempted" any properties that do not contribute stormwater into the public system and do not have a driveway culvert. For example, a property the drains down-hill into a lake that does not drain into Halifax Water owned infrastructure and does not have a driveway culvert.
Stormwater billing appeals process
You can appeal your Halifax Water stormwater bill if you feel you do not receive stormwater service from Halifax Water, or that you have otherwise been improperly billed.
The "appeal" process is provided for in Section 7 of the Halifax Water Rules and Regulations [PDF]. The language used in the Regulations is "Notice of Objection".
You must file a Notice of Objection with Halifax Water outlining why you believe no stormwater is discharged from your property into the Halifax Water stormwater system. This may be done by contacting Halifax Water:
By mail:
Halifax Water Complaints Department
PO Box 8388, RPO CSC
Halifax, NS
B3K 5M1
Phone: 902.420.9287
Email: complaints@halifaxwater.ca
What if I don't like the answer I received from Halifax Water?
If you wish to appeal Halifax Water's written reply to your Notice of Objection , a complaint may be made to the Dispute Resolution Officer (DRO).
The Dispute Resolution Officer is an independent officer (not an employee of Halifax Water or the Nova Scotia Utility and Review Board) who manages regulation based on customer issues.
Appeals must include:
Halifax Water service request number
contact information
summary of your complaint
details on how Halifax Water offered to resolve your complaint
description of the outcome you believe would be fair
Appeals to the Dispute Resolution Officer can be submitted via:
Mail:
P.O. Box 51030
Halifax, NS
B3M 4R8
Email: HalifaxWaterDRO@eastlink.ca
Related files