Halifax Water is the municipal water, wastewater, and stormwater utility serving the residents of the Halifax region. It serves over 83,000 customer connections and employs around 450 people. Halifax Water is a joint stock company with all of its shares deemed to be owned by the Halifax Regional Municipality.
Halifax Water regularly fields questions about leaks, low water pressure, and water quality. The following information addresses some of the most common concerns about water in Halifax.
Leak investigation
The consumption charge is the largest part of your water bill. Any water that passes through the meter is considered consumed, including water passing through from a leak. To reduce your bill, check for leaks.
There are two ways to check for leaks:
1. Read your water meter
For the most accurate reading, take a water meter reading just before going to bed, or when no one will use any water for several hours. Take another meter reading in the morning before any water is used, or after a few hours of non-usage. The two readings should be the same. If they are not, you have a leak and further investigation is recommended.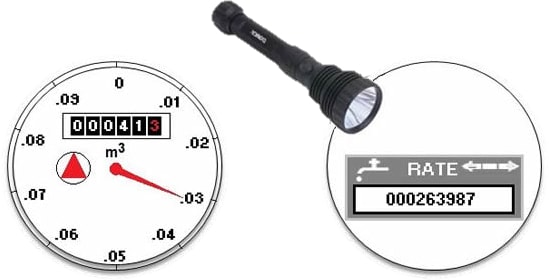 2. Test your toilet
Toilets are the most common source of water leakage. To test your toilet to determine if it has a leak:
Put a toilet testing tablet or food colouring in the tank. If, without flushing, colour seeps into the bowl, the toilet has a leak.
Lift the tank cover and look for water running into the overflow tube. To test the overflow tube, carefully remove the lid from the toilet tank and the water level should be approximately one inch below the top of the overflow. If the water level in the toilet tank is at the top of the overflow tube, that is where a leak may be occurring, and the float which controls the water level should be adjusted.
A toilet leak of any type should be repaired immediately.
If you have completed your leak investigation but your results are inconclusive or unclear, call Halifax Water's Customer Care Centre at 902.420.9287. We will arrange an appointment with a Field Service Technician to help find possible causes of leakage.
Low water pressure
If you are experiencing lower than normal water pressure, call Halifax Water's Customer Care Centre at 902.420.9287.
Low water pressure can be caused by a number of different things:
debris and buildup in pipes
plumbing leaks
municipal water supply maintenance
Discolored Water
It is a rare event when discolored water appears at your home or work, but it does happen. There are several possible situations that can cause discolored water. Read more about discolored water and what you can do about it.
Lead in drinking water
Lead in drinking water is currently an issue that is a broad public concern. To that end, Halifax Water maintains a comprehensive program to reduce exposure to lead in tap water with significant efforts being placed on getting the lead out of the distribution system. Read more about lead in drinking water  and learn what Halifax Water is doing to minimize lead in tap water.
Geosmin information
Geosmin is a naturally occurring compound produced by bacteria in soil and algae in surface water (lakes, rivers, streams, and dams). 
Geosmin produces the odour of rich overturned soils, or an earthy smell. The human nose is extremely sensitive to geosmin. If you poured a teaspoon of geosmin into the equivalent of 200 Olympic-sized swimming pools, you would still be able to smell it. You will smell geosmin more when you are in the shower as heating the water increases the volatility of its compounds.
While the taste and odour can be unpleasant, geosmin is not toxic or harmful. The water remains safe to drink. On-going testing continues to show an absence of harmful bacteria and other pathogens in the water.
Since the first indication of geosmin in the Pockwock water supply in fall 2012, Halifax Water has taken a number of steps to better understand geosmin, including:
on-going research with Dalhousie University to evaluate treatment strategies to reduce geosmin and other taste and odour compounds in drinking water
Halifax Water hired an environmental consulting firm who completed a study to better understand the occurrence and cause of geosmin in Pockwock Lake.
Halifax Water hired an engineering consulting firm to review treatment options and associated costs to reduce geosmin. The options brought forward by this consulting firm are currently being evaluated
continuous testing of geosmin levels at various strategic locations throughout the Pockwock watershed
on-going consultation with water utility experts throughout North America.
Geosmin testing and results
Testing of geosmin at the Pockwock Water Supply Plant began in October of 2012 and has been on-going ever since. Testing takes place twice per month . The general threshold for human detection is about 15 ng/l (15 nanograms per litre = 15 parts per trillion). However, some people with sensitive palates can detect these compounds in drinking water when the concentration is as low as 5 ng/l.
Geosmin test results

Geosmin testing at the Pockwock Water Supply Plant began in 2012 and takes place twice per month.

| Sample Date | Treated Water - ng/L |
| --- | --- |
| October-9-2018 | <3 |
| October-1-2018 | <3 |
| September-24-2018 | <3 |
| September-13-2018 | <3 |
| August-23-2018 | <3 |
| August-13-2018 | <3 |
| July-25-2018 | <3 |
| July-19-2018 | <3 |
| July-5-2018 | <3 |
| June-5-2018 | <3 |
| May-7-2018 | <3 |
| April-9-2018 | <3 |
| March-5-2018 | <3 |
| February-12-2018 | <3 |
| January-8-18 | <3 |
| December-14-17 | <3 |
| November-27-17 | <3 |
| November-15-17 | <3 |
| October-30-17 | <3 |
| October-19-17 | 5 |
| October-05-17 | 6 |
| September-06-17 | 12 |
| September-20-17 | 10 |
| August-23-17 | 9 |
| August-8-17 | 4 |
| Jul-24-17 | <3 |
| Jul-14-17 | <3 |
| Jun-27-17 | <3 |
| Jun-27-17 | <3 |
| May-30-17 | <3 |
| May-15-17 | <3 |
| May-3-17 | <3 |
| April-18-17 | 3 |
| April-04-17 | 4 |
| March-20-17 | 4 |
| March-10-17 | 4 |
| February-23-17 | 5 |
| February-07-17 | 5 |
| January-23-17 | 6 |
| January-12-17 | 6 |
Report Geosmin in your area
If you have further questions or want to report geosmin in your area, please contact Halifax Water at 902.420.9287 or CustomerService@halifaxwater.ca
Mould
Mould grows in warm, wet environments where there is a food source, such as soap scum and body oils, making bathrooms the ideal location.
Most common types of mould in the home:
Black mould is often found in the corners of showers and tubs where caulking and the tub meet, in tile and grout, around the rim of toilets, at the base of bathroom faucets, in dishwashing and laundry machines rubber seals, and the base of shower curtains.
Pink staining is found where air and water meet: shower curtains or doors, the water lines in toilet bowls, drains, tile and grout, and pet's water dishes. While pink staining is often pink, it can also be orange or red.
Black biofilms are often found in toilets tanks, at the waterline in toilet bowls, the rim of toilets, the inside of bathroom and kitchen faucets, and drains. Biofilms grow in warm wet environments where there is a food source such as soap scum, toothpaste, and/or bacteria.
The most effective way to remove mould is by frequently cleaning with a chlorine bleach-based cleaner combined with thorough heavy-duty scrubbing. Chlorine bleach based cleaners (for example Lysol, Old Dutch, Comet) will use wording such as "Disinfect" and have "Sodium hypochlorite" or "hypochlorite" listed in the ingredient list.
"Spray and Walk Away" cleaners do not remove the problem as they are sprayed on top of existing dirt. Additionally, eco-friendly or "green" cleaners do not kill the mould and are more likely to only remove dirt noticeable to the naked eye.