Recreation offers many drop-in, free or low cost programs such as Open Gyms, Free Skating, Emera Oval activities and recreation programs. For more information please call your local recreation centre.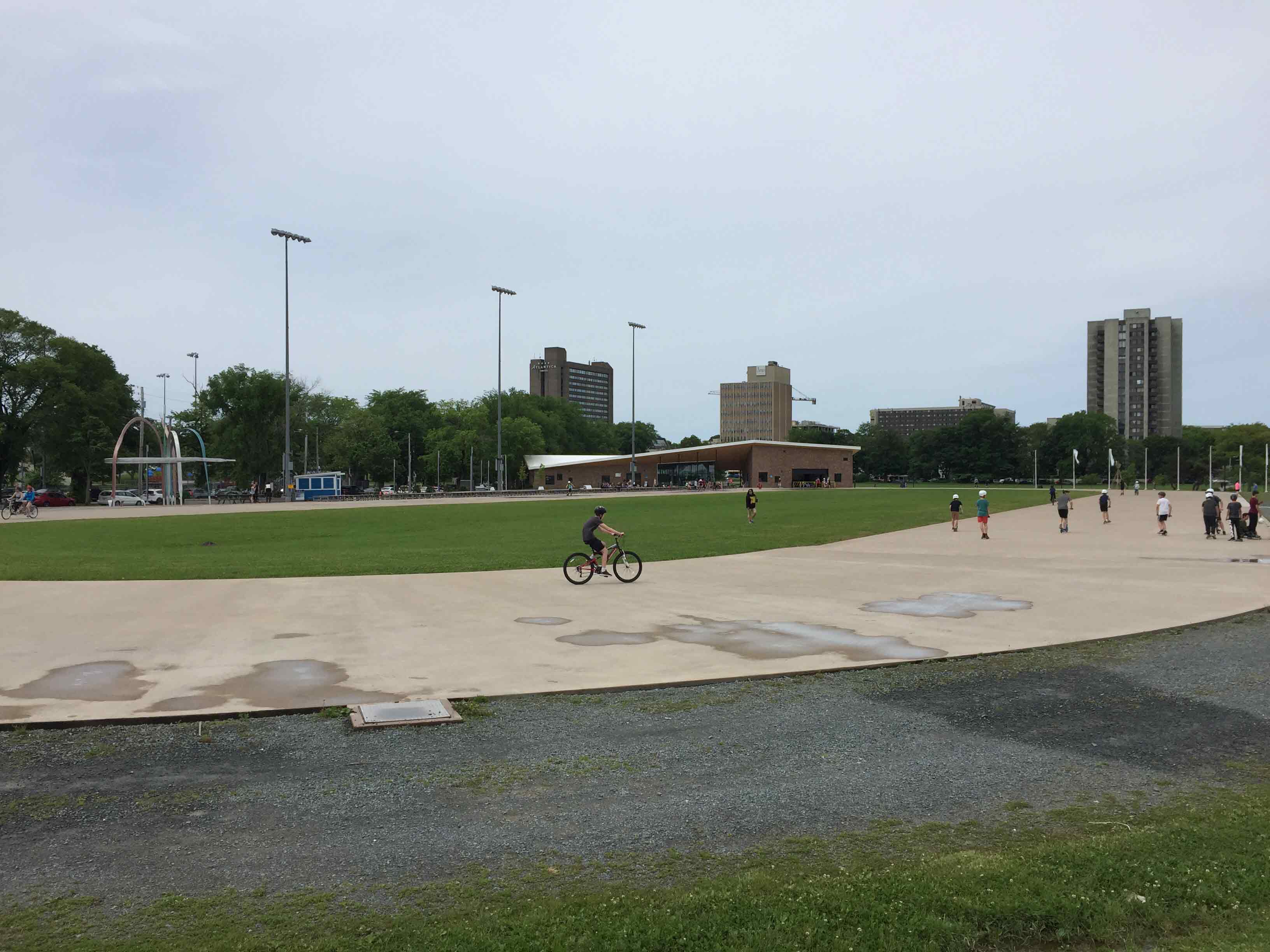 Emera Oval
Get outside on the Emera Oval year-round! In-line skating in the summer and ice skating in the winter. How great is that?
View a full list of Emera Oval activities and equipment.
Equipment Rentals at Recreation Centres
We offer free equipment rentals all year round from our recreation centres. 
View a full list of equipment rentals.
Bedford & Hammonds Plains

Winter 2019

Program
Age
Day & Time
Location
Cost
Child Open Gym
5-12 yrs
Mon, Wed, Fri

3:30-5p.m.

BHPCC
Free
Youth Open Gym
12-18 yrs
Tues, Thurs

3:30-5p.m.

BHPCC
Free
Youth Meditation
14-18 yrs
Tues, Thurs

11:45a.m.-12:45p.m.

BHPCC
Free
Nordic Walking
20+ yrs
Tues, Fri

10-11:30 a.m.

BHPCC
Free
Preschool Open Gym
6m-5 yrs
Thursday

9:30-11:30 a.m.

BHPCC
Free
Adult Open Gym
20-60+ yrs
Tuesday

8-10p.m.

BHPCC
Free
Seniors Open Gym (Pickleball)
55+ yrs
Wednesday

9:30-11:30a.m.

BHPCC
Free
Youth Drop
14-18 yrs
Mon-Fri

11:45a.m.-12:45p.m.

BHPCC
Free
Senior Time
55+ yrs
Wednesday

1-3p.m.

BHPCC
Free
Indoor Walking (Gym)
20+ yrs
Wed, Thurs

11:45a.m.-12:45p.m.

BHPCC
Free
Exercise Bikes
12+ yrs
Everyday during open hours
BHPCC
Free
Snowshoe borrowing program
All ages
Everyday during open hours
BHPCC
Free
Beechville, Lakeside & Timberlea

Winter 2019

Program
Ages
Day & Time
Location
Cost
Sports Night
10-15 yrs
Tuesday & Thursday

6:30-8:30 p.m.

BLT Senior Elementary
Free
Open Gym
All Ages
Saturday

2-4 p.m.

BLT Senior Elementary
Free
Cole Harbour

Winter 2019

Program
Ages
Day & Time
Location
Cost
Family Open Gym
All Ages
Wednesday

6:45-8p.m.

Cole Harbour District High School
Free
Youth Basketball
12-18 yrs
Wednesday

8-9:30p.m.

Cole Harbour District High School
Free
Youth Open Gym
12-18 yrs
Friday

8-9:30p.m.

Astral Drive Junior High
Free
Family Open Gym
All Ages
Saturday

10a.m.-12p.m.

Astral Drive Junior High
Free
Youth Basketball Drop-In
12-18
Saturday

12-1p.m.

Astral Drive Junior High
Free
Dartmouth

Winter 2019

| Program | Ages | Day & Time | Location | Cost |
| --- | --- | --- | --- | --- |
| Breakdance | 9+ yrs | Monday, 7-8 p.m. | Dartmouth North Community Centre | Free |
| Kung Fu Drop In | 12+ yrs | Tuesday, 7-8 p.m. | Dartmouth North Community Centre | Free |
| African Drumming | 6-12 yrs | Wednesday, 6-7 p.m. | Dartmouth North Community Centre | Free |
| African Drumming | 12-24 yrs | Wednesday, 7-8 p.m. | Dartmouth North Community Centre | Free |
| Basketball | 8-12 yrs | Thursday, 6-7 p.m. | John Martin Junior High School | Free |
| Basketball | 12-18 yrs | Thursday, 7:30-9 p.m. | John Martin Junior High School | Free |
| Basketball | 12-18 yrs | Friday, 8:30-10:30 p.m. | John Martin Junior High School | Free |
| Basketball | 8-12 yrs | Friday, 6-7 p.m. | Prince Andrew High School | Free |
| Basketball | 13-18 yrs | Friday, 7-9 p.m. | Prince Andrew High School | Free |
Eastern Passage

Winter 2019

Program
Ages
Day & Time
Location
Cost
Parent & Tot
1-5 yrs
Friday

8:30-11a.m.

Tallahassee Recreation Centre
$5
Yoga
Adult
Tuesday

7-8p.m.

Tallahassee Recreation Centre
$5
Basketball
Adult
Wednesday

8-10p.m.

Islandview High School
$5
Yoga
Adult
Sunday

7-8p.m.

Tallahassee Recreation Centre
$5
Yoga HIIT
Adult
Thursday

7:30-8:15p.m.

Tallahassee Recreation Centre
$5
Pickleball
Adult
Sunday

12-2p.m.

Tallahassee Recreation Centre
$3
Youth Night
12-16 yrs
Friday

6-9p.m.

Tallahassee Recreation Centre
Free
Family Open Gym
All Ages
Sunday

2-4p.m.

Tallahassee Recreation Centre
Free
Open Gym
5-8 yrs
Friday

6-7:30p.m.

South Woodside Community Centre
Free
Open Gym
9-12 yrs
Friday

7:30-9p.m.

South Woodside Community Centre
Free
Youth Basketball
14-18 yrs
Friday

6-8 p.m.

Island View High School
Free
Fall River

Winter 2019

Program
Ages
Day & Time
Location
Cost
Adult Walking Club
Adult/Senior
Monday

8am-9am

Gordon R Snow Community Centre
Free
Adult Walking Club
Adult/Senior
Wednesday

8am-9am

Gordon R Snow Community Centre
Free
Adult Walking Club
Adult/Senior
Friday

8am-10am

Gordon R Snow Community Centre
Free
After School Open Gym (adult must attend)
5-12 yrs
Monday

2pm-3:30pm

Gordon R Snow Community Centre
Free
After School Open Gym (adult must attend)
5-12 yrs
Thursday

2pm-3:30pm

Gordon R Snow Community Centre
Free
Youth Open Gym
12-17 yrs
Monday

3:30pm-5pm

Gordon R Snow Community Centre
Free
Youth Open Gym
12-17 yrs
Thursday

3:30pm-5pm

Gordon R Snow Community Centre
Free
Youth Open Gym
12-17 yrs
Friday

5pm-7pm

Gordon R Snow Community Centre
Free
Parent & Tot Playgroup
0-5 yrs
Monday

9:30am-11:30am

Gordon R Snow Community Centre
$3
Parent & Tot Open Gym
0-5 yrs
Wednesday

9:30am-11:30am

Gordon R Snow Community Centre
Free
Adult Open Gym
18+
Tuesday

8am-10am

Gordon R Snow Community Centre
Free
Drop-In Pickleball
18+
Tuesday

8am-11am

Gordon R Snow Community Centre
Free
Drop-In Pickleball
18+
Wednesday

11:30am-1:30pm

Gordon R Snow Community Centre
$2
Adult Open Gym
18+
Thursday

8am-10am

Gordon R Snow Community Centre
Free
Drop-In Pickleball
18+
Thursday

8am-11am

Gordon R Snow Community Centre
Free
Adult Open Gym (No Pickleball)
18+
Friday

7pm-9pm

Gordon R Snow Community Centre
Free
Halifax

Winter 2019

Programs
Ages
Day & Time
Location
Cost
Open Gym
10-15 yrs
Tuesdays

8-9 p.m.

St. Catherine's School
Free
Fun Zone
6-8 yrs
Wednesdays

4-5 p.m.

Bayers Road Centre
Free
Tween Zone
9-13 yrs
Wednesdays

5-6 p.m.

Bayers Road Centre
Free
Duplicate Bridge
55+
Sundays

1-4 p.m.

Bayers Road Centre
$4
Open Gym
All ages
Sundays

1:30-3p.m.

Citadel Community Centre
Free
Musquodoboit Valley

Winter 2019

Program
Ages
Day & Time
Location
Cost
Open Gym- Elementary School
6-12 yrs
Monday

6:30-8pm

Musquodboit Valley Education Centre
Free
Open Gym - Senior and Junior High
12-18 yrs
Tuesday

7-9pm

Musquodoboit Rural High School
Free
Open Gym - Youth and Adult
12-99 yrs
Friday

7-9pm

Musquodoboit Rural High School
Free
Fit and Fab - Girls Only
11-15yrs
Wednesday

3-5pm

Musquodboit Valley Education Centre
Free
Fitness Centre
14-99 yrs
Mon/Wed/Fri

6:30-9pm

Musquodobit Rural High School
Free
Sackville

Winter 2019

Program
Ages
Day & Time
Location
Cost
Open Gym - Family
All Ages
Saturday

1-3pm

A.J. Smeltzer Junior High School
Free
Open Gym - Family
All Ages
Friday

6:30-8:30pm

Harry R Hamilton Elementary School
Free
Friday Night Rocks
Grades 6-8
Fridays

6:30-9pm

Sackville Sports Stadium Rec Zone/Pool
Free
Play & Splash
Up to age 5 and caregivers
Mon,Wed,Fri

9-11am

Sackville Sports Stadium Rec Zone
Free
Art Hive
All ages
Wednesdays

4-6pm

Sackville Sports Stadium - Party Lounge
Free
Sheet Harbour

Winter 2019

Program
Ages
Day & Time
Location
Cost
Chair Yoga
16+
Wednesdays & Fridays

2-3 p.m.

Sheet Harbour Recreation Office
$5 Adult, $4 Senior
Gentle Yoga
16+
Wednesdays

2:50-1:50 p.m.

Sheet Harbour Recreation Office
$5 Adult, $4 Senior
Parent & Tot Open Gym
18Month+
Mondays

5 p.m.

Duncan MacMillan High School
Free
Open Gym
10+
Mondays

7 p.m.

Duncan MacMillan High School
Free
Open Gym
10+
Wednesdays

7:30 p.m.

Duncan MacMillan High School
Free
Open Gym
All ages
Fridays

6 p.m.

Duncan MacMillan High School
Free
Happy Heart Celebration
1+
February 13

3:30 p.m.

Sheet Harbour Public Library
Free
Spryfield & Sambro

Winter 2019

Program
Ages
Day & Time
Location
Cost
Youth After School Drop In
10-14 yrs
Mon,Wed,Fri

3:30pm-5:30pm

Capt Spry Community Centre
Free
Rockingtone Drop In - Open Gym
7-16 yrs
Tuesday

6pm-9pm

Rockingstone Elementary
Free
Open Gym - Family
All Ages
Saturday

1:30pm-3pm

Central Spryfield Elementary
Free