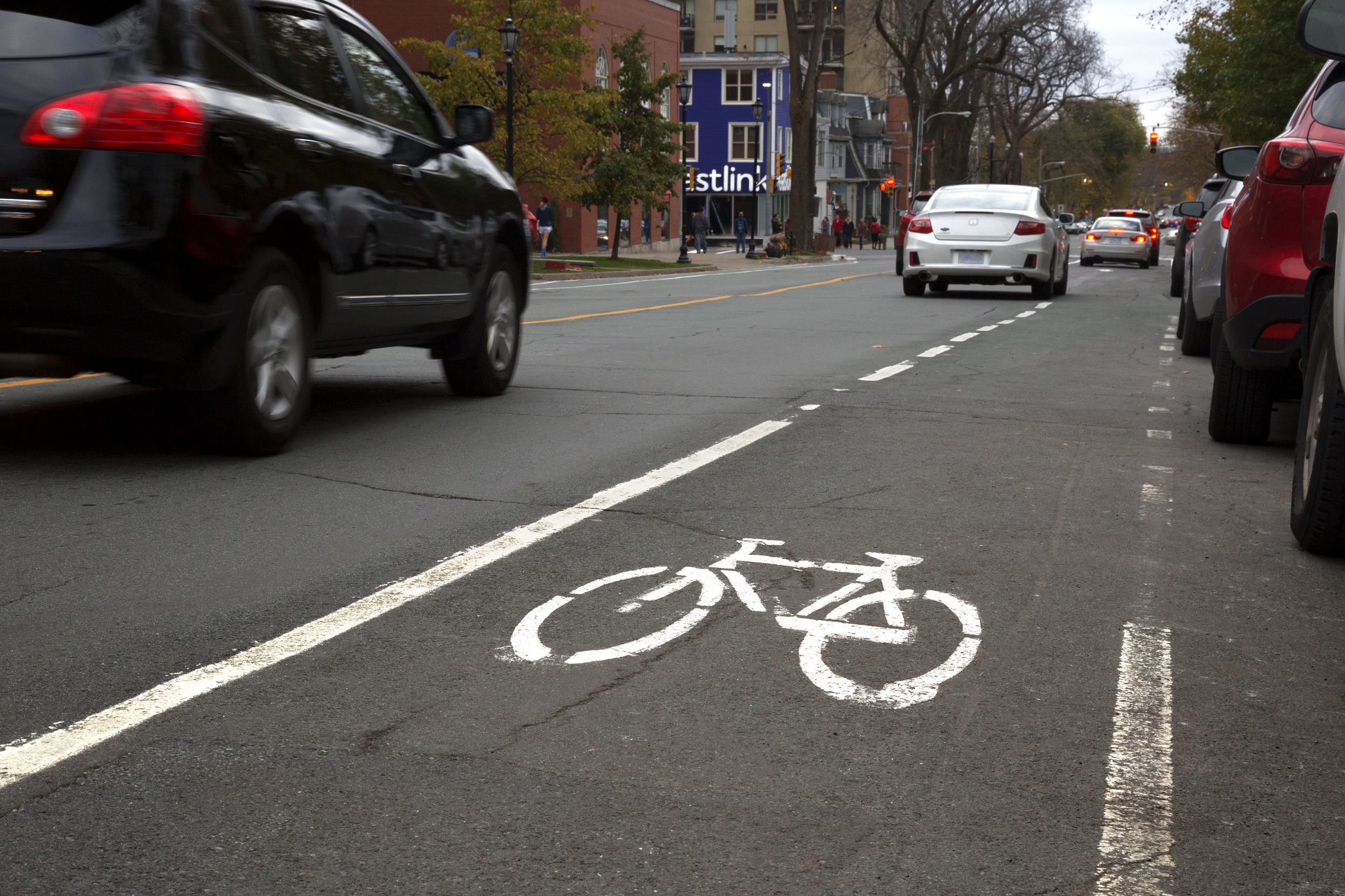 To improve safety and bicycle route continuity, the municipality is designing changes to the existing bike lanes on South Park Street (from Sackville Street to Morris Street/University Avenue) and an extension of these bike lanes south to Inglis Street.
If you have questions or comments on this project contact Mark Nener. 
Status - updated November 2017
The feedback we heard from you [PDF]  is now available for review. This project is in the functional design stage. The extension and improvements will have to be approved by Regional Council. Staff's goal is to proceed with detailed design and a recommendation to Council in early 2018 to implement the preferred option in 2018 (pending budget approval and co-ordination with street repaving and adjacent projects under construction)
A public engagement session was held January 31, 2017 at the Halifax Central Library. The presentation [PDF], parking study findings [PDF], and answers to common questions [PDF] on the project are available for review.
Feedback gathered at a public open house held in April 2016 has informed the development of three options for South Park Street.
Overview
Option 1: Enhanced Painted Bike Lanes
Install a painted buffer between parked vehicles and the bike lanes to help prevent "dooring"
Continue the bike lanes south to Inglis Street from where they currently end at University/Morris
Extend the bike lanes up to the intersections and introduce a new type of intersection crossing pavement marking
Change or remove some of the turning lanes for motor vehicles at the intersections
Use a more durable type of paint for all pavement markings
Option 2: Protected Bike Lanes
Add a barrier between the bike lanes and the vehicle lanes by:
On one side, move the bike lane to the curb side of the parking lane to provide cyclists a greater level of protection from motor vehicles; and,
On the other side, remove on-street parking and add some type of physical separation (e.g., bollards, curb, planter boxes, etc.) between the bike lane and the vehicle lane
Continue the protected bike lanes south to Inglis Street
Extend the bike lanes up to the intersections and introduce a new type of intersection crossing pavement marking
Modify bus stops to prevent buses from having to stop in the bike lanes
Change or remove some of the turning lanes for motor vehicles at the intersections
Use a more durable type of paint for all pavement markings
Option 2a: Protected Bike Lanes with Off-Street Variation
Move the south-bound bike lane off street to the space between the curb and sidewalk from Sackville Street to Spring Garden Road and/or from Spring Garden Road to University Avenue (subject to additional consultation and analysis)
Other potential changes are the same as the Protected Bike Lane (option two above)
Potential Changes to the Street
Option 1: Enhanced Painted Bike Lanes
South Street to Inglis Street: removal of 30 on-street parking spaces from one side of the street
Sackville to Morris/University Avenue: removal of 7 on-street parking spaces
Morris Street/University Avenue to South Street: removal of 3 on-street parking spaces
Relocation of 1 taxi stand (5 spaces)
Option 2: Protected Bike Lanes
Sackville Street to University Avenue: removal of 25 on-street parking spaces
University Avenue to South Street: no net change in number of on-street parking spaces
South Street to Inglis Street: removal of 30 on-street parking spaces
Relocation of 1 taxi stand (5 spaces)
Relocation/reconfiguration of 4 accessible parking spaces
Option 2a: Protected Bike Lanes with Off-Street Variation
Sackville Street to Spring Garden Road: removal of 3 on-street parking spaces
Spring Garden Road to University Avenue: removal of 5 on-street parking spaces
University Avenue to South Street: no net change in number of on-street parking spaces
South Street to Inglis Street: removal of 30 on-street parking spaces
Relocation/reconfiguration of 4 accessible parking spaces
Changes to sidewalk width may be necessary
Detailed analysis of potential impact to trees would be necessary
Other potential changes common to all options include:
Removal of turn lanes at the Spring Garden Road and Morris/University Avenue intersections
Some changes to on-street parking regulations on side streets in the blocks south of South Street would be considered to facilitate improved availability of parking for residents, visitors and customers