Effective Monday, November 27, 2017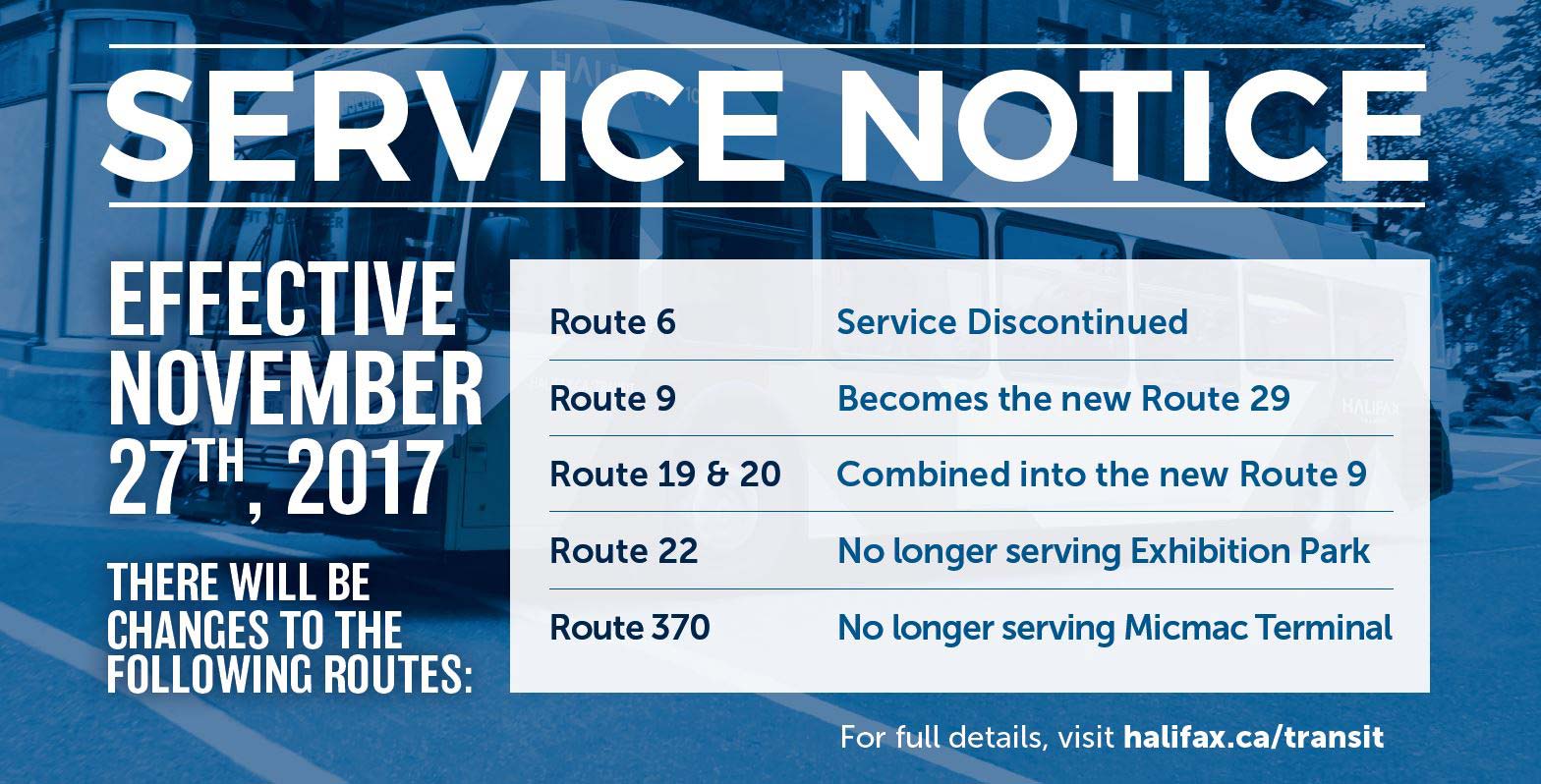 Rider's Guide - November 27  (2.9 MB) [PDF]
Route Map - November 27 (5.9 MB) [PDF]
Service adjustments quick reference guide - November 27 (3.6 MB) [PDF]
New Route 9 Herring Cove
Route 19 Greystone & Route 20 Herring Cove will be combined into the new Route 9 Herring Cove connecting downtown and Spryfield - with branches to Greystone and Herring Cove.
Not sure about how the route branches will work? Find more information on branching routes or watch a quick video on the new Route 9 branches below.
Introducing the new Route 9 (9A & 9B)
Discontinued Route 6 Quinpool
Route 6 Quinpool will be discontinued. Riders affected by these changes may wish to consider one of the following options:
For help exploring your options, please call 311 or visit Google Transit
Additional changes
Route 22 Armdale 
As of November 27, 2017, Route 22 will no longer serve Exhibition Park. Riders affected by this change can consider the Mumford Terminal park and ride as an alternate location.
Macdonald bridge transit routes
As of November 27, 2017, Halifax Transit will discontinue its shuttle service that has been in operation during the Macdonald Bridge Redecking Project and will return to regular routings.
The following routes that travel the Macdonald Bridge will return to regular routings:
Route 1 Spring Garden                                 

Route 10 Dalhousie                                                        

Route 14 Leiblin Park                                                     

Route 41 Dartmouth – Dalhousie                             

Route 52 Crosstown 

Route 61 Auburn – North Preston

Route 159 Portland Hills Link

Route 320 Airport – Fall River MetroX
Halifax Harbour Bridges will continue with the weeknight closures on an as-required basis after November 27, 2017. Transit will operate detoured routes during these affected times.
Route 370 Porters Lake Regional Express 
As of November 27, 2017, there will be changes to Route 370:
No longer serving Micmac Terminal
Porters Lake to Micmac evening service will be discontinued
Minor schedule adjustments [PDF] related to this change
New Bus Bay Assignments: Mumford Terminal and Scotia Square
Some routes will be serving new bus bays at Mumford Terminal and Scotia Square Terminal. To review new bus bay assignments, please see the terminal maps below.