Parking tickets are due 60 days after the ticket was issued.
You are able to pay the parking ticket up until 24 hours prior to your arraignment, after that time the ticket is no longer payable to Halifax Regional Municipality and payment must be made to the Provincial Courthouse.
When paying your ticket, keep in mind:
You are only eligible for the discounted price the ticket is paid within 7 days from ticket issuance

You have 14 days from the date of ticket issuance to apply for a review

Payment for a ticket is admission of guilt, ticket reviews for paid tickets will not be accepted
Option 1: pay your ticket before the due date
You can pay your Halifax parking ticket online using VISA or Mastercard. Select the button based on the date printed on your parking ticket. Tickets issued on or after October 7, 2020 will be paid through this new secure system. If you are paying a ticket with an issue date on October 6, 2020 or before, you must do so in person at one of our Customer Service Centres. If you are unsure when your ticket was issued, please check the date on the ticket.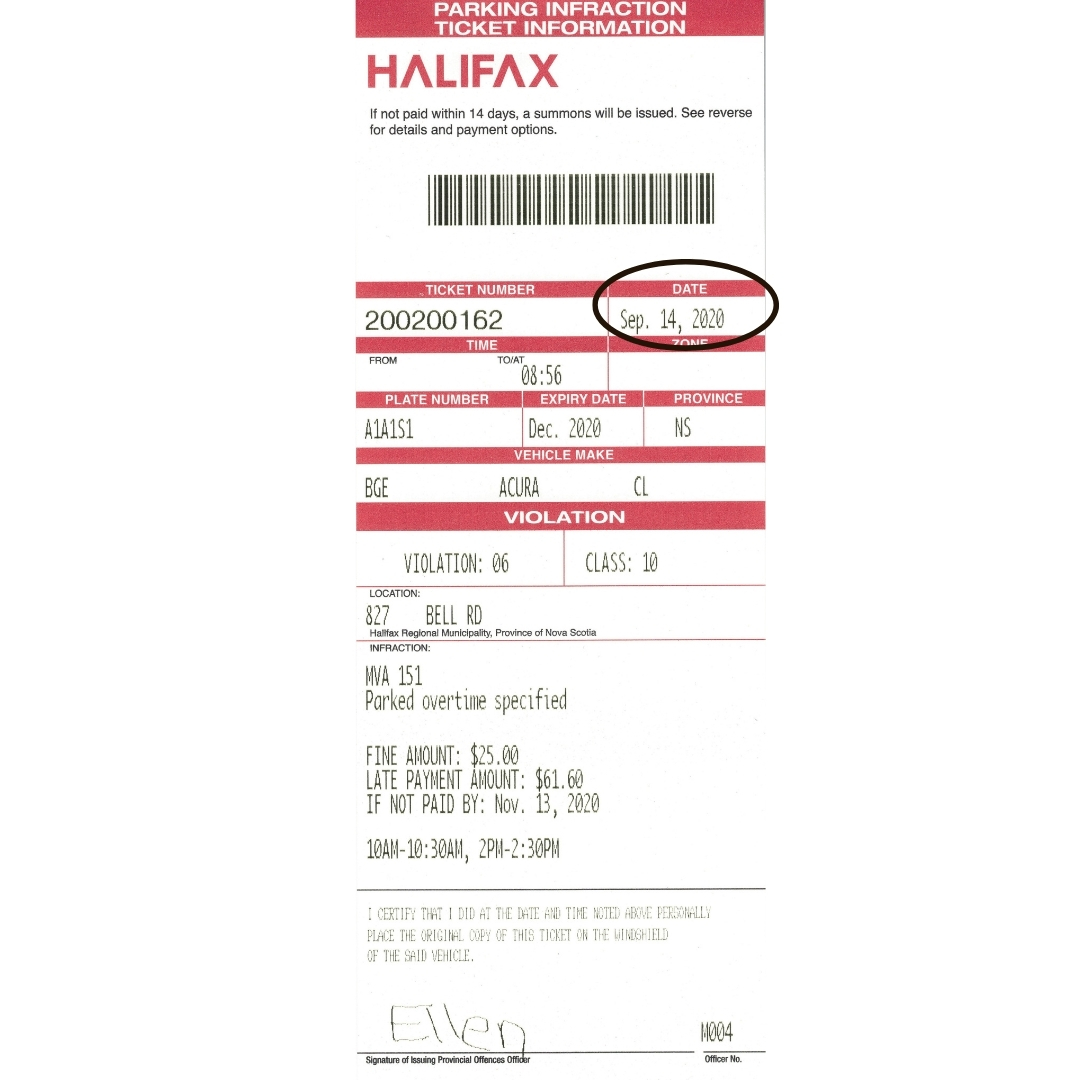 Pay in person:
 Pay your ticket at any Municipal Customer Service Centre from 8:30 a.m.-4:30 p.m. on weekdays.
Customer Service Centres accept cash, debit, and credit.
Option 2: pay your ticket on or after the due date
If you don't pay Halifax Regional Municipality before the due date, you must make your payment to the Provincial Courthouse. See penalty details on the front of the ticket for payment amount. 
On or after the due date, you may visit the Provincial Courthouse  to pay the ticket.
Failure to pay or make a plea will result in an automatic conviction, where you will be responsible for the fine as outlined on the front of your original ticket.  For payment arrangements or any further questions, contact the Provincial Courthouse at 902.424.8718.
If you do not pay this penalty by the court date or do not appear in court as directed by the Summons, the Justice will enter a conviction in your absence resulting in a fine. The Registrar of Motor Vehicles may not allow you to renew your license or vehicle permit until the fine is paid. A fee in addition to the fine may be applied by the Registrar of Motor Vehicles.
Common questions about ticketing and towing
How much does a paystation parking ticket cost?

In October 2020, HRM City Council approved the pay station fine increase to $35, $30 if paid within the first seven (7) days of issuance This requires amendments to the Provincial Summary Offence Ticket (SOT) Schedule. Until the schedules is revised, paid parking violations will be $25, $20 if paid within the first seven (7) days of issuance.  All other parking violations fine amounts are on the face of the ticket.
 

Note: paying your parking ticket is an admission of guilt, you cannot dispute your parking ticket after posting payment

How long do I have to dispute a parking ticket?

You have 14 days from the date of issuance to dispute a parking ticket.

Where can I pay my parking ticket?

You can pay for your parking ticket online or in person at a Customer Service Centre.

I've received a paper ticket but cannot find it in the self-serve portal. How do I pay this ticket?

If the HRM parking ticket is legible, then bring the parking ticket with you to one of our HRM Customer Service Centers and you can pay with cash, debit or a credit card. If the ticket is not legible, please call 311.

How do I dispute a parking ticket?

Please call 311 or hit "Dispute Parking Ticket" using our self-service portal, a customer care agent will get back to you in 7-14 business days.

My car has been towed. How do I get it back?

Search our online portal to find your vehicle. If your vehicle is listed, please contact the tow company who has your vehicle listed in the "Towing Company/Compound".

To get your vehicle back, you'll need:

Valid driver's license

Keys to vehicle

Money to pay tow company. If your vehicle is towed, you retrieve it at your own expense.


 

Towing Companies

Academy Towing: 902-463-7300

Monday to Sunday 8 a.m.-8 p.m.

 

A-1 Towing: 902-865-4575 or 902-835-4575

Monday to Friday 9 a.m.-5 p.m.

Saturday 9 a.m.- 12 p.m.

If your vehicle is not listed in the public portal, please call the Halifax Regional Police non-emergency line: 902-490-5404.

If you have issues, questions, or disputes concerning any HRM tow, call 311 or email parking@halifax.ca