Who is eligible for an Annual Resident parking permit?
If you live on a street with the below parking restrictions, you may purchase an annual resident parking permit from any Customer Service Centre. The permit is available to anyone residing in their designated zone in a dwelling with no more than four (4) units. Only one (1) permit will be issued per dwelling unit. The permit can be transferred between two (2) vehicles, both valid vehicle permits must be provided when applying. The two (2) registered vehicles cannot be parked on street at the same time. All permits will expire one (1) calendar year after date of issue and cost $30 annually. 
FAQs:
Q: Am I required to purchase a permit to park on my street?
A: No, it is not required for you to purchase a permit. Residents who have parking restrictions that are listed below are able to purchase a permit to park on their street without receiving a parking ticket.   
Q: Will this permit guarantee me a parking spot on my street?
A: This does not guarantee parking on your street. This by-law does allow for permit holders to now park within their zone as opposed to the previous by-law that only allowed you to park on your street block. This gives residents more options to find parking in their neighbourhood. Please see zone map to find your zone. 
Q: Am I able to park overnight during street cleaning with this permit?
A: No, parking permits do not exempt you from street cleaning signs, winter parking ban, or other signage as listed below.
Q: I have received a parking ticket but have a parking permit. Am I able to submit a parking ticket review form?
A: It is required that the parking permit be on display at all times in the top right hand corner on the passenger side of the front windshield. If it is not displayed properly, the parking ticket is deemed valid and cannot be contested. 
What do I need to apply?
To apply for an Annual Resident parking permit you must provide the following:
Completed and signed application form
Valid photo identification
Valid vehicle permit(s)

If the applicant is not the vehicle owner, they must have a letter from owner stating permission to use vehicle or a signed authorized of vehicle use contract

Proof of your residential address dated within 30 days from the date of application

i.e. Utility bill, bank statement, government letter
Where can I park?
Residential permits will be issued to a zone as opposed to a street block. Please refer to the zone map to determine your zone. 
Where do I place the permit?
The parking permit must be placed in the top corner of the front windshield on the passenger side.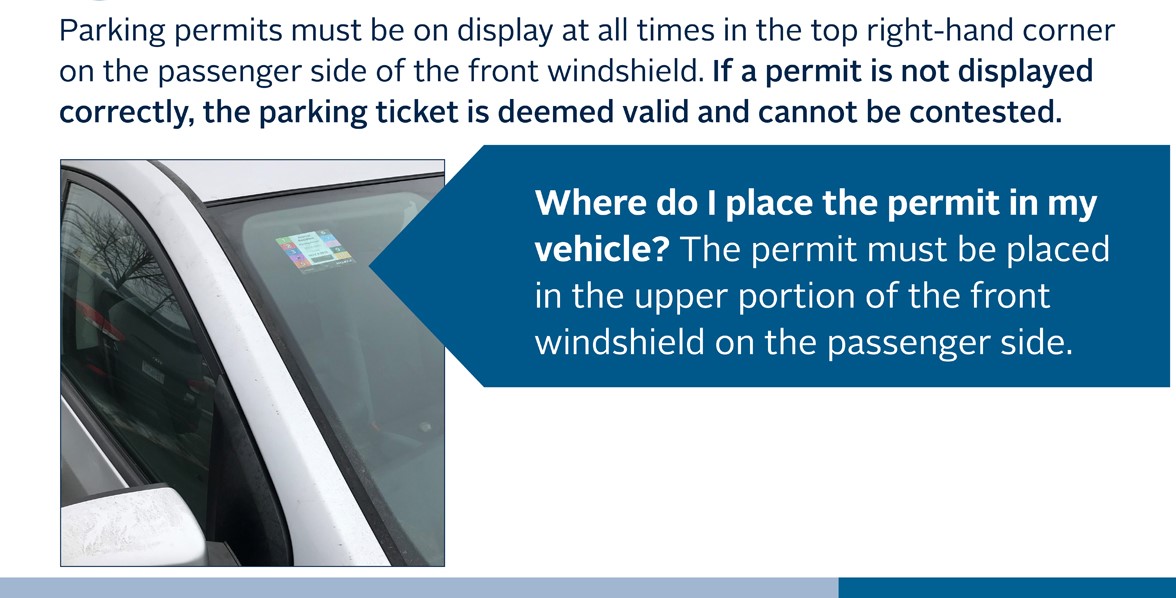 What signage am I exempt from?
With an Annual Resident parking permit you are permitted to park at the following signage erected by the Traffic Authority:
permitting one hour parking;
permitting two hour parking;
prohibiting parking for an hour in the morning or the afternoon;
prohibiting parking for an hour in both morning and afternoon; or
prohibiting parking except by permit
As a permit holder you are not exempt from the following:
permitting fifteen-minute parking;
permitting thirty-minute parking;
Street cleaning signs;
Winter parking regulations;
Parking meters or pay stations on a street;
No parking signs;
No stopping signs;
No Parking Except with Carshare Permit; 
Parking by Special Permit Only
Any other temporary parking controls as established by the Traffic Authority