Urban Street Tree Inventory
Urban Forestry is currently in the process of developing a street tree inventory.
The information collected through this process will allow Urban Forestry to make sound decisions relating to fiscal planning, species diversification, pest and invasive species management, planting and pruning plans, and much more. 
Thus far, inventory data has been collected for districts 7 and 8, and districts 9 and 10 will be added this year. The goal is to have all urban street trees within Halifax on this inventory. 
Tree Planting
Most years, the municipality plants over 1,300 trees along streets, boulevards and in parks. This tree planting program is an initiative of the Urban Forest Master Plan. Benefits of tree planting are significant, and a study conducted by Dalhousie University identified that for every dollar spent on tree planting, the residents of our municipality see over 7 dollars in benefits returned.
What benefits do trees provide:
Carbon capture and improved air quality through pollution reduction and air filtration
Reductions in heating and cooling costs
Increased life spans of municipal infrastructure from stormwater reduction and asphalt retention
Improved property values, aesthetics, beautification and livability of our City
Improved physical and physiological well-being and mental health
Traffic calming and reduced noise pollution
Increase pedestrian traffic for businesses
Wildlife habitat and recreation opportunities across the municipality
Tree Pruning
Based on best management practices for tree care, Halifax has adopted a pruning program that would see each street tree pruned every 7 years. Seven years has been identified as the optimal cycle which balances the cost of pruning against the benefits of doing so. The intent of this pruning is to keep trees healthy and safe, and to provide clearance for traffic, sight-lines, pedestrians and overhead utilities.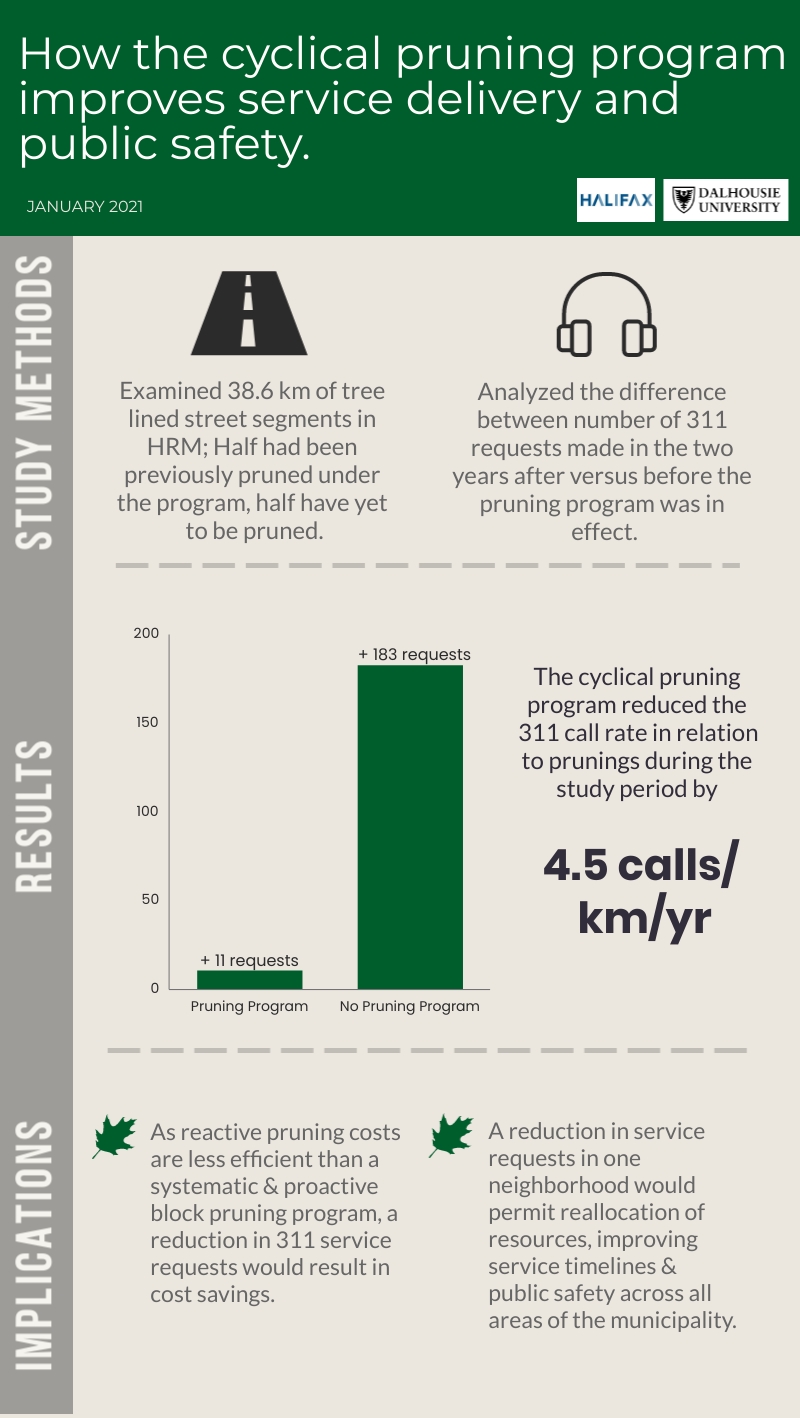 Maintenance Program
Ever wonder what happens when a tree falls in the Urban Forest? The municipality employs a team of arborists that respond to a variety of emergent tree related issues at all times of the day and night. From large tree removals to dealing with broken, hanging and fallen limbs, chipping, stump grinding as well as inspections and assessment. Our team of dedicated arborists are always ready to respond to the needs of the urban forest and the needs of those who enjoy it.
If you see a tree or Urban Forestry related issue, please call 311 to report it.
Tree Protection
Our Urban Forestry team is dedicated to protecting and preserving trees and our urban forest canopy. Administering the Tree Protection By-Law (T-600), the municipality ensures proper tree protection where trees may be challenged by construction and development.
Please visit our "Trees & Construction" webpage for more information on tree protection.