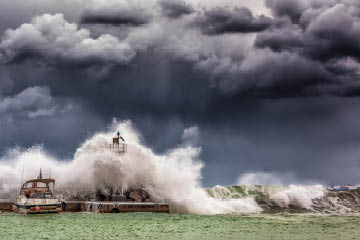 Everyone has a role to play in making sure we all stay safe in emergencies.
The Halifax Regional Municipality commits major resources to make our public buildings, roads, bridges, and communities safe.
The Emergency Management Division is responsible for supporting communities and critical municipal services during times of emergency and disaster by:
leading the initial response

preparing emergency plans

coordinating and managing emergency planning with first responders

facilitating emergency training and exercises with other first responders and municipal staff

providing essential services to those impacted by a disaster

engaging with multiple emergency management stakeholders from a holistic approach to support overall community safety and wellness before, during and after disasters

maintaining specialized volunteer disaster response Joint Emergency Management teams to deliver comfort centre services during a disaster
Stay informed
In the event of an emergency, residents are encouraged to get the latest information by following @hfxgov on Twitter.
When warranted, the municipality will use its mass notification system – hfxALERT – to issue notifications.  Sign up for hfxALERT today.
Support your community during an emergency 
Are you interested in volunteering to help out in an emergency? You can join a Joint Emergency Management (JEM) Team. JEM Teams are a concept developed by the Halifax Regional Municipality's Emergency Management Division to allow community organizations to prepare for and respond quickly to a wide range of emergencies.
Who's responsible?
The following outlines who is responsible for addressing issues that result from emergency situations (e.g. winter storms, gas leaks, floods, forest fires, tropical storms/ hurricanes). The municipality encourages residents to have a good sense of where their own property ends and where a neighbour's or municipally-owned property begins. 
Municipally-owned trees that fall on private property will be removed by the municipality

If a tree falls into the right of way and is blocking/impeding traffic, a sidewalk or bike lane, call 311 to be addressed by a professional crew.

Trees located on private land will be the sole responsibility of the homeowner

The municipality is not responsible for removing brush and debris from private property
In the event of a problem with a utility pole or power line, contact Nova Scotia Power, or call 1.800.428.6230 | 902.428.6230
Individuals who encounter or experience flooding should contact 311. Calls will be assessed and re-directed accordingly.
Any damage to private property – occurring as a result of a hurricane or other natural disaster – should be reported to your insurance company.
An alarm triggered by a power reconnect, and not as a result of a real emergency, should be reported to a resident's alarm company. 
In the event of a power interruption, individuals should contact Nova Scotia Power (at the number provided above)
For information regarding well water testing visit Nova Scotia Environment, or call 1.800.565.1633 | 902.424.3600