Free on-street parking program to support business recovery — Thursdays and Fridays from 4 p.m to 6p.m.
On-street parking will be free at all parking pay stations, and for HotSpot users, each Thursday and Friday afternoon from 4 p.m. to 6 p.m. from Thursday, June 17 to Friday, Sept. 10.
Additionally, the municipality will be covering the 10 cent transaction fees for HotSpot users, at all times of day, from Thursday, June 17 to Friday, Sept. 10. New users can download the HotSpot app from their preferred app store and select "Pay Per Use" at sign up. Existing HotSpot users with either a monthly or annual subscription can contact HotSpot directly to adjust their account settings to a Pay Per Use model for the months of June, July, August and September to benefit from transaction-free parking. HotSpot contact information can be found here.
Residents are reminded that parking is free on weekdays after 6 p.m., on weekends and holidays.
Note: Private parking garages and off-street lots are not included in this promotion. Motorists must abide by other posted signage, such as accessible parking, fire hydrants and no-stopping. 
The Support Business Recovery Program also includes improved signage and communications around available parking options downtown, as well as  the implementation of a large-scale merchant validation program for up to 200 small businesses. These recommendations were partly informed through engagement with the downtown, and surrounding area, business districts to support business that were significantly impacted by COVID-19. 
Pay Stations 
We've moved from individual meters to pay stations – this is a pay-by-plate, pay-by-zone system. There will still be a mixture of paid, permit and hourly parking in parking zones.
New parking technology makes it easier to pay and allows you to pay using credit card, debit card, and smart pay. Payment is attached to your vehicle (by your license plate), not the parking space. This means your vehicle can move freely within the parking zone up to the time purchase or maximum time allowed.
Parking using a pay station for the first time? Follow these steps: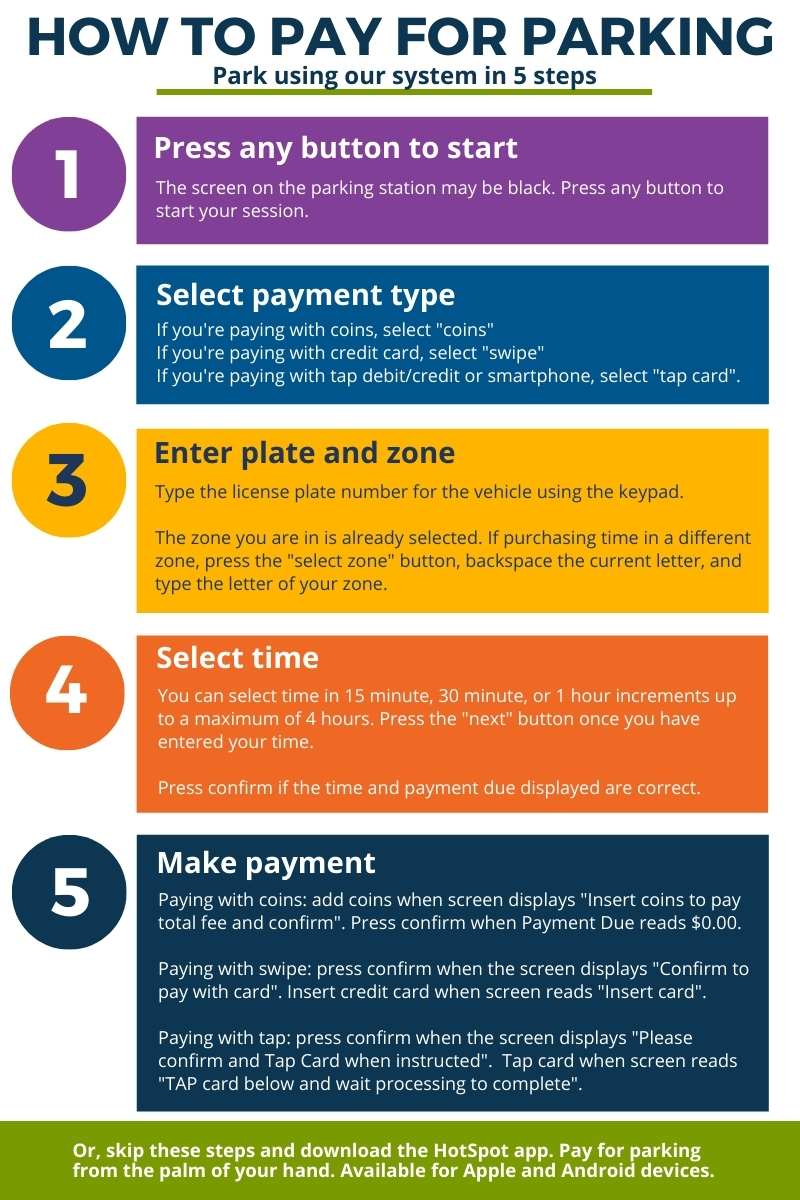 Upcoming Rate Adjustment
Starting Tuesday, May 4, on-street parking rates will be changing! Drivers will no longer be limited to four hours per zone per day, and hourly rates will be determined based on time-of-day demand within the parking zone.
Press any button to start - The screen on the parking station may be black. Press any button to start your session.
Select payment type - If you're paying with coins, select "coins". If you're paying with credit, select "swipe". If you're paying with tap debit/credit or smartphone, select "tap card".
Enter plate and zone - Type the license plate number for the vehicle using the keypad. The zone you are in is already selected. If purchasing time in a different zone, press the "select zone" button, backspace the current zone letter, and type the letter of your zone.
Select time - You can select time in 15 minute, 30 minute, or 1 hour increments. Press the "next" button once you have entered your time. Press confirm if the time and payment due displayed are correct.
Make payment - Paying with coins: add coins when screen displays "Insert coins to pay total fee and Confirm". Press confirm when Payment Due reads $0.00.

Paying with swipe: press confirm when the screen displays "Confirm to pay with card". Insert credit card when screen reads "Insert card",

Paying with tap: press confirm when the screen displays "Please confirm and Tap Card when instructed". Tap card when screen reads "TAP card below and wait processing to complete".
On-street parking rates:
Where on-street paid parking is available, it is divided up into parking zones.
Rates vary by zone
Time can be purchased in 15-minute increments for all zones

How it works:
When looking for on-street paid parking in areas that have historically had meters, look for these signs and note your pay parking ZONE. Zones are listed on parking signage and are letters A through H.
Once parked, you can find your nearest pay station to pay using coins, debit (tap only), credit, or Apple Pay. You can also use the HotSpot app on your mobile device (download it on the App Store for iPhone and Google Play for Android) to pay. HotSpot is a third party app with subscription/usage fees that has partnered with CALE Canada to provide our parking solution. You do not need to download HotSpot to park on street. You will need to know your license plate and parking zone to initiate a parking session.
Tip: note your license plate in your phone or write it down on a piece of paper and keep it in your purse or wallet so you don't forget.
Common questions
How do I pay for parking?

You can pay for parking at the nearest pay station or by using the HotSpot app. You will need to know your license plate. Pay stations accept coins, debit, credit, or pay-by-phone. 

Are all streets in a zone being converted to paid parking?

No. The new parking zones are for geographic and rate purposes. There will still be a mixture of paid, permit and hourly parking.

Will all on-street parking meters be replaced with pay stations?

Yes. At a minimum there will be one multi-space parking pay station per block with consideration given to a reasonable walking distance between pay stations.

Can I "top up" or add to my parking session?

Yes, either from the HotSpot app or a pay station you can add time to your parking session.

Do I have to download or use HotSpot to park?

 No. Residents can register their parking session at the nearest pay station with just their license plate. HotSpot is a third-party app with subscription and/or usage fees that has partnered with CALE Canada to provide our parking solution. You do not need to download HotSpot to park on street. You will need to know your license plate and parking zone to initiate a parking session.

How much does it cost to use the HotSpot app?

Based on feedback from residents, we've negotiated a per transaction fee of $0.10 when the pay stations and zones come into affect. If you park frequently, you can opt for a monthly fee of $2.00 or annual fee of $20.00.

Do I have to park in front of or by a pay station?

No, Paid parking areas are clearly signed. Look for paid parking signage indicating where you can park and the paid parking zone. Ensure you are not parked in areas marked with "No Parking", "No Stopping", or "Loading Zone" signage to avoid getting a ticket.

What does the new parking solution mean for accessible parking?

If you use an accessible parking permit, your experience will not change. There will still be designated accessible parking spaces with hourly restrictions  available at no charge.

Is parking still free after 6 p.m., on weekends, and on holidays?

Yes.

How will I know if I must pay to park on the street and how do I know where to go to pay?

Signs will be installed on the streets where the parking meters are being removed to indicate that payment is required on that street.  At least one parking pay station will be available on each block. Staff are working on communication strategies to ensure the public are notified well in advance of the changes. 

How long can I stay in one parking space?

There is no longer a four (4) hour maximum. Rates per hour depend on the zone you are in and there are daily maximums per zone. See the above table for more information.

How do I get a receipt for parking?

You can visit this website to receive a receipt.

What can I do if a pay station is not working?

Please report it to us by calling 311 or sending an email to contactus@311.halifax.ca

Who can I do if there's a problem with my HotSpot app?

Contact the service provider via its website, mobile app or call 1-855-712-5888 (toll-free). Please do not call 311 to report issues with the mobile application. 

What is HotSpot's data and Privacy Policy?

HotSpot's policy can be found on their website.  If you have specific questions about the use of your data please contact HotSpot directly via email.