Municipal parking meters 
•    Parking meter rates and time limits vary across the municipality. Each meter will indicate fees and time limits for that location. 
•    Maximum time limits range from 30 minutes to 5 hours and rates can range from $0.25 for 10 minutes to $2 for 80 minutes.
•    Parking meters are in operation Monday through Friday, between 8 a.m. and 6 p.m., unless otherwise indicated on the meter.  
•    Parking at meters is free on weekends, holidays, and after the designated time restrictions listed on the meter.
•    Parking is free at out-of-order meters. Vehicles must move before the designated time limit expires. Those who remain parked beyond the maximum limit are subject to a ticket.
Mobile payment option 
•    Mobile payment for parking is available on all municipal meters.
•    HotSpot, the municipality's current service provider, offers users a mobile app at a monthly/ annual fee.  
•    Mobile payment for parking is a new option that enhances convenience:
        * The mobile app will notify users when their meter is close to expiring and offer the opportunity to add more time up to the maximum for that parking space
        * Users can terminate a session early and be refunded for any unused time
        * Those parking at a meter are not required to use the mobile payment option as all parking meters still accept coins
•    Parking meter rates and time limits vary across the municipality. These are indicated on the meter as well as the mobile app.
•    Mobile parking fees and standard coin parking rates will be the same at each individual location. 
•    For more information and to download the HotSpot parking app, please visit the website.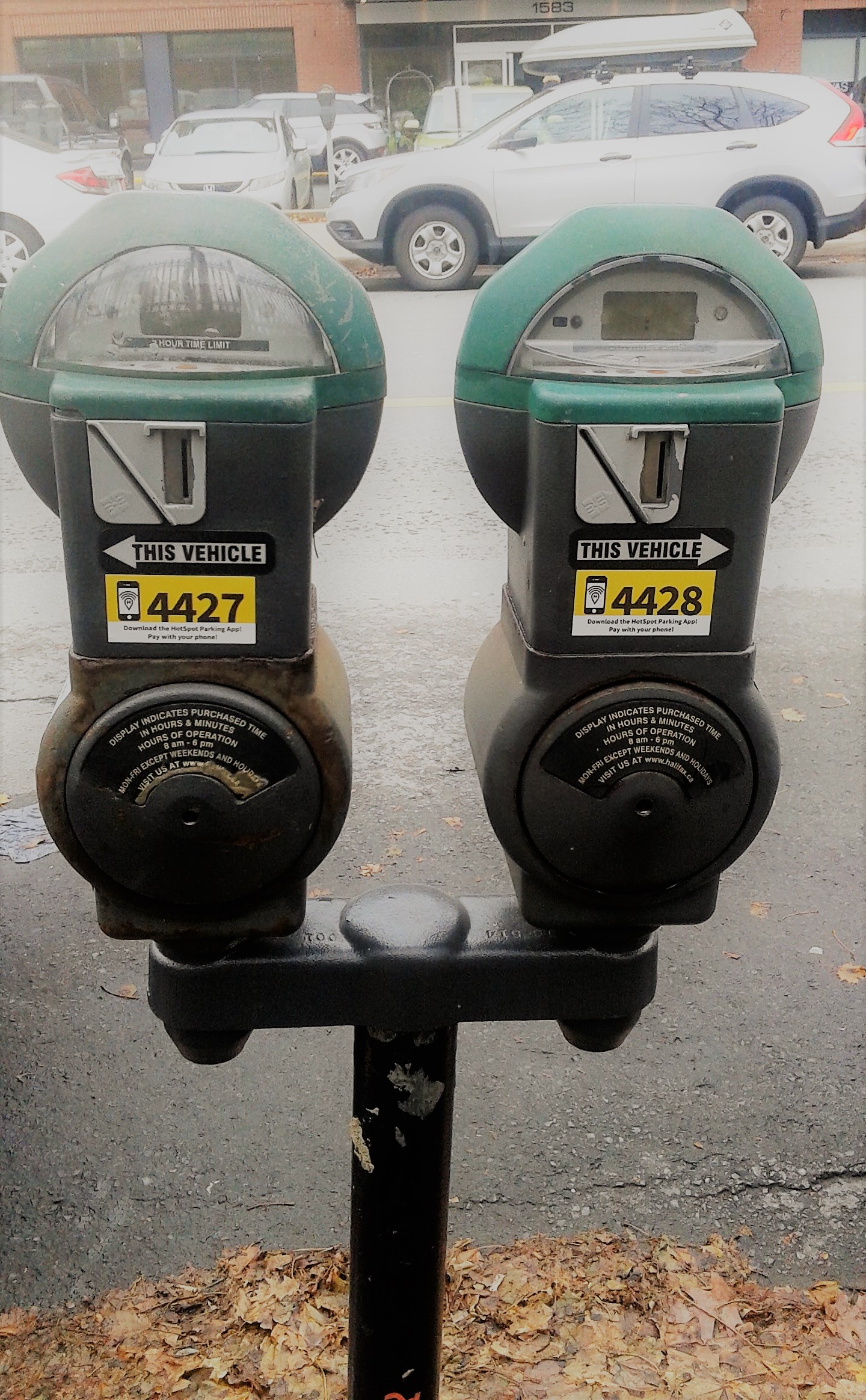 Common questions
When will mobile payment for parking be available?
As of December 4, 2017, mobile payment for parking is available on all municipal meters.
How do I access the mobile payment for parking option?
Users must download the mobile app via the HotSpot website. The app has a monthly/ annual fee. Watch this HotSpot video to see how the mobile app works.
Do I now have to use the mobile app in order to pay for metered parking?
No. Standard methods of payment for metered parking remain unchanged.  The new mobile payment solution provides people with another option for their convenience.  Coin payments are also available at all meters.  
If I try to pay on a weekend or holiday, will the mobile app take my payment?
No. The app will not process payments on weekdays or holidays, even if the user tries to make a payment. 
I only used half my time at the meter. Can I get a refund?
Users of the mobile payment app can end their parking session any time and will be refunded the remaining time. This option is not available for standard coin payments. 
Will I receive a mobile notification if I get a ticket?
No. Users of the mobile app will not receive an electronic ticket or notification. Paper tickets will continue to be issued.
How do I pay a ticket?
Ticket payment remains unchanged and can be paid online.
Can I use the mobile app to pay for Halifax Transit?
No.  The HotSpot transit payment feature is not available in Halifax.  New fare payment technology is part of the next phase of Halifax Transit's fare solutions project and mobile payment may be considered as part of this. Updates regarding the status of new technology for transit will be shared as information becomes available.
How many parking meters will now offer the mobile payment option?
All 1,485 municipal meters will now offer the mobile payment option. All 750 parking spaces operated by Waterfront Development will also be offering the mobile payment option via HotSpot.
Is the mobile payment system for municipal metered parking the same as what's offered by Waterfront Development?
Yes. Users can use the same HotSpot parking app for both municipal and Waterfront Development parking spaces.  The Halifax Regional Municipality and Waterfront Development have separate contracts with the service provider and are subject to change at different times. Any future changes in service providers will be clearly indicated. 
Does HotSpot collect a percentage of meter revenue?
No. HotSpot only collects revenue via a monthly/ annual fee to use the mobile app. For more information visit the HotSpot website.
How much will this new service cost the municipality?
There is no cost to the municipality. HotSpot has the current contract rights for mobile payment in the municipality and collects revenue though a monthly/ annual fee collected from registered app users. 
Who can I call if there's a problem with my HotSpot app?
Contact the service provider via its website, mobile app or call 1-855-712-5888 (toll-free). Please do not call 311 to report issues with the mobile application. 
How do I report an out-of-order parking meter?
Please email or call 311.