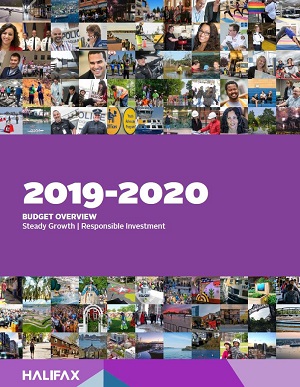 2019-20 Budget Presentation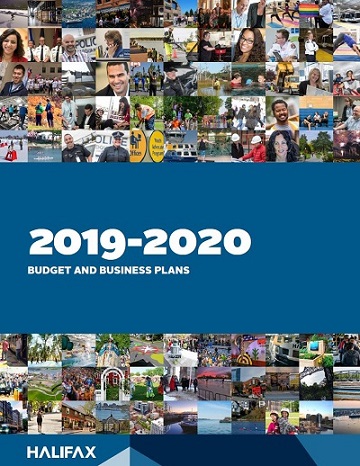 Proposed 2019-20 Budget and Business Plans
View the document or to see a specific section use the links in the table below.
Proposed 2019-20 Capital Plan
View the document or to see a specific section use the links in the table below.
Capital Projects Interactive Map
View what Capital Projects are happening around the Halifax Regional Municipality. The map is interactive. Click on an area in the map to find more information about that project. 
Frequently Asked Questions
What can residents expect in terms of a tax adjustment?
For 2019-20, Regional Council has approved a 2.3 per cent increase to the average household tax bill (about +$50) this year, which works out to $1,967 per average home. This increase is less than the growth in personal income per capita (2.5 per cent) and slightly more than inflation (2.1 per cent).
The 2.6 percent growth in average property assessment is driving the 2.3 per cent average tax bill increase even with the urban tax rate reduced by 0.3 per cent.
Why is a tax increase necessary?
We're thriving as a municipality and need a plan to sustain our success for future generations. If the municipality funded existing and approved service changes and maintained targets for debt and capital transfers from the operating budget without increasing taxes, there would be a shortfall of approximately $12.2 million this year and/or a reduction in current programs and services.
While taxes are never popular, they reflect the cost that citizens pay for receiving the public services they have come to expect, which are increasing to meet the needs of a growing population and economy.
The municipality has healthy reserves. Why not draw from the reserves to cover increased costs?
Reserves are a planning tool to deal with future risk, save for anticipated future costs and create funds for upcoming opportunities.  Dipping into the reserves is one-time money. It might help ease the financial pressure today, but it doesn't help in the following years when that same amount of money is needed.
At Regional Council's direction and approval, the reserves are already being actively deployed. Regional Council approves withdrawals when required.
Interest rates are low right now. Why not borrow what we need to cover any shortfall?
Regional Council has worked hard to reduce the municipality's debt load and not transfer today's costs to future generations.
Borrowing makes sense in certain circumstances (e.g. for new long-term assets). However, Council has endorsed a pay-as-you-go approach for state of good repair capital improvements.
In the past 15 years Halifax's overall debt has been reduced by more than $100-million, or more than 30 per cent ($347-million in 1997-98, to $236 million in 2019-20). When debt is lowered, it reduces the amount of principal and interest payments and frees up more money for programing and services.
What if we cut back on capital projects?
Currently, Regional Council is investing almost three quarters of its $164 million capital budget in what's called 'state-of-good-repair' or asset renewal. This recapitalization provides people in the municipality with the assets, programs and services that already make Halifax a great place to live, work, play and invest.
In the long run, maintaining the longevity of our assets contributes to significant cost savings.
Cutting back on new capital projects would be counter to Regional Council's approved economic strategy for planned growth and building a thriving community.
Can't we find more efficiencies within government to avoid increasing taxes?
The municipality is committed to continuous improvement by identifying efficiencies and delivering better value for every taxpayer dollar. The CAO-championed Performance Excellence program using LEAN Six Sigma tools is targeting cost-savings, cost avoidance, and improved customer services. For 2019-20, the municipality is budgeting $1.4 million in savings that were identified last year outside of the annual budgeting process.
These costs savings will be carried forward in the current year's budget, and staff will continue to identify performance excellence projects that provide for more efficient and effective ways to deliver municipal services and reduce their costs in the coming years.
What other sources of income does the municipality bring in to cover the cost of delivering services?
As per official budget figures, property tax revenues are approximately 80 per cent of total municipal revenues. Revenue for HRM is best thought of in two broad sources: tax, and non-tax revenues.
Tax revenues include residential and commercial property taxes. The non-tax revenue portion is made of up of a variety of non-property tax sources as shown below.