Public submissions to the Committee of the Whole on budget
Committee of the Whole meetings on budget are held to consider the proposed budgets and business plans of the municipality for the next fiscal year. Time is given during each meeting to allow residents to provide verbal comments about the budget to Regional Council.
Each person may speak for up to five minutes. If more than one person appears representing a group in relation to a particular topic, the chair may require that you choose one person to speak on behalf of the group.
If you have questions or would like more information, contact the Municipal Clerk's Office via phone 902.490.4210 or email
If you are unable to make it in person but are interested in following these meetings you can watch or listen to Committee of the Whole online.
2019-20 Committee of the Whole budget schedule:
Jan. 16, 2019 (9:30 a.m.):  Capital Budget, Chief Administrative Office, Legal, Municipal Clerk and External Affairs, Human Resources / Office of Diversity and Inclusion, Finance, Asset Management and ICT, Office of the Auditor General
Jan. 18, 2019 (9:30 a.m.): Continuation of budget debate from Jan. 16. Business units include Legal, Municipal Clerk and External Affairs, Human Resources / Office of Diversity and Inclusion, Finance, Asset Management and ICT, Office of the Auditor General
Jan. 23, 2019 (9:30 a.m.): Halifax Regional Police
Jan. 30, 2019 (9:30 a.m.): Halifax Transit, Transportation & Public Works, Corporate and Customer Service
Feb. 1, 2019 (11 a.m.): Multi-year Capital Program Budget
Feb. 5, 2019 (12:30 p.m.): Special Board of Police Commissioners meeting to discuss budget
Feb. 6, 2019 (9:30 a.m.): Parks & Recreation, Planning & Development
Feb. 8, 2019 (9:30 a.m.): Halifax Public Libraries, Halifax Regional Fire & Emergency
Feb. 15, 2019 (9:30 a.m.): Halifax Regional Police, Fiscal and Consolidated Accounts
Feb. 28, 2019 (9:30 a.m.): Budget Adjustment List Review
March 22, 2019 (9 a.m.): Special budget meeting to review tax adjustment
April 16, 2019 (10 a.m.): Recommendation Report: 2019/20 Budget and Business Plan Approval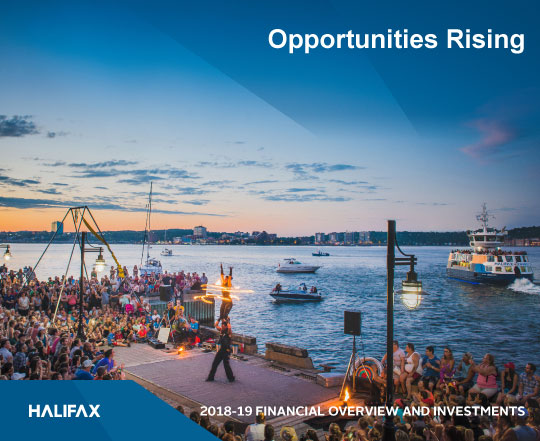 Opportunities Rising: 2018-19 Financial Overview & Investments 
Capital Projects Interactive Map
View what Capital Projects are happening around the Halifax Regional Municipality. The map is interactive. Click on an area in the map to find more information about that project. 
Table of Contents of the Budget Book
Multi-Year Budget and Business Plans
Public Safety Services:
Public Services:
Governance and Support Services:
Frequently asked questions about the 2018-19 budget
Is the municipality still focused on multi-year budgeting?
Yes. In 2016, Regional Council directed the budget take "…a much broader view that looks at the underlying fiscal and economic assumptions and critical key decisions such as the level of the overall capital budget, debt, tax levels, reserves, and the capacity to undertake service enhancements."
The long-term goal being the integration of macroeconomic constraints, service levels, appropriate levels of taxation, and providing services to enhance public and economic welfare. Work continues in refining a multi-year budget framework that is practical, forward-looking, and grounded in sound finance principles.
What can residents expect in terms of a tax adjustment?
Regional Council has approved a 1.975 per cent increase to the average household tax bill (+$37) this year. That works out to $1,917 per average home.
It should be noted this percentage increase is less than what is forecast for GDP (2.2 per cent) and inflation (2 per cent).
Despite the significant pressures on public safety wages (a 2.75 per cent increase) and the higher service standards coming on-line this year, Regional Council managed to keep the increase in the average tax bill less than the increase in inflation.
Why increase taxes?
Based on projections for the cost of existing and new services, property tax revenues, and new projects/ programming already approved or on the horizon, a balanced approach that includes tax increases, reducing our debt, and setting aside money in reserves is required.
While taxes are never popular, they reflect the cost that citizens pay for receiving the public services they have come to expect.
It's worth noting there would be a shortfall of approximately $10 million – or a forced reduction of current programs and services – if we tried to keep the average tax bill unchanged while:
funding existing and approved service changes and

maintaining targets for debt and capital transfers from the operating budget. 
How did the municipality get into a situation where a tax increase is necessary?
We're thriving as a municipality and need a plan to sustain our success for future generations. If the municipality simply maintained our current approach without increasing taxes, there would be a shortfall of approximately $10 million this year and/or a reduction in current programs and services.
The municipality has healthy reserves. Why not draw from the reserves to cover increased costs?
Reserves are a planning tool to deal with future risk, save for anticipated future costs and create funds for upcoming opportunities.  Dipping into the reserves is one-time money. It might help ease the financial pressure today, but it doesn't help in the following years when that same amount of money is needed. It's unsustainable to use reserves to fund annual recurring costs.
At Regional Council's direction and approval, the reserves are already actively deployed. Regional Council approves withdrawals when required.
Interest rates are low right now. Why not borrow what we need to cover any shortfall?
Regional Council has worked hard to reduce the municipality's debt load and not transfer today's costs to future generations.
Borrowing makes sense in certain circumstances (e.g. for new long-term assets). However, Council has endorsed a pay-as-you-go approach for state of good repair capital improvements.
In the past 15 years Halifax's overall debt has been reduced by more than $100-million, or more than 30 per cent ($347-million in 1997-98, to $240-million today). When debt is lowered, it decreases servicing costs and frees up more money for programing and services.
What if we cut back on capital projects?
Currently, Regional Council is investing more than 70 per cent of its capital budget in what's called 'state-of-good-repair'. This recapitalization provides people in the municipality with the programs and services that already make Halifax a place where people want to live, work, play and invest.
In the long run, maintaining the longevity of our assets contributes to significant cost savings.
Cutting back on new capital projects would be counter to Regional Council's approved economic strategy for planned growth and building a thriving community.
Can't we find more efficiencies within government to avoid increasing taxes?
The municipality is committed to continuous improvement by identifying efficiencies and delivering better value for every taxpayer dollar.
The CAO-championed Performance Excellence program using LEAN Six Sigma tools rolled out this past year – the objective being cost-savings, cost avoidance, and improved customer services.
Will the municipality be proceeding with larger capital projects (i.e. performing arts centre, commuter rail, or a new police station) any time soon?
There are currently funding strategies in place for several capital projects.
However, many of the larger strategic projects that were approved by Regional Council in 2014 (e.g. a new police station) are currently being considered as part of a multi-year approach to capital investment. Before starting these larger projects, Regional Council has directed staff to undertake due diligence – including budget planning, cost assessment and project management.
In the meantime, we have some exciting projects underway, or about to get started, that will improve the quality of life for Halifax residents. They include:
Investment in the recently approved Integrated Mobility Plan – $39-million

Street recapitalization – $27.3-million

Parks and playgrounds – $14-million

New transit technology – $4.1-million

Cole Harbour Place renovations – $1.5-million

St. Andrew's Community Centre renovation – $2.8-million

Completion of the Dartmouth Sportsplex renewal – $7-million

Recreation services software that will improve the user experience – $2-million