Municipality receives World Council on City Data Platinum Certification
The Halifax Regional Municipality has received ISO 37120 Platinum Certification from the World Council on City Data (WCCD). This certification recognizes the high calibre of the Halifax Regional Municipality's data, which is reflected in its reporting of 90 indicators in accordance with ISO 37120 for the 2020/21 fiscal year.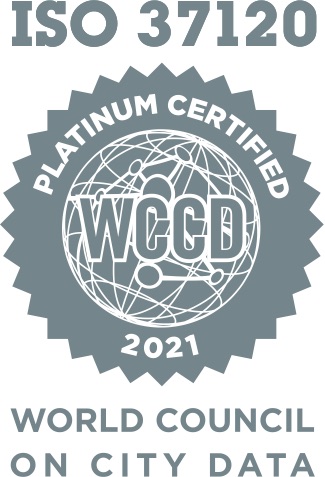 The WCCD is a non-profit organization that administers ISO 37120 – Sustainable Cities – the first globally comparative international standard on city indicators. There are over 100 cities currently certified, representing 40 countries with 30 Canadian cities having achieved Platinum Certification. 
Of the WCCD indicators for the 2020/21 fiscal year, the municipality excelled in the following: 
Public outdoor recreation space: With its extensive range of outdoor recreation facilities and assets, the municipality ranks in the top tier of Canadian cities in the WCCD Network for the amount of outdoor recreation space per capita;
Public street lighting electricity consumption: Due to its significant commitment to energy efficiency and greening government operations, Halifax ranks among the top three of all cities in the WCCD Network for electricity consumption of public street lighting; and
Higher education degrees: Within the WCCD Network, the municipality demonstrates a highly educated workforce, ranking in the top 15 per cent of cities for higher education degrees
WCCD certification benefits the municipality and staff by: 

Aiding in the measurement of performance of services and quality of life over time;
Providing standardized indicators, ensuring consistent and reliable data;
Allowing the municipality to compare performance to national and global peers;
Providing access to a network of Canadian and global cities for benchmarking and learning;
Supporting evidence-based decision-making for strategic planning, priority setting, investment attraction and economic development and policy development; and, 
Allowing employees to better understand organizational goals and objectives, and how their work contributes, as well as offering clear and consistent expectations.
In June 2020, municipal Corporate Planning & Performance (CPP) began the development of the Corporate Performance Management Program (CPMP), to establish a systematic approach to planning, as well as track progress toward the municipality's Strategic and Administrative Priority Outcomes. Participation in WCCD allows the municipality to assess performance compared to other jurisdictions.
Over the past year, CPP has worked with internal business units, as well as external partners such as Nova Scotia Power, Halifax Water, Province of Nova Scotia, and Halifax Partnership, to compile the data to support certification. Several of these indicators have been incorporated into the Strategic Performance Snapshot. 
The platinum certification was presented by WCCD to Regional Council virtually during the Council meeting on Tuesday, July 12, 2022. 
To learn more, read the World Council on City Data (WCCD) information report or visit the WCCD website.