Next to spring thaw, heavy storm rainfall is the most common cause of flooding.
Heavy rains caused by thunderstorms – or warm, moist air rising rapidly – can produce flash floods. 
Floods are the most frequent natural hazard in Canada and can occur at any time of the year
Before
The key to staying safe is to prepare and to have an emergency plan in place.
Know the flood risk in your community by calling your municipality and insurance company.
Know and practice evacuation routes.
Monitor local weather and alerts and follow instructions if told to evacuate. 
Actions to Take: 
Protect your valuables in waterproof containers. Place them above potential water levels. 
Put sealant around basement windows and the base of ground-level doors.
Raise large appliances in the basement above the potential water level from a flood.
Make sure your sump pump is working and install a battery-operated backup. 
Check that your roof and eaves-troughs are draining properly in heavy rains. 
Talk with your family and neighbors about what you would do during a flood.
Have practice drills with your family.
During
listen to local news and weather reports for possible flood warnings and reports of flooding in progress.
Be prepared to evacuate at a moment's notice.
When a flood or flash flood warning is issued for your area, head for higher ground and stay there.
Turn around – don't drown! Avoid walking and driving through flooded waters. They could be deeper than you think.
Keep children and pets away from flood water.
Be especially cautious at night when it is harder to recognize flood danger.
Individuals who encounter or experience flooding should contact 311. Calls will be assessed and re-directed accordingly.
if you are trapped or injured call 911
After
Continue to take precautions and listen to and follow directions from local authorities.
Be alert for further instructions from officials and community leaders - listen to the radio, watch your local news channels, and/or follow your local news outlet and/or emergency officials on social media.
Do not return home until you are advised it is safe to do so. 
Contact your insurance company and let them know what happened. They will want to know a record of damage to your home and belongings and may request photos or video. 
Maintain good hygiene during flood cleanup by minimizing contact with floodwater or anything that may have come in contact with it. 
Wear protective clothing, including rubber boots or sturdy boots, safety glasses, hard hat, rubber gloves and a dust mask. 
Do not use water that could be contaminated. 
Discard any food items which may have been in contact with flood waters. When in doubt, throw it out!
Do not use any appliances, heating, pressure, or sewage system until electrical components are dry and have been inspected by a qualified electrician.
Check with local authorities or community leaders on how to properly dispose of damaged items from your home.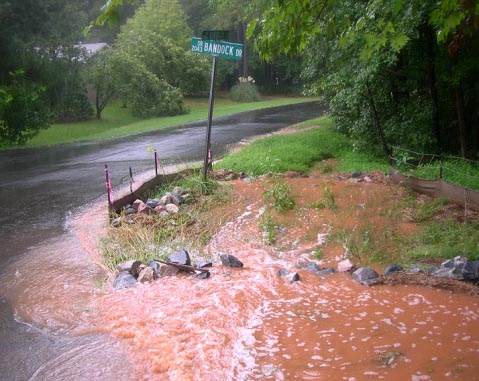 FAQ
How can I stay informed?
Stay up to date on storm warnings and risks of hurricanes through Environment Canada.
Stay informed by following us on social media @hfxgov @hfxmoments, listening to the radio and local news channels.
The municipality will issue a public service announcement to all local media outlets and will share the information through its social media channels.
Register for hfxALERT.
Stay prepared by following FloodSmartCanada and Canada flood Ready.
Stay alert by following storm warnings and weather forecasts through Public Weather Alerts Canada.
I have a well, is it safe to drink the water?
If your house has been flooded and you have a well, don't drink the water. Have it tested first as Flood water can be heavily contaminated.
For information regarding well water testing visit Nova Scotia Environment, or call 1.800.565.1633 | 902.424.3600
What can I do to protect myself?
The best way to protect yourself and your family in case of a flood is to follow these steps:
Monitor local weather and alerts: Know your risk. 
Turn around, don't drown – avoid flood waters.
Clean up carefully and wear protective clothing. 
How can I help?