Enter the Fire Prevention Week Contest! October 3 - 9 
Enter one of our Fire Prevention Week Contests by taking a quiz and answering the questions correctly! There are two quizzes, one for kids 12 and under and a second for anyone 13 and older.
Learn the Sounds Fire Safety!
Fire Prevention Week Contest Prizes for participants 13 and over
Ist Prize Package Approximate Value $725
Tablet: Samsung Galaxy Tab A7 10.4" 32GB Android 10.0 Tablet With 8-Core Processor

3- Kidde Wireless Talking Smoke & Carbon Monoxide (CO) Combination Alarm, 10-Year Battery

Kidde Multi-Purpose ABC 4lb Fire Extinguisher

Kidde 13 ft Emergency Escape Ladder

Coast Emergency Area Light

3 - Feit 60W A19 Dusk To Dawn LED Intellibulb Light Bulbs

Package of 8 Duracell batteries


 
2nd Prize Package Approximate Value before taxes $500
Tablet: Samsung Galaxy Tab A7 10.4" 32GB Android 10.0 Tablet With 8-Core Processor

3- Kidde Wireless Talking Smoke & Carbon Monoxide (CO) Combination Alarm, 10-Year Battery

3rd Prize Package Approximate Value $230
Tablet: Samsung Galaxy Tab A7 10.4" 32GB Android 10.0 Tablet With 8-Core Processor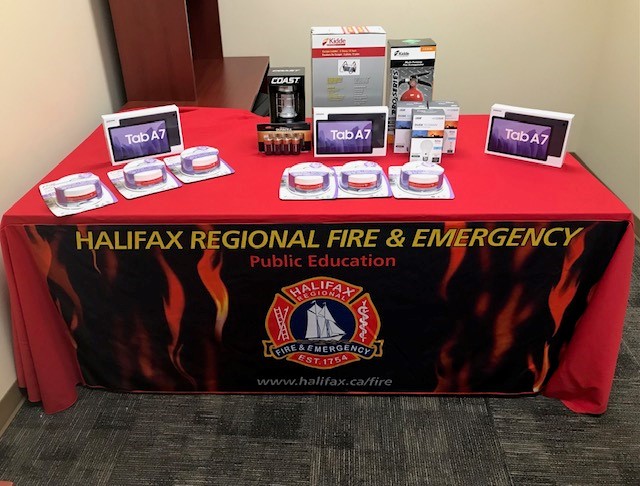 Fire Prevention Week Contest Prizes for participants 12 and under
3 Identical Prize Packs for 1st, 2nd and 3rd prizes
Lego City Downtown Fire Brigade kit

Package of three

walkie talkies

, Sanjoin brand (plus AAA batteries)

Globe brand 3 in 1 nightlight

Sparky Backpack with assorted fire safety stuff (tattoos, stickers, pencils, magnets, fire helmets, handouts)
Approximate value $200 each