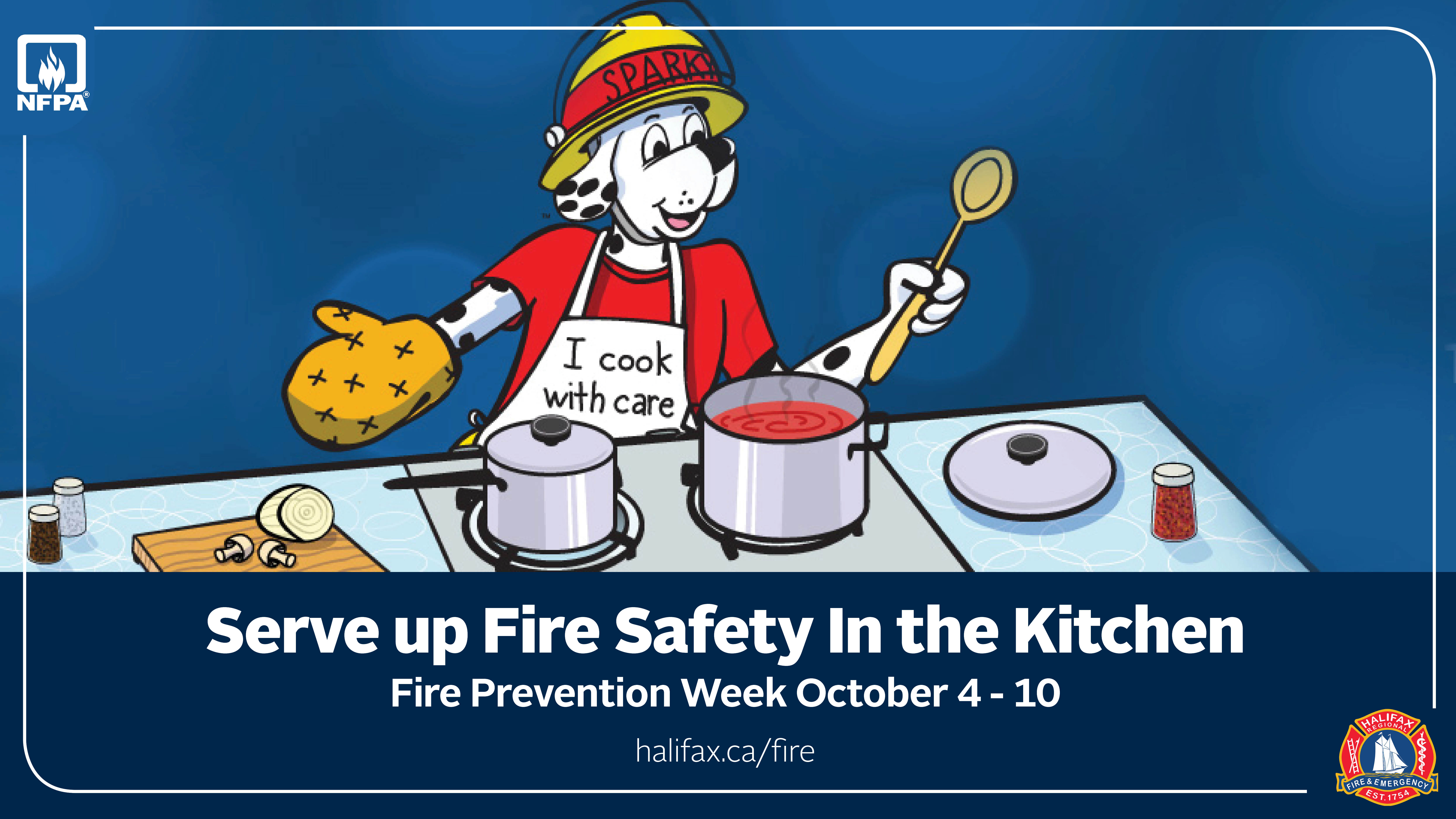 Oct. 4 - 10, 2020 is Fire Prevention Week. This year's theme is Fire Safety in the Kitchen.
It's Fire Prevention Week. This year's theme, "Serve Up Fire Safety in the Kitchen!" focuses on cooking safety and preventing kitchen fires at home. Did you know? Unattended cooking is the leading cause of home fires and home fire injuries in Canada.
When cooking never leave your stove unattended, make sure your handles are turned in a safe position, and remove anything from the stove that may catch fire. There's nothing like spending time in the kitchen cooking a delicious meal but remember to practice these important actions to keep yourself, and those around you, safe in the kitchen.
To celebrate Fire Prevention Week, take part in our Facebook contest and enter to win one of three safety prizes. The top prize is valued at $1000.00. Enter the contest on our Halifax Regional Fire & Emergency Facebook page. Simply like and share the post with the photo of the prizes. The contest closes October 31, and the draw will take place shortly after! Prize winners will be contacted directly through Facebook. 
Top Prize
 Family size Ninja Foodie  
3- Kidde Wireless Talking Smoke & Carbon Monoxide (CO) Combination Alarm with 10-Year Battery
ABC 5lb Extinguisher Energizer 360-Degree
Safety Emergency Light
Batteries for light  
Eton Bluetooth Emergency Weather Radio 
4- IntelliBulb Battery Backup LED Light Bulbs
Miscellaneous Small Kitchen Safety items (Silicone Kitchen mitts, Trivets, etc.)
Second Prize
Family size Ninja Foodie  
3- Kidde Wireless Talking Smoke & Carbon Monoxide (CO) Combination Alarm with 10-Year Battery
Third Prize
Family size Ninja Foodie