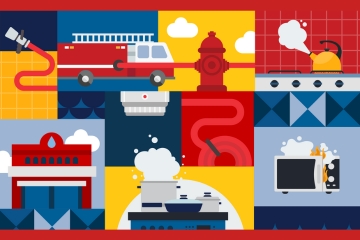 Fire Prevention Week is October 8 - 14, 2023
This year's Fire Prevention Week™ (FPW™) campaign, "Cooking safety starts with YOU. Pay attention to fire prevention™," works to educate everyone about simple but important actions they can take to keep themselves and those around them safe when cooking.  
Take part in our contests between October 8 - 14 for a chance to win one of the prize packs below! 
Review these tips before taking the quizzes!
Quiz Prizes for ages 13 and up:
First-place prize package (approximate value $625)
Ninja Foodie XL 2 Basket Air Fryer
3 Kidde Wireless Talking Smoke & Carbon Monoxide (CO) Combination Alarm, 10-Year Battery
Kidde Multi-Purpose 2A 10BC  Fire Extinguisher
Kidde 13 ft Emergency Escape Ladder
Second-place prize package (approximate value $365.00)
Ninja Foodie XL 2 Basket Air Fryer
Kidde Multi-Purpose 2A 10BC Fire Extinguisher
Third-place prize package (approximate value $300)
Ninja Foodie XL 2 Basket Air Fryer
Quiz Prizes for ages 12 and under:
3 Identical prize packs for the first, second, and third place (approximate value $165)
Lego City Downtown Fire Brigade kit
2-1 LED Desk Lamp Lantern