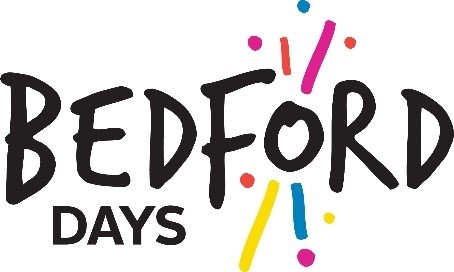 Bedford Days 2021
 
Here we are, once again, organizing a COVID-19  friendly Bedford Days.  However, we have learned a lot since last year and are looking forward to providing the Bedford community with an assortment of fun, unique activities. 
 
Before we get into all the exciting activities that we are planning, however, we want to take this opportunity to first thank our wonderful sponsors:
Diamond Level: TD Bank Group
Platinum Level: Regroup, Municipal Group of Companies
Gold Level: Revolve Branding + Marketing, Provident Developments, Sunnyside Mall, West Bedford Holdings Limited, Clayton Developments Limited
Silver Level: Develop Nova Scotia, Nustadia, Pressé Mason
Bronze Level: Strum Consulting
Organizer: Halifax Regional Municipality, Canadian Heritage: Government of Canada
Without all these amazing sponsors the Bedford Days Working Group couldn't offer the variety of experiences that residents have come to expect. Please show them your love and appreciation as all have come back year after year to help make Bedford Days happen.
 
Due to the fluctuating provincial COVID restrictions the exact start dates of the activities and experiences may change. To keep up-to-date please check www.halifax.ca/parks-recreation/events/bedford-days or Bedford Days Working Group | Facebook for the most recent updates.
 
The following activities are what we are developing for Bedford Days 2021:
 
DeWolf Park Photo Art Display
 A large format photo and art display will be in place for the summer.  Enjoy photos celebrating Bedford lifestyle and events taken by community members.  Look for the display as you walk along the beautiful DeWolf Park walking path in the area of Convoy Quay.  It will be premiering on, or before, July 1st.  We would like to thank everyone that provided submissions.  It's obvious that Bedford residents love their community. 
Bedford Days Streetside Banners
 An extension of the large format photo art display, next to DeWolf Park will be an interesting banner collection that will be hung on several street lampposts. They will include images of Bedford Days events and lifestyle.  Premiering on, or before, July 1st.
 
Sunnyside Mall Bedford Days Projection Show
 A unique projection show will be running during mall hours for three weeks.  The show will surprise with floating images and fantastic adventures and will be using a process new to Nova Scotia.  We are very excited to be able to make this show available to Bedford residents. The show will feature indigenous entertainers; a look at past events; a visit to a virtual Bedford Days, with your favourite mermaid making an appearance; and it finishes with a blast.  Premiering on, or before, July 2nd.
 
Bedford Eats
 You will find this next activity very tasty.  The following restaurants are offering one free sample to at least 200 people over the week of June 25th – July 4th – Resto Urban Dining, Makhani Indian Restaurant, and Fung Lum (we have space available for at least two more if any restaurants out there are interested). Follow the participants on social media to ensure that you don't miss the required registration, then check them all out and help them win the first ever 'Bedford Days Golden Spatula' award by commenting on our "Bedford Eats" Event Page on Facebook! Also please show them some love by purchasing an item, or two, that would go well with the free sample. 
 
Entertainment Videos
 Visit the Bedford Days Facebook page and website to enjoy entertainment videos premiering on July 1st.  Some of the acts include a performance by the Bedford Players; Atlantic Cirque; and a 3D national anthem that all ages will love.
 
Chalk Art
 The Bedford Days Committee invites the community to do up their best chalk art on their driveway on Saturday, June 26th (rain date July 3) and then walk, or drive, around your community and check out what others have done. Take photos and share widely. Everyone needs a reason to smile. Keep an eye on our Bedford Days Facebook Page and our website for all the details.
Drive-in Movies
 When COVID restrictions allow, two drive-in movies will be shown in the BMO parking lot, on two different Friday or Saturday nights.  You will have to preregister as parking is limited. Keep an eye on the Bedford Days Facebook page and website for updates.

 **While enjoying the Bedford Days experiences please abide by the current provincial COVID restrictions in place at the time, including gathering limits, wearing a mask, and social distancing. Please visit at your leisure and in limited numbers.**