Our Urban Forest
Our urban forest includes all trees – from a single maple in a planter, to carefully tended pines in a residential yard, to islands of native forest amidst urban development. Their natural diversity and interconnectedness with human activities and the built environment make urban forests both complex and dynamic.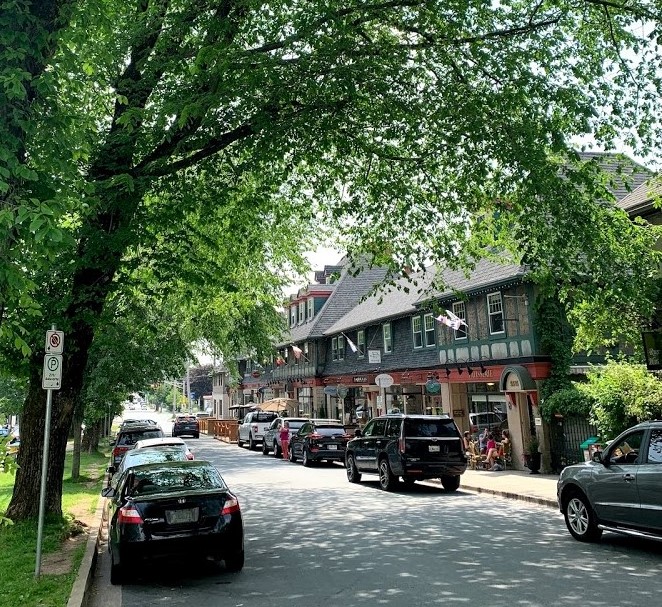 Trees in the municipality offer a wide array of benefits. They contribute to improved air quality, storm-water reduction, temperature management, and so much more. Maintenance is important for the health of the trees – municipal crews and external contractors work hard to expand and maintain the health of our urban canopy. Explore our municipal urban forestry programs below, and further urban forestry related content in the side menu. To learn more about what makes Halifax's urban forest unique, check out halifaxtreeproject.ca. 
Cyclical Pruning Program

The cyclical pruning program is based on best management practices for tree care, and takes place on a 7 year cycle.

This maintains crown health, achieves clearance specifications over roads, sidewalks and in proximity to signs, and "trains" trees to grow around overhead power infrastructure.

Tree health and structure is assessed on a case-by-case basis, and trees are only removed if deemed necessary to do so. If a tree is removed, a stump removal work order is automatically generated so that a new tree can eventually be planted in its place.

This proactive approach to maintaining our urban forest prolongs the health of street trees, dramatically reduces tree hazards, and is less resource intensive than a reactionary approach to maintaining trees individually. This is proven by locally conducted research (see infographic at the end of this web page).

Pruning primarily takes place during winter for a number of reasons. It's easier to assess trees during winter and spot dead, diseased and structurally compromised limbs when leaves aren't present. Additionally, the trees are dormant (not actively growing) during the winter so this is an ideal time for pruning. Lastly, by pruning in the winter we avoid bird nesting season. While we still prune during the summer months, we try to stick to higher priority and emergency work largely for this reason.

See the latest updates on our cyclical tree pruning program. 

General Maintenance of the Urban Canopy

When a 311 request is made pertaining to a municipal tree, each service request is inspected, prioritized accordingly, and dispatched to a crew for the work to be completed.

From large tree removals to dealing with broken/hanging/fallen limbs, chipping, stump grinding, as well as inspections and assessments, our team of dedicated arborists are always ready to respond to the needs of the urban forest and the needs of those who enjoy it.

The general maintenance program is ongoing and differs from the cyclical pruning program in that work orders are largely generated based on service requests from the public.

Residents may call 311 to request street tree work within the municipal service boundary.

 

Tree Assessment Service Standard: 3 business day assessment, priority 2 repair within 12 months.

Tree Chipping/Brush Removal/Pruning Service Standard: 3 business day assessment, 1 business day to repair priority 1, priority 2 repair within 12 months.

Tree Removal Service Standard: 3 business day assessment, 1 business day to repair priority 1, priority 2 repair within 36 months.

Tree Planting

The municipality's annual tree planting program ensures the continued health of our urban forest and contributes to our climate action goals. Learn more by visiting our tree planting webpage. 

Tree Inventory

Thus far, tree inventory data has been collected for districts 7, 8, 9, and 10. Data will be collected for Districts 5 & 6 this year (2022).

The goal is to have all urban street trees within the municipality captured on this inventory.

A comprehensive inventory provides important information for the planning, design, planting and maintenance of municipal trees.

Tree inventory data can be explored in the municipality's open data catalogue.

Stump Removal

In 2021, HRM removed a total of 745 stumps on city property.

When a tree needs to be removed, a stump removal work order is automatically generated thus creating more plantable space across the municipality.

In many parts of HRM, this sequence of operations offers an important opportunity to increase both age class and species diversity.

If you notice that a stump has been ground out in front of your property and a pile of debris remains, a contractor will return to remove the debris, level out the ground, and install new sod.

To request that a stump be removed, please call 311.

 

Stump Removal Service Standard: 3 business day assessment, 1 business day to repair priority 1, priority 2 repair within 36 months. 

Dalhousie University Research & Monitoring

Each year, the municipality partners with Dalhousie University to conduct important research pertaining to our urban forest.

Research topics have included (but have not been limited to): 5-year assessment of street tree survival and growth, survey of plantable space in HRM streets, analysis of the implications of hemlock woolly adelgid in HRM's urban forest, assessment of the effectiveness of the cyclical pruning program, inventory of newly planted caliper trees and mechanical damage assessment of caliper trees.

Research results feed into urban forestry operations to maximize success and efficiency of programming. 

The very popular text-a-tree project was also run under this program!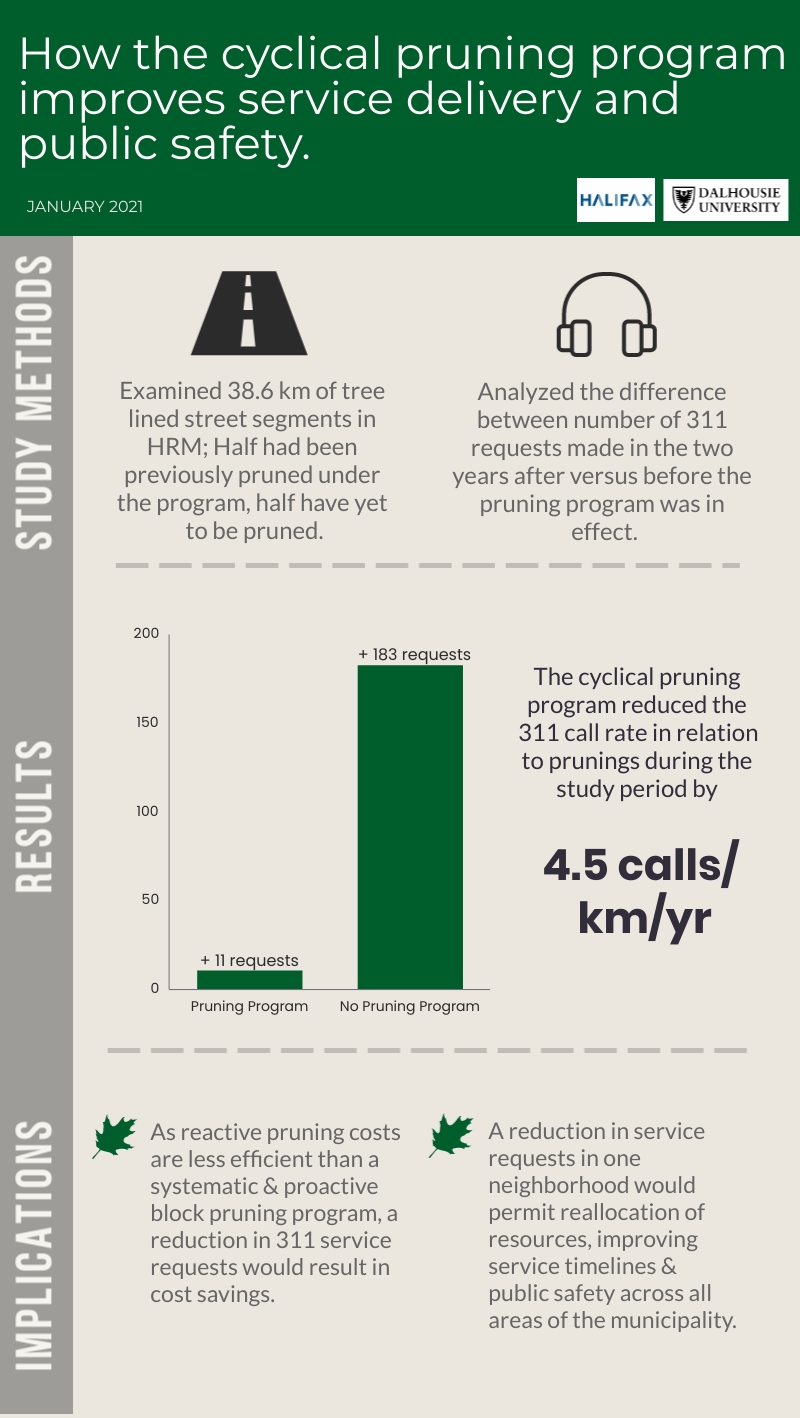 Related files