The Halifax Regional Municipality is advising residents that construction of a new bus-only lane and multi-use pathway on Barrington Street is now complete.
The inbound curb lane on Barrington Street between Devonshire Avenue and North Street is now a bus-only lane. Vehicles travelling through the North Street intersection should stay in the left-hand lane until the bus lane has ended. Vehicles that need to turn right into a driveway may cross the bus lane when it is safe to do so.
This installation adds approximately 450m of transit priority onto this important corridor to help buses move through traffic more efficiently.
The new multi-use pathway, with added greenery between North Street and Devonshire Avenue, connects the existing Barrington Street Greenway and the Devonshire Avenue bicycle lane. The sidewalk on the west side of the street has also been upgraded. These improvements make walking, rolling, and cycling safer and easier for people of all ages and abilities.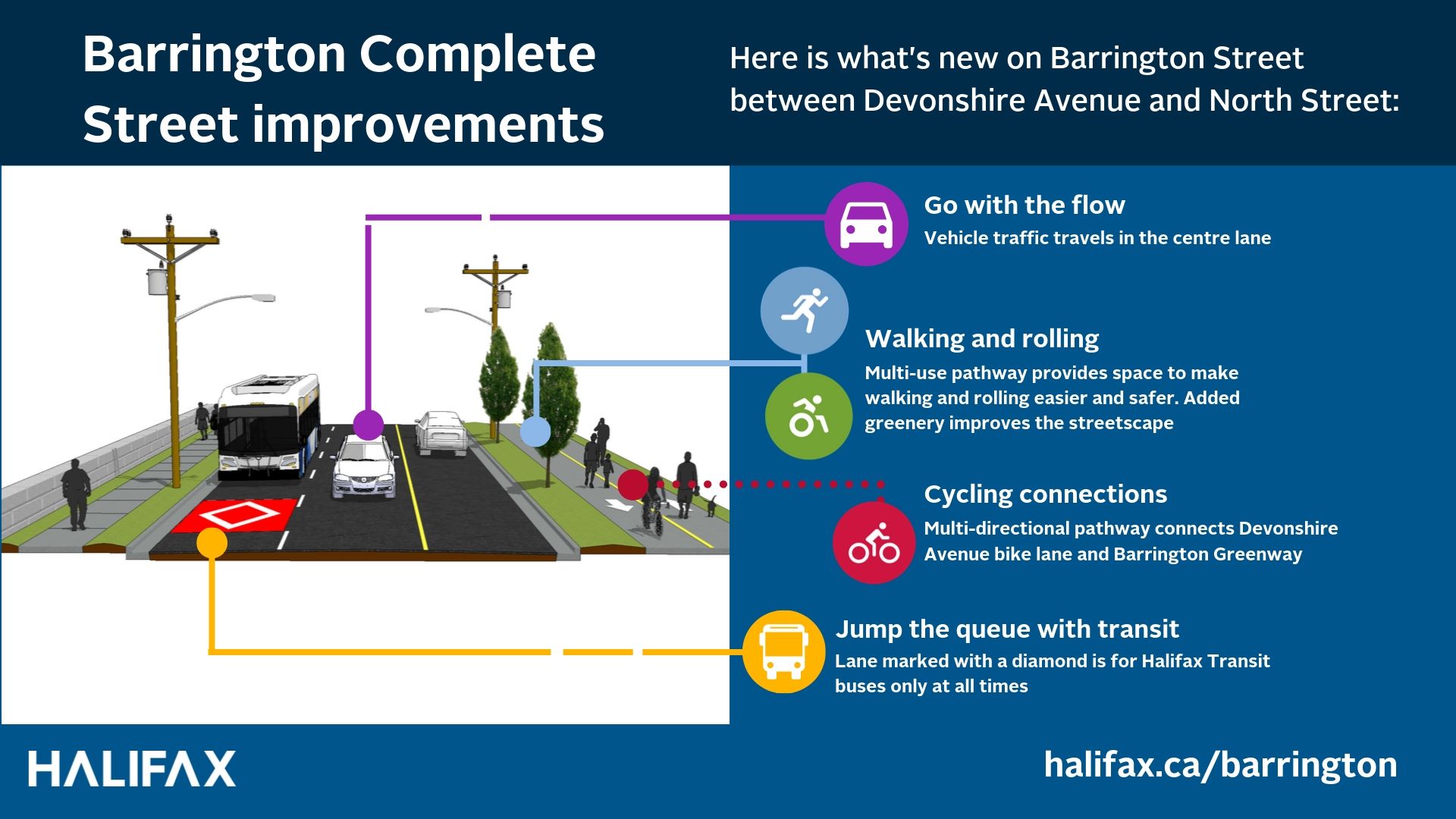 This work was completed as part of the Integrated Mobility Plan to create a more convenient and comfortable active transportation connection, while prioritizing transit.
For more information about this project, please visit www.halifax.ca/barrington.
**************************************************************
La Municipalité régionale d'Halifax informe les résidents que la construction d'une nouvelle voie réservée aux autobus et d'un sentier à usages multiples sur la rue Barrington est maintenant terminée.
La voie d'entée en bordure de la rue Barrington, entre l'avenue Devonshire et la rue North, est maintenant une voie réservée aux autobus. Les véhicules qui traversent l'intersection de la rue North devraient rester dans la voie de gauche jusqu'à ce que la voie d'autobus se termine. Les véhicules qui doivent tourner à droite dans une entrée peuvent traverser la voie d'autobus lorsque c'est sécuritaire.
Cette installation ajoute environ 450 mètres qui donnent priorité au transport en commun à cet important corridor afin d'aider les autobus à circuler plus efficacement.
Le nouveau sentier à usages multiples, qui s'ajoute à la verdure entre la rue North et l'avenue Devonshire, relie l'actuel couloir de verdure de la rue Barrington à la piste cyclable de l'avenue Devonshire. Le trottoir du côté ouest de la rue a également été amélioré. Ces améliorations rendent la marche, le roulement et le cyclisme plus sûrs et plus faciles pour les personnes de tous âges et de toutes capacités.
Ces travaux ont été terminés dans le cadre du Plan de mobilité intégrée afin de créer un lien plus pratique et plus confortable pour les moyens de transport actifs, tout en donnant la priorité au transport en commun.
Pour de plus amples renseignements sur ce projet, veuillez consulter www.halifax.ca/barrington.