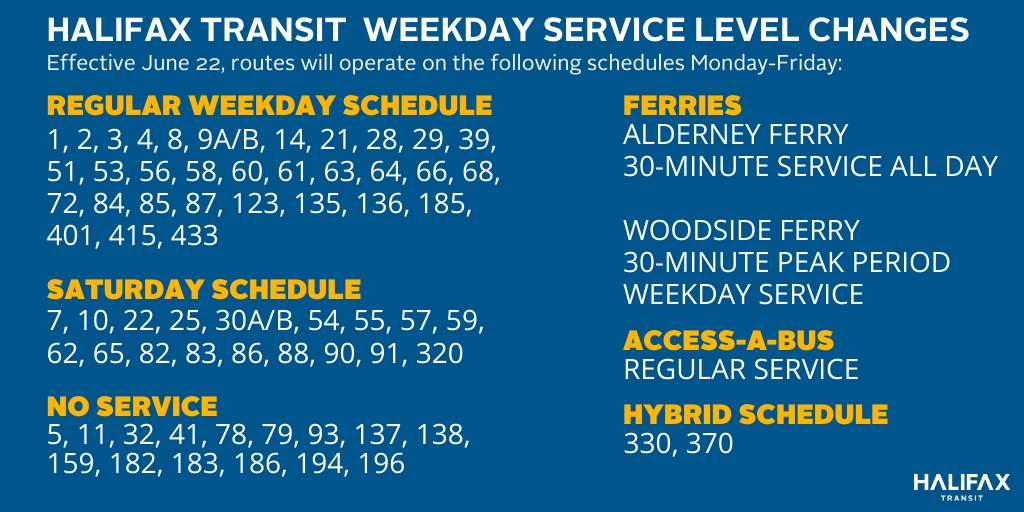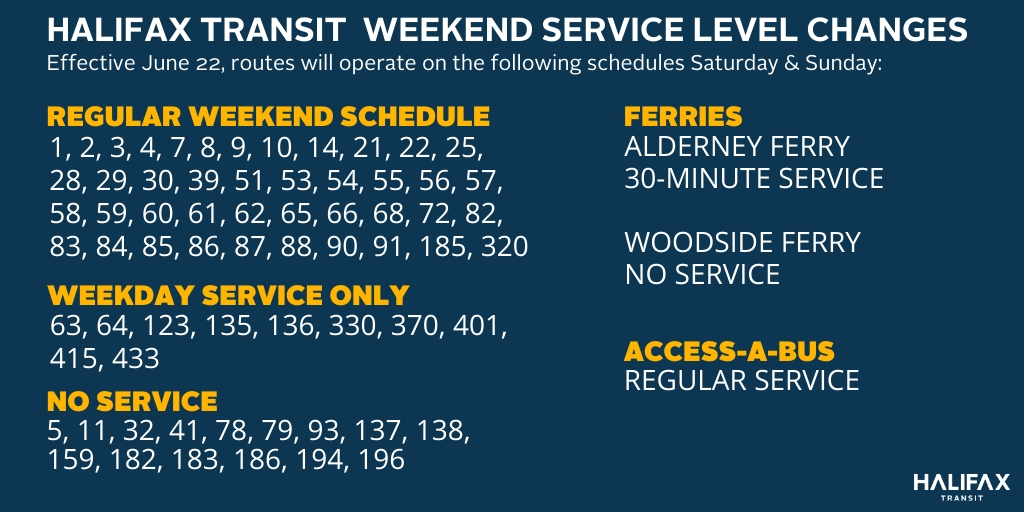 Returning to Halifax Transit - Riding the Bus
Returning to Halifax Transit - Riding the Ferry
As the province moves through its recovery phases, Halifax Transit will be increasing service levels in a phased approach, while continuing to follow public health guidelines.
Mandatory Masks - Friday, July 24, 2020
In keeping with Public Health order, masks are mandatory on all Halifax Transit buses and ferries. The provincial public health order also states that masks are mandatory in all indoor public spaces, including transit terminals, as of July 31. Children under two, children aged 2 to 4 when their caregiver can't get them to wear a mask, and those with a medical reason for not wearing a mask are exempt. Those who are feeling ill are reminded not use any transit services until their health returns to normal.
As part of a public mask awareness campaign, Halifax Transit staff will be distributing masks at Pop-Up events at select locations across the Municipality. Times and locations will be announced in advance via municipal social media channels.
Capacity Increase - Saturday, August 1, 2020
The mandatory use of masks and the Polycarbonate shields, which are currently being installed, will allow for the safe increase in capacity. Capacity restrictions on buses, Access-a-Buses and Ferries will be lifted as of Saturday, August 1, 2020.
Fare Collection - Saturday, August 1, 2020
Fare collection on buses and ferries will resume on Saturday, August 1 and passengers will be permitted to enter buses through the front door.
Polycarbonate shields, which are currently being installed, will create a physical barrier between Operators and passengers, allowing for the safe reintroduction of fare collection.
March and April passes will be honoured until August 31, 2020. As retailers still have April passes in stock, these can still be purchased and used until the end of August.
2020/21 Low Income Transit Pass applications are available online. The 2019/20 program has been extended, and previously approved participants may continue to purchase passes at Municipal Contact Centres beginning August 4, 2020 for the months of August and September. We encourage both existing/past and new participants to apply to the 20/21 program as soon as possible, as applications are approved on a first come, first served basis.
Halifax Transit will not replace lost, stolen, or discarded March & April monthly passes.
For all other information regarding transit passes, including updated expiry dates, please visit our Fares, Tickets, and Passes page.
Conventional Buses
For most conventional bus routes, all transit scheduling apps, the departure line, departure boards, and stop announcements will be functional and accurate.

Standing passengers are asked to monitor physical distancing and should avoid positioning themselves immediately next to seated passengers or other standing passengers.
The following changes continue to be in effect until further notice:
The following routes will operate on regular weekday schedules:
1, 2, 3, 4, 8, 9A/B, 14, 21, 28, 29, 39, 51, 53, 56, 58, 60, 61, 63, 64, 66, 68, 72, 84, 85, 87, 123, 135, 136, 185, 401, 415, 433.
The following routes will operate on their Saturday schedules on weekdays:
7, 10, 22, 25, 30A/B, 54, 55, 57, 59, 62, 65, 82, 83, 86, 88, 90, 91, 320.
The following routes will have no service:
5, 11, 32, 41, 78, 79, 93, 137, 138, 159, 182, 183, 186, 194, 196.
Halifax Transit has added additional weekday trips Route 330 and 370 to meet increased demand. To download a PDF of these temporary schedules, click here:
Route 330 [PDF]
Route 370 [PDF]
There are no changes to weekend service. Service will continue to operate on regular Saturday and Sunday schedules.
New Route 8 Bus Stop
A new inbound bus stop will go into service on Route 8 at Civic 656 Bedford Hwy.
Ferries
Alderney Ferry service:
30-minute service on weekdays from 6:30 a.m. to 10 p.m.
30-minute service on weekends from 10:30 a.m. to 8 p.m.
Woodside Ferry
30-minute service during peak period on weekdays only.
Click here for a downloadable PDF of the ferry schedule.
Passengers are asked to monitor physical distancing and should avoid positioning themselves immediately next to other passengers.
Food and drink will be prohibited to reduce litter.
Terminals
Alternating seats will be blocked off with signage at some terminals.
Access-A-Bus
Access-a-Bus service will continue to operate on its regular schedule.
Please note: Service levels will continue to be adjusted as public health directives change. Changes will be implemented as quickly as possible but often require substantial lead time.
Your patience and understanding is appreciated.