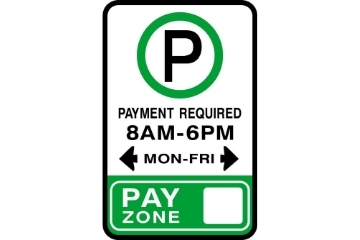 Paid On-Street Parking
We've moved from individual meters to pay stations – this is a pay-by-plate, pay-by-zone system. You will now see the new pay stations installed on-street. There will still be a mixture of paid, permit and hourly parking in parking zones.
New parking technology will make it easier to pay and is introducing more payment options like credit card, debit card, and smart pay. Payment is attached to your vehicle, not the parking space. This means your vehicle can move freely within the parking zone up to the time purchase or maximum time allowed.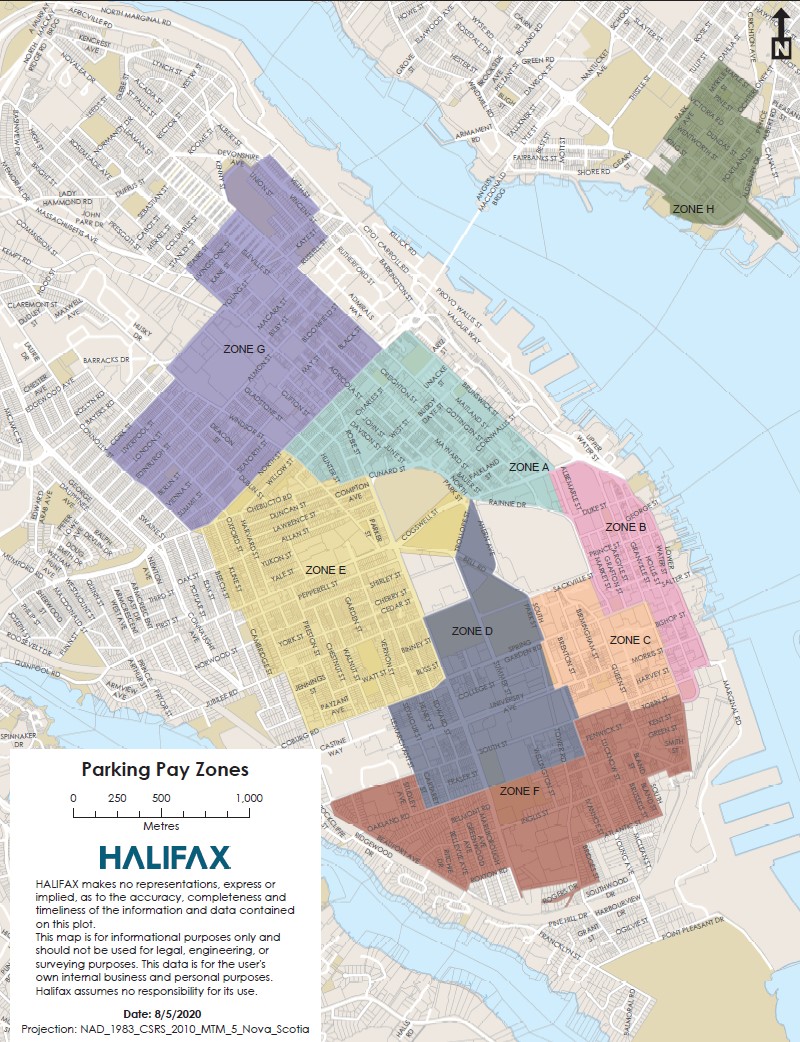 How it works:
When looking for on-street paid parking in areas that have historically had meters, look for these signs and note your pay parking ZONE. Zones are listed on parking signage and are letters A through H.
Once parked, you can find your nearest pay station to pay using coins, debit, credit, or Apple Pay. You can also use the HotSpot app on your mobile device (download it on the App Store for iPhone and Google Play for Android) to pay. HotSpot is a third party app with subscription/usage fees that has partnered with CALE Canada to provide our parking solution. You do not need to download HotSpot to park on street. You will need to know your license plate and parking zone to initiate a parking session.
Tip: note your license plate in your phone or write it down on a piece of paper and keep it in your purse or wallet so you don't forget.
On-street parking rates:
Where on-street paid parking is available, it is divided up into parking zones.
All paid parking zones have no maximum

Rates vary by zone

Time can be purchased in 15-minute increments for all zones

Permit parking
It has never been easier to purchase and manage your residential or commuter parking permits. Starting Monday, October 5, 2020 our online parking permit will be online. You can create an account in anticipation of the first monthly parking permit release on October 15. Using the new system you will be able to apply for parking permits, and submit and manage your documents online. Most permits will be tied to your license plate - no need to display permits in your window. Zones are listed on parking signage and are numbers.
Learn more about our parking permit options.
Managing, disputing and paying for parking tickets
With the new ticket management portal you can manage your parking tickets, track the status of ticket disputes and pay for your parking ticket on a secure platform. The new online ticket management system which offers a secure payment portal for tickets issued on, or after, Sept. 1, 2020. Tickets issued on, or before, Aug. 31, 2020 will be paid through the existing parking ticket payment portal. 
Common Questions
Will all on-street parking meters be replaced with pay stations?

Yes. At a minimum there will be one multi-space parking pay station per block with consideration given to a reasonable walking distance between pay stations.

Are all streets in a zone being converted to paid parking?

No. The new parking zones are for geographic and rate purposes. There will still be a mixture of paid, permit and hourly parking.

How do I pay for parking?

You can pay for parking at the nearest pay station or by using the HotSpot app. You will need to know your license plate. Pay stations accept coins, debit, credit, or pay-by-phone. 

Can I "top up" or add to my parking session?

Yes, either from the HotSpot app or a pay station you can add time to your parking session up to the maximum within the zone.

Do I have to download or use HotSpot to park?

No. Residents can register their parking session at the nearest pay station with just their license plate. HotSpot is a third-party app with subscription and/or usage fees that has partnered with CALE Canada to provide our parking solution. You do not need to download HotSpot to park on street. You will need to know your license plate and parking zone to initiate a parking session.

Is it safe to pay with my credit card?

While a credit card is required at sign up, users can remove their credit card information once it has been used for payment without deleting the application. You can read their Privacy and Terms of Service for more information.

Do I have to have location services turned on to use the HotSpot app?

No, the user can manage this feature under settings.

How much does it cost to use the HotSpot app?

Based on feedback from residents, we've negotiated a per transaction fee of $0.10 when the pay stations and zones come into affect. Currently, it is $0.25 per transaction. If you park frequently, you can opt for a monthly fee of $2.00 or annual fee of $20.00. 

Do I have to park in front of or by a pay station?

No, Paid parking areas are clearly signed. Look for paid parking signage indicating where you can park and the paid parking zone. Ensure you are not parked in areas marked with "No Parking", "No Stopping", or "Loading Zone" signage to avoid getting a ticket.

What is changing as part of this project?

The municipality is replacing existing parking infrastructure with modern technology solutions including:

On-street parking pay stations that provide modern and more methods for purchasing on-street parking that will offer more options to pay including coin, credit, and smart pay. 

Parking mobile payment solution - the Hotspot app provides a modern and convenient method for paying for parking including the ability to manage your parking session remotely and receive refunds for un-used time. 

Parking enforcement solution - that enables efficient and accurate parking enforcement. The municipality will also evaluate the advantages of a mobile license plate recognition solution to aid parking enforcement activities.

Parking permit management solution - to manage your permit online from the comfort of your home.

Parking ticket management system (PTMS) solution - retirement of the existing technology solution (PTMS) that has reached end of life and replacing it with a new PTMS solution to support parking ticket payment and enforcement.

What does the new parking solution mean for accessible parking?

If you use an accessible parking permit, your experience will not change. There will still be designated accessible parking spaces with hourly restrictions  available at no charge.

Why is parking changing?

The municipality's current parking meters are coming to the end of their useful life. This provides an opportunity to modernize parking technology to better serve the region's citizens, businesses, and visitors.

Will parking still be free after 6 p.m., on weekends, and on holidays?

Yes.

How will I know if I must pay to park on the street and how do I know where to go to pay?

Signs will be installed on the streets where the parking meters are being removed to indicate that payment is required on that street.  At least one parking pay station will be available on each block. Staff are working on communication strategies to ensure the public are notified well in advance of the changes. 

How long can I stay in one parking space?

You can pay for up to four (4) hours in any zone. Rates per hour depend on the zone you are in.

What can I do if a pay station is not working?

Please report it to us by calling 311 or sending an email to contactus@311.halifax.ca