The Canadian National Railway (CN) is planning to complete rehabilitation/ repairs in 2019 on three cost-shared structures within the municipality at Quinpool Road, Belmont on the Arm and Marlborough Woods.
Pending final approval by Regional Council of the 2019/20 capital program (Belmont on the Arm and Marlborough Woods) and the cost-sharing agreements with CN, the work will include:
Rehabilitation to the arch bridge structures (responsibility of CN)

Full replacement of the paved surface and railing at each location. The sidewalks at Quinpool and Marborough will also be replaced* (responsibility of the Halifax Regional Municipality)
*Note: There is insufficient room for a sidewalk to be installed at Belmont (currently there is not a sidewalk at this location).
The Halifax Regional Municipality is working closely with CN, as well as colleagues at Halifax Water to ensure proper planning and coordination for the proposed work at each location.
There will be two separate tenders issued by CN for this work: one tender for work at the Quinpool bridge and one tender for combined work at the Belmont and Marlborough bridges.
The nature of the work requires that the three bridges be closed for the duration of the CN Bridges Rehabilitation Project.
Once work commences, motorists should expect traffic delays on routes normally requiring access to and from the CN bridges at Quinpool Road, Belmont on the Arm and Marlborough Woods.
The following highlights construction details at each location, as well as transportation detours where necessary:
Quinpool Road
It is anticipated that the work to be completed for the Quinpool Road bridge rehabilitation will occur from April 1 to mid-August 2019.

Through-traffic (excluding local traffic) will be closed to vehicles on Quinpool Road, between the Armdale Rotary and Connaught Avenue. No traffic will be permitted to cross Quinpool bridge.
A detour route will be required with vehicular, transit and truck traffic routed onto Chebucto Road, to Connaught Avenue, to Quinpool Road
Pedestrians and cyclists will be routed through Armview Avenue, to Tupper Grove, to Prince Arthur Street
All detour routes will be well signed and advertised in advance
Rehabilitation of the Quinpool bridge will require Halifax Water to install a separate permanent structure adjacent to the Quinpool Road bridge for new water and wastewater pipes.

Off-street (late fall 2018/ winter 2019): There will be no road closures and only minimal periodic traffic impacts to allow for material delivery and some tree removal during the structure installation phase.

On-street (spring 2019): Connecting the new water and wastewater mains upstream and downstream of the Quinpool Road bridge will be coordinated to fall within road closures scheduled for the bridge rehabilitation.
Flinn Park will be impacted by some easement and tree loss associated with the initial work completed by Halifax Water as well as the arch bridge rehabilitation. The municipality's urban forestry division and Parks & Recreation department are working closely with the project team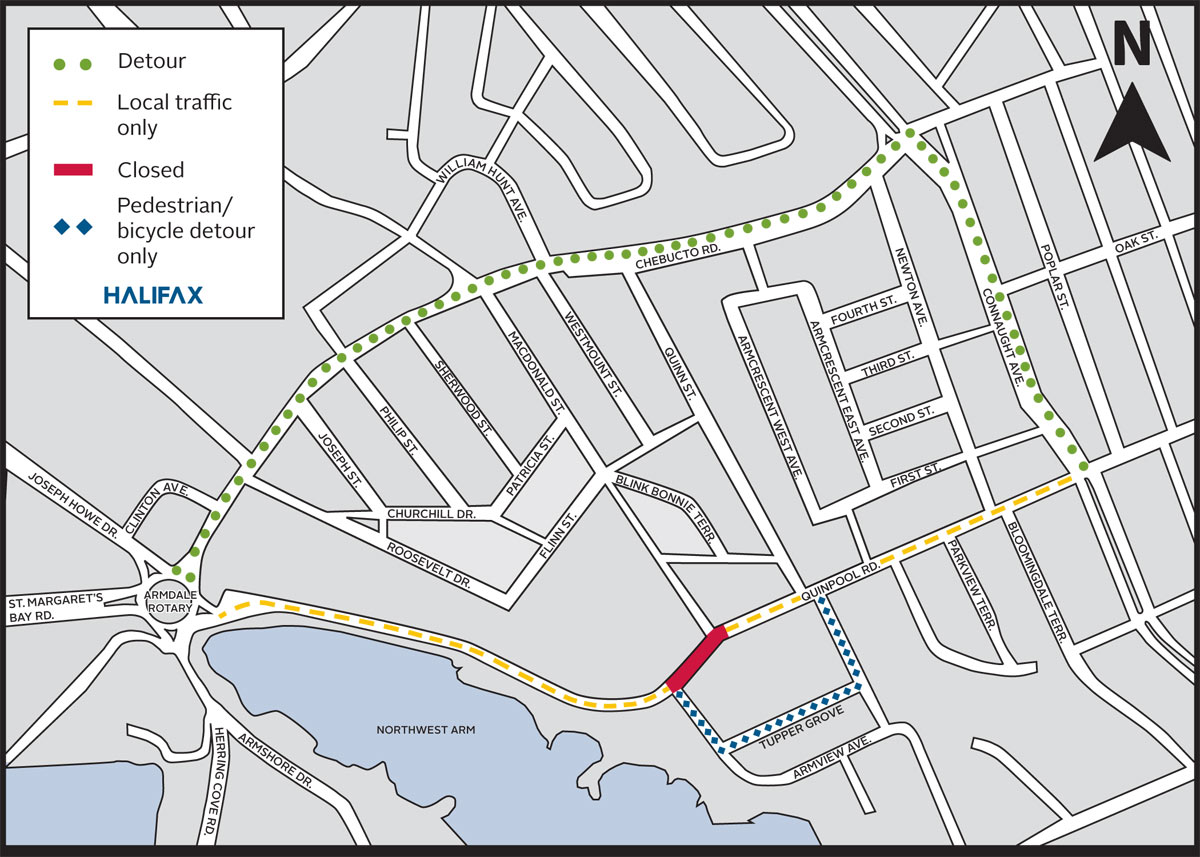 Belmont on the Arm & Marlborough Woods
It is anticipated that the work to be completed at the Belmont and Marlborough locations will occur in 2019. Details regarding timing will be shared once confirmed.  

Access to these neighbourhoods will be provided by temporary bridge structures as there is no alternative access.

Local residents will be updated with ongoing communications from the project team.
Project updates will be available to the traveling public by visiting Halifax.ca
NOTE: A map will be posted in the coming weeks with information about these two sites and details about temporary bridge structures. 
Common questions
When will traffic begin to be impacted by this project?
Traffic will begin to be impacted with the commencement of the rehabilitation work to the CN bridges. Work to the Quinpool Road bridge is expected to commence on April 1, 2019. All detour routes will be well signed and advertised in advance.
How much will the municipality be contributing to this project?
The municipality's capital budget has allocated $845,000 for the bridge rehabilitation on Quinpool Road. The contribution for the Marlborough Woods and Belmont on the Arm bridges is currently being finalized. The municipality's contribution for the three structures is anticipated to be $1.8M based on preliminary estimates provided by engineers.
Does the work being done to the Quinpool Road bridge have anything to do with potential commuter rail?
No. The CN Bridges Rehabilitation Project is strictly related to infrastructure repairs and restoration that's required to continue to meet current rail activity and associated safety standards.
How will I be informed of progress with the CN Bridges Rehabilitation Project?
Regular project updates will be posted to this web page, once work commences. Information regarding the impact on traffic, including detour routes, will be posted here. Also, you can follow @hfxgov on Twitter for ongoing updates.