The A-C-T in HalifACT stands for Acting on Climate Together. We need to shift how we use energy, how we move people and goods and how we build for the future. To see how we are addressing climate mitigation in Halifax, check out our Electric Vehicle Strategy, Solar Projects, or our Energy Efficient Lighting Projects.
The shift is going to require all of us taking action to meet our collective goals. Here are some ways you can contribute to climate action. 
Using Energy
Efficiency Nova Scotia is the province's energy efficiency utility working with all Nova Scotians to make homes and businesses across the province more energy efficient. They have created a valuable resource on all of the latest programs and rebates for your home so that you can use energy wisely and stop losing money to energy inefficiency. As an added benefit, Efficiency Nova Scotia offers a wide range of programs at no cost, including the installation of energy efficient products in your home and pickups of appliances like freezers and fridges. 
Small things can have a large impact when taken together. Don't forget to wash your clothes in cold water and hang them to dry. Remember to unplug electronics when not in use. Try to take shorter, cooler showers and install a low-flow showerhead. Only use your dishwasher when it's full.
Install a smart thermostat. Program your thermostat to 17° C for the nighttime hours and when you're away, and to 21° C when you're at home.
Use fans instead of air conditioning when possible. 
Choose energy efficient appliances.
Moving People and Goods
Imagine roads that are quiet, safe and free of air pollution. By switching to an electric vehicle (EV), you can reduce emissions and save money on maintenance. Nova Scotia is currently the only province to offer a rebate for e-bikes as well as used and new EVs. Discover all the ways you can skip the gas station and reduce your emissions at EV Assist Nova Scotia.
The transportation sector made up 19 per cent of Halifax's GHG emissions in 2016. Choosing a green commute makes you healthier, happier and saves money. Choose an alternative transportation option such as walking, cycling, taking public transit or carpooling at least once a week.
Check if you are eligible for Halifax Transit's SmartTrip program through your employer.
Support local businesses that prioritize sustainable options like low emission delivery vehicles and compostable take-out containers and cutlery.
Make your meals more climate friendly by purchasing organic and local produce, growing your own food and avoiding food waste as much as possible. Learn how to garden by joining a community garden.
Building for the Future
Whenever renovating your home, be sure to make investments in residential energy upgrades that lower monthly costs, increase property values and reduce your environmental impact. 
The municipality of Halifax offers the Solar City program to access and finance innovative solar energy options for your home. 
Consider how your investments are contributing to a low carbon future. Speak to your financial advisor about socially responsible investments.
Know what to do in the event of an extreme weather emergency. You can also review and contribute to the adaptation survey for your community. Consider volunteering for the Joint Emergency Management Teams in your region to help respond to a wide range of climate emergencies.
Talking to Each Other
What is climate adaptation?
Climate change adaptation means planning for and acting on the anticipated impacts of climate change. Climate change is already causing impacts such as warmer temperatures, more frequent and severe storm events, increased drought, a warmer and rising sea, among others.
Adaptation helps us build resilience by increasing our capacity to prepare and respond to climate-related impacts and disruptions. 
The municipality is addressing the need for adaptation by collaborating with Clean Foundation on resilient home retrofits, implementing a green infrastructure approach for Shore Road in Eastern Passage and by engaging with communities.
To learn about other local solutions, check out our resource on nature-based solutions for managing water on your property.
Preparing for Extreme Weather and Climate Change Impacts
Winter Storms
Winter storms usually occur between December and March. Winter storms include snow, freezing rain, high winds and cold temperatures. The snow, ice and cold can be challenging, especially if you aren't used to it, and these conditions can put people at risk of injury or harm.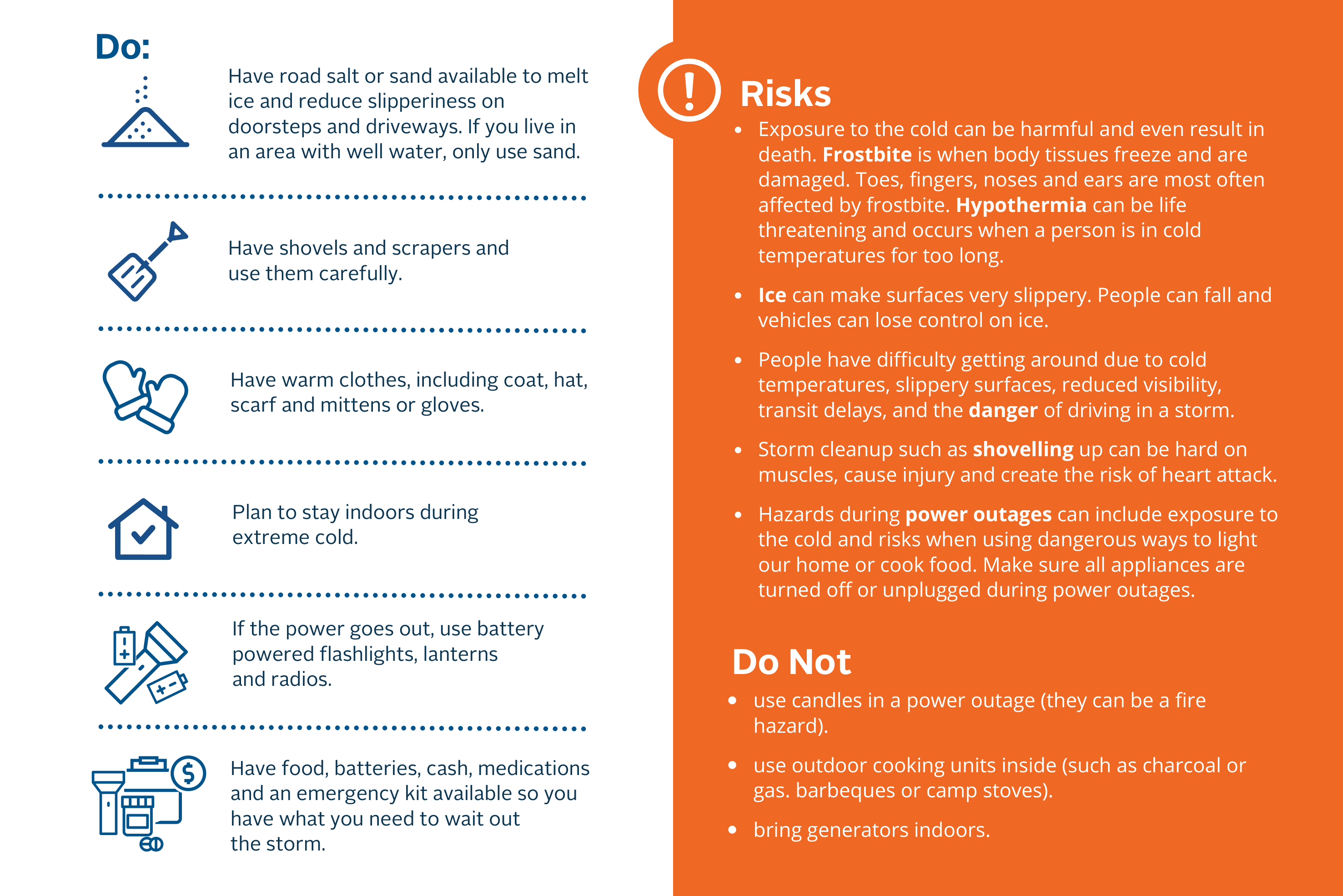 Extreme Heat
Extreme heat events occur during the summertime (usually between July and September), when temperatures are high during the day and night for several days. People are at risk of overheating during an extreme heat event. Temperatures can be hotter in tall structures (like apartment and office towers) and in direct sunlight.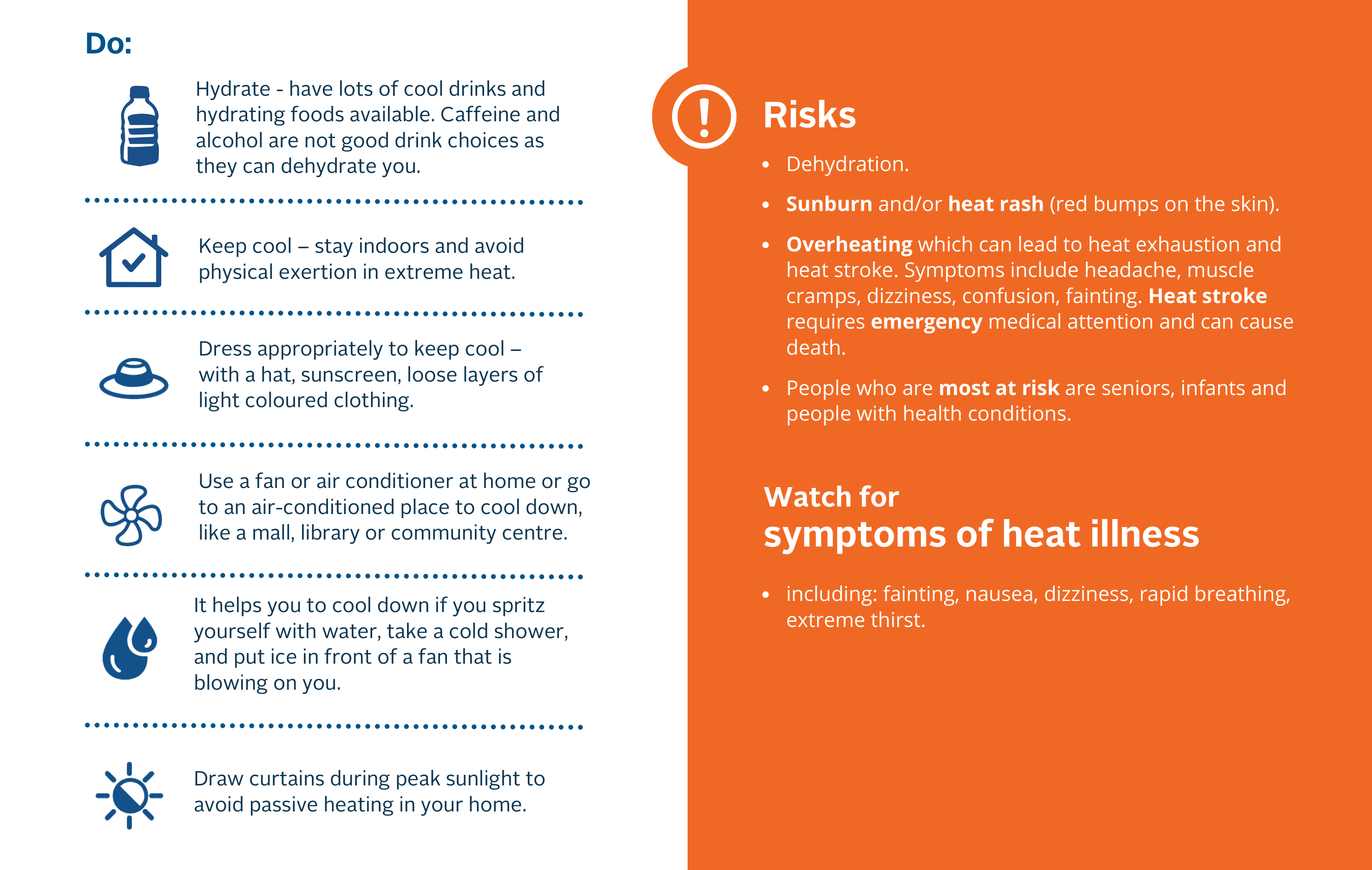 Hurricane and Tropical Storms
From June through November each year, Halifax is on the path of hurricanes traveling up the East Coast of North America. These storms can be powerful and destructive, with high winds, heavy rainfall, flooding and coastal storm surge. People can be at risk during these weather events.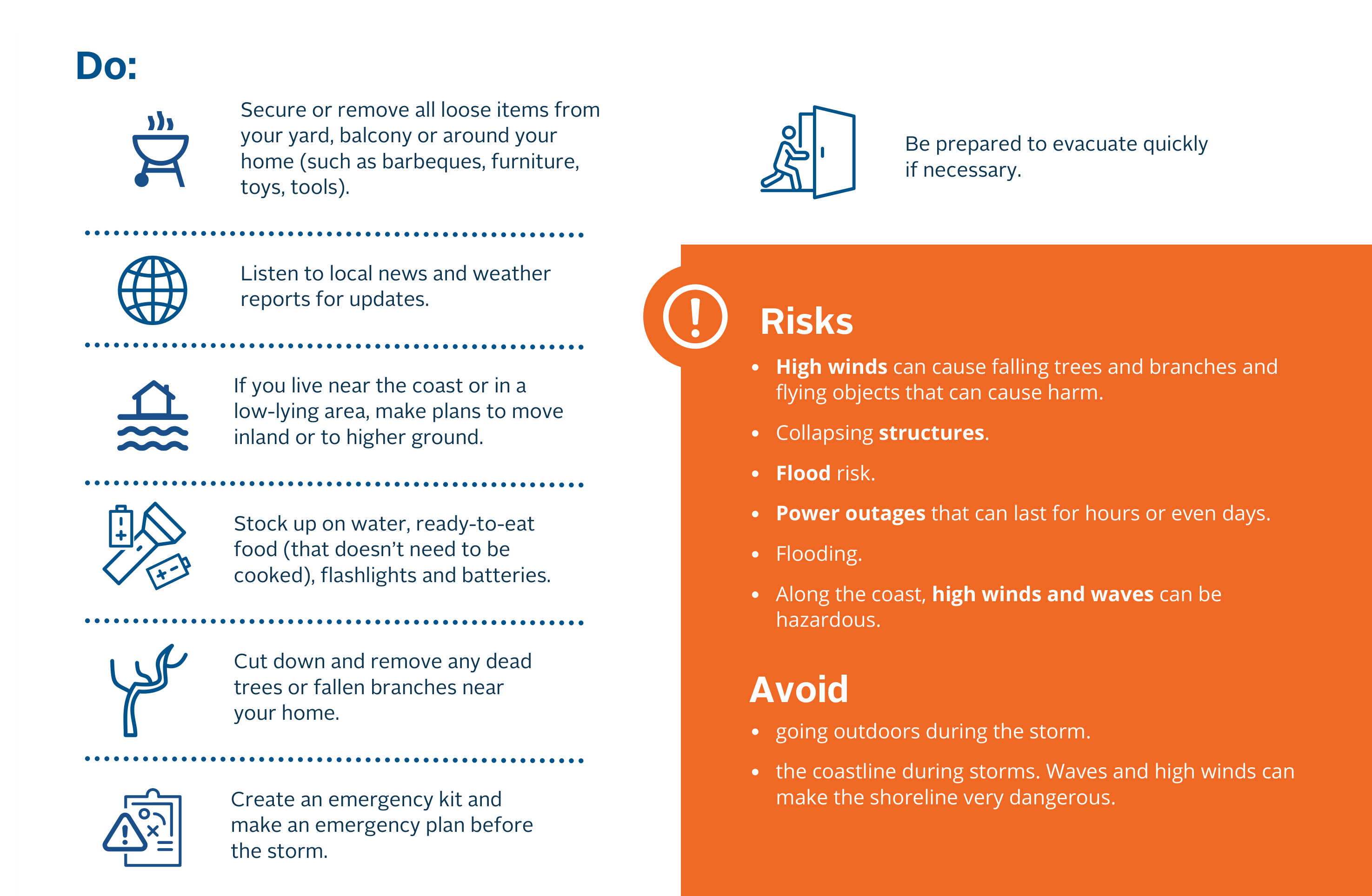 | Organization | Phone Number | Description |
| --- | --- | --- |
| Organization | Phone Number | Description |
| 911 Emergency Services | 911 | Police, Fire, Ambulance |
| Mental Health Mobile Crisis Team | 902-429-8167 | Emergency mental health service |
| Kids Help Phone | 1-800-668-6868 | Professional Counselling available 24/7 |
| Transition House Association of NS | 1-855-225-0220 | Services to women and children experiencing violence and abuse |
| Organization | Phone Number | Description |
| --- | --- | --- |
| Organization | Phone Number | Description |
| Non-emergency Halifax Regional Police Dispatch | 902-490-5020 or 902-490-7252 | Non-urgent police assistance |
| Nova Scotia Power | nspower.ca/outages | Shows where power is out and allows you to report outage |
| 511 Road Conditions | 511 | Information for road conditions, according or construction |
| 411 Directory Assistance | 411 | Search for a phone number |
| 311 Halifax Municipal Services and Info | 311 | Info on city services available in over 150 languages. Check halifax.ca/311 for updates |
| 211 Nova Scotia | 211 | Connections to community services |
| Immigrant Services Association of Nova Scotia (ISANS) | 902-423-3607 | Services & community connections for newcomers to Canada |
| YMCA Centre for Immigrant Programs | 902-457-9622 | Services & community connections for newcomers to Canada |
| Organization | Phone Number | Description |
| --- | --- | --- |
| Organization | Phone Number | Description |
| 811 Health Information | 811 | Health information and advice |
| Community Health Team | 902-460-4560 | Free non-urgent health related resources and programs |