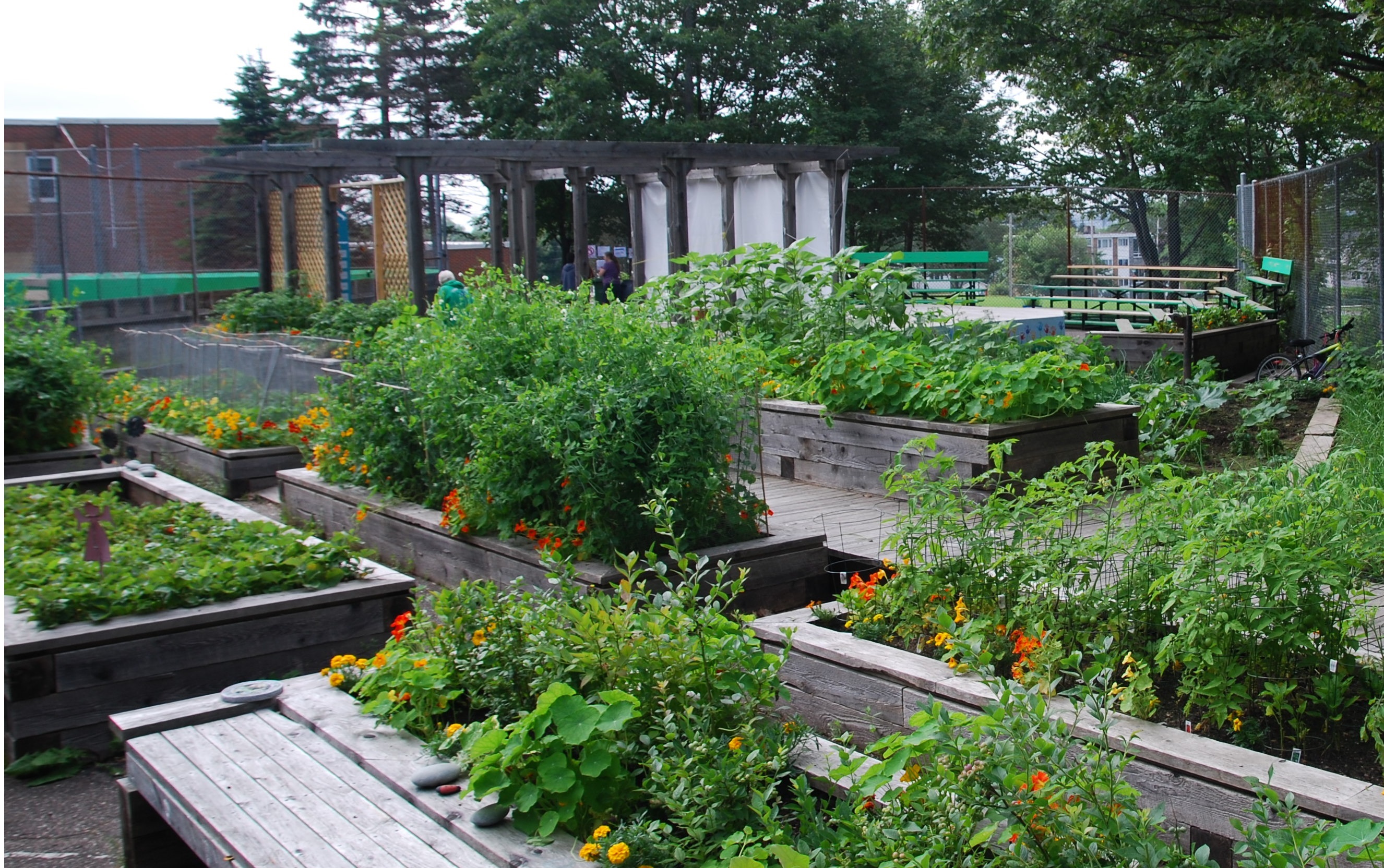 The average distance that food travels to get to Nova Scotia is 4,000km. This makes the municipality's food system particularly vulnerable to climate change. If there is an unexpected event or emergency that causes widespread instability, we may not have the local resources to meet the needs of our residents. Community gardens are one way to support the local food system.  
Many community gardens in Halifax are operated by residents on land owned by the municipal government. These are small-scale sites operated by non-profit societies for one or more of the following purposes:
1.    Growing produce for:
personal consumption
donating to local food causes
generating revenue to reinvest in the community garden
2. Production of a floral or landscape display

3. Demonstration gardening or other related instructional programming.

Community gardens can include vegetables, fruit, herbs, flowers, native and/or ornamental plants established and operated within existing municipal regulations, bylaws and assessments.

A community garden must have a "common area" with shared upkeep and may include individual garden plots. Community gardening differs from urban agriculture (urban farms), which is an industry that produces agricultural products for distribution to local markets.
Thinking of starting a community garden?
To start a community garden, you must be a non-profit group and submit an application before the March 30 deadline. This ensures there is enough time for staff to review and work with you on your request. 
For more information, check out the community garden handbook. If you're ready to apply, fill out the application form and send it to Darren Hirtle, Community Developer, at 902.476.1184 or Darren.Hirtle@halifax.ca. 
Want to be a part of an existing community garden?
The following is a list of community gardens on municipal property. Not all gardens will have space; most garden groups maintain a waiting list for when spots become available.
Dartmouth
Take Action Society
Harbourview Elementary School (Dartmouth North) 
thetakeactiongroup@live.ca

Goodness Grows! Findlay Community Garden
Findlay Community Centre, Dartmouth
goodnessgrowsgarden@gmail.com
Guy Jacobs Community
35 Jackson Road, Dartmouth F
guyjacobsgardensociety@gmail.com
Rope Works Community Garden
Victoria Park 
ropeworkscg@gmail.com 

Dartmouth Commons Community Gardens & Park Avenue Community Oven
Leighton Dillman Park, Dartmouth Commons
dartmouthgarden@gmail.com

Gaston Road Community Garden Association
43 Gaston Road 
gastonroadcommunitygarden@gmail.com
Le Jardin Community Garden
4 Windmill Road (Public Gardens), Dartmouth
info@ccgh.ca
Landrace Community Garden
74 Landrace Crescent, Dartmouth
landracecommunitygarden@gmail.com
Caledonia Community Garden
133 Caledonia Road
caledoniacommunitygarden@gmail.com
Halifax
Birdland Community Garden
99 Flamingo Drive
birdlandgarden@gmail.com
Hope Blooms Community Garden
Murray Warrington Park
2103 Gottingen Street
info@hopeblooms.ca
Geroge Dixon Community Garden
George Dixon Park
2502 Brunswick Street
george.dixon.garden@gmail.com
ISANS Community Garden 
67 Glenforest Drive
hasbil@isans.ca
ISANS Community Garden 
3311 Ashburn Ave
hasbil@isans.ca
North End Community Garden
Union St, at the lower parking lot of Ft. Needham Park
necg.hfx@gmail.com
Devonshire Garden
3395 Devonshire Ave
devonshiregarden@gmail.com

Peninsula Urban Gardens Society
Gorsebrook Park
pugsgorse@gmail.com
City Kidds Escape Society Community Garden
Frederick Avenue
Facebook Page
Common Roots
Bottom of Bayers Rd
https://commonrootsurbanfarm.ca/
Bedford
Bedford Sprouts Community Garden
36 Holland Avenue, Bedford
karenbagnell@hotmail.com
Beaver Bank
Beaver Bank Kinsac Senior Association
Beaver Bank Road
sandi.bolt@bellaliant.net
Lakeside
BLT Community Garden Project
Lakeside Community Centre
khillier@mymetroworks.ca
Lake Echo
Lake Echo Community Garden
Lake Echo Community Centre
info@lakeechorec.com
Prospect
Prospect Road Community Gardens
Prospect Road Community Centre
gardens@prospectcommunities.com