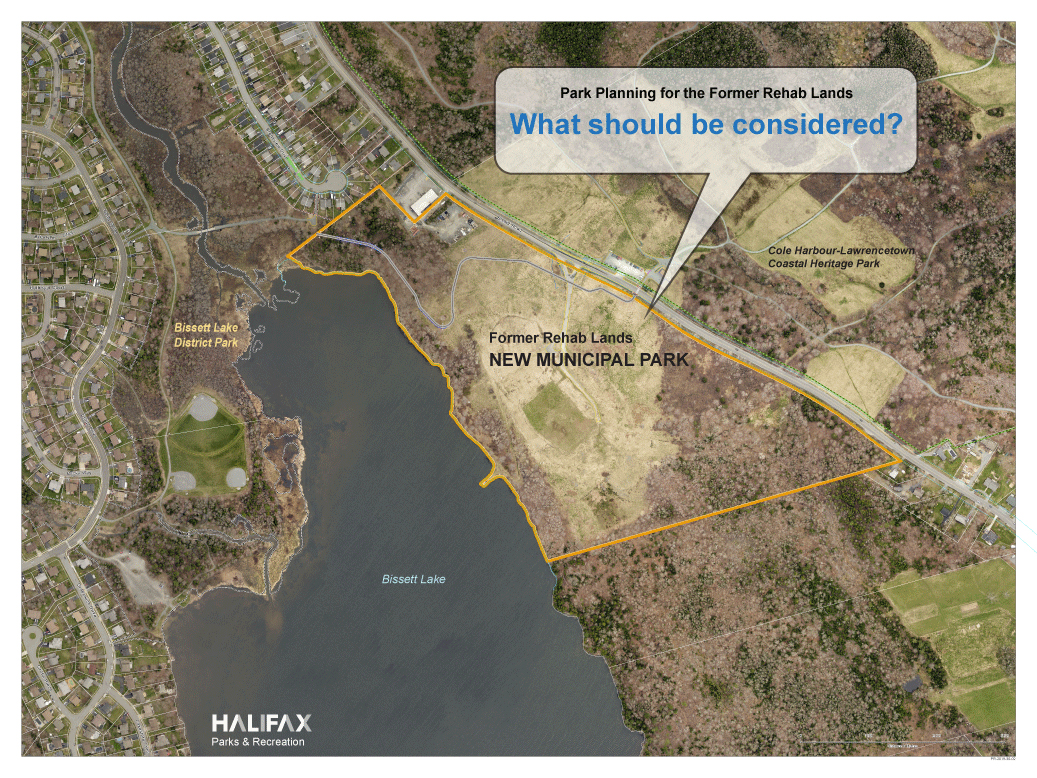 Update December, 2020: Community Engagement
The municipality is engaging on the park planning for the former Halifax County Rehabilitation Centre property (Rehab lands). Round One of community engagement is now underway and will run until mid-January 2021. Tell us what's important to you as we explore the future possibilities for a new park. Share your feedback through our online survey: shapeyourcityhalifax.ca/rehab-lands
Park Planning for the Rehab Lands on Bissett Road
The municipality is developing a comprehensive park plan for the former Rehab Lands on Bissett Road in Cole Harbour. Approximately 16 hectares of the lands associated with the Former Halifax County Rehabilitation Centre will be designated as parkland. One of the considerations for the new park, will be for an Off-Leash Dog Area.
The Cole Harbour Open Spaces Plan adopted by Region Council in 2013 identified these lands as an important open space connection between Bissett Park and the provincial Cole Harbour Heritage Park. The recent opening of the Bissett Trail saw the first step in the park's development and the completion of an essential link in the municipality's active transportation network.

There will be two rounds of engagement for public input and feedback for the planning of the new park, and a third round for comments on the final plan.
Round One – Let's Talk Park Planning
The first round of community engagement will focus on brainstorming ideas and gathering local knowledge. It will include a park user survey. Public input will be used to generate different park development scenarios. Round one is planned to launch in early December and run until January 18, 2021.
Round Two – Evaluate Options
The second round of engagement is planned for the winter of 2021.  Several park development scenarios will be generated from what we heard in Round One.  Concept plans will be shared for public feedback to determine favourite amenities and features to include in the final plan.  Feedback from Round Two will help inform the preferred options and final concept plan for the new park.
Round Three – Comment on the Final Plan
A final park plan will be presented back to the community for comments in the Spring of 2021 before being finalized and presented to Regional Council for adoption as a guiding document for future implementation.