2019 Volunteer Awards 
Applications for the 2019 Volunteer Awards are now OPEN! Submit an application on behalf of an outstanding individual or group in your community. 
The deadline for applications is December 17, 2018. Recipients are announced during National Volunteer Week in April. 
Youth Application [PDF]
Adult Application [PDF]
Group Application [PDF]
2018 Volunteer Award Recipients 
The following residents were awarded 2018 Halifax Regional Municipality Volunteer Awards. Additional awards as noted. 
For more information, please contact Shawna Shirley at 902.869.4202 or email shirles@halifax.ca.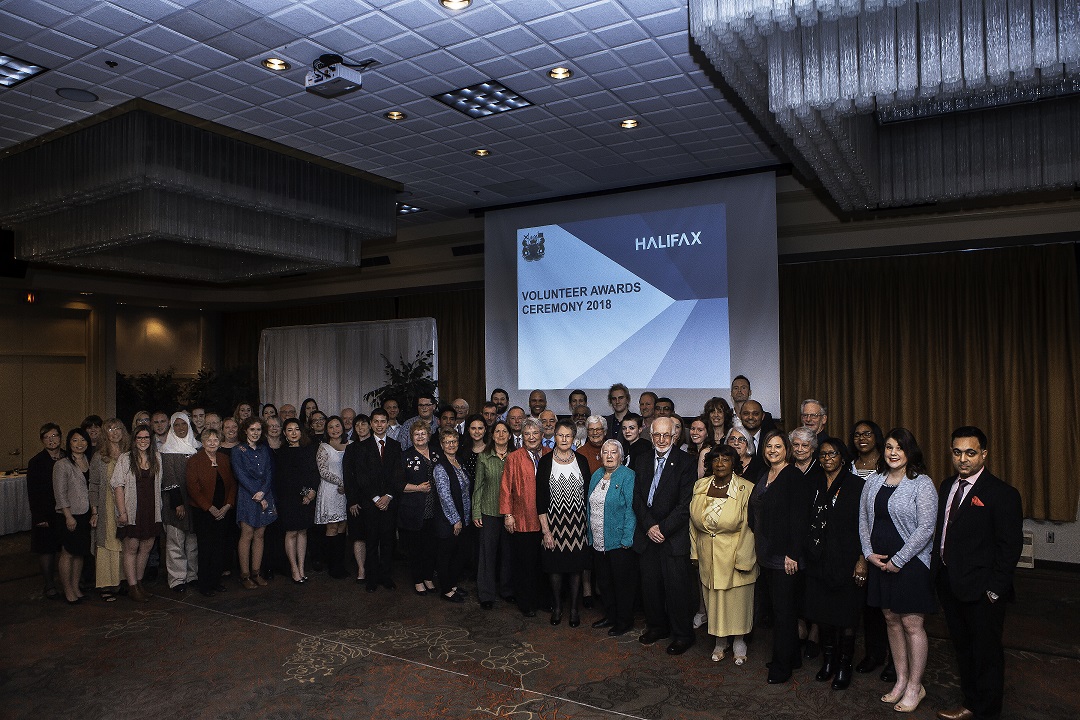 District 1 
Barbara Bell (Provincial Aware Recipient) 
Braden Marshall 
Erika Pineo
Lucky Sharpe 
District 2
Lorri Arnold 
Anne Bennet
Ronald Edward David 
Carole Jones 
David George Kerr 
Ivory Provo
Shirley Tolhurst 
Sheet Harbour Lions Club
District 3
Georgia Ayre 
Vishal Bhardwaj (Volunteer of the Year, Provincial Award Recipient) 
Ron Burbidge 
David Currie (Provincial Award Recipient) 
Linda Forward (Provincial Award Recipient) 
Lorne Perry 
Chris Peter 
Anne Yurchesyn 
District 4
Rick Betyna 
Mekayla Bull (Provincial Award Recipient) 
Allison Flewwelling 
Susan Steele 
District 5
District 6
Arthur Bennett 
Jack Martin 
Barbra Minard 
Nathalie Prud'homme 
Anthony Sarto Morrison
District 7
Wenceslao Amezcua 
Ding Fan (Provincial Award Recipient) 
Dave Jones 
Meredith Otley 
District 8 
Rodin Leitao 
Joanne Light 
District 9
Robert Bray 
Charles Fonseca 
Saida Gazie 
Anil K Rana
District 10 
Judy Arbique 
Juliana Murphy 
District 11
Logan Henderson 
Vince Norris 
Scott Reinhardt 
District 12
Natalie Bishop 
Essam Hashish 
Bob Purcell 
District 13 
Nicholas Horne (Provincial Award Recipient) 
Alex MacAulay
Ailie Sullivan (Provincial Award Recipient) 
District 14
Christine Jamieson (Provincial Award Recipient) 
Ron and Judy MacIntosh 
Sue McLearn 
Peter Stackaruk 
District 15 
Mallory Hookey 
Wilma Treen 
District 16
Skyler Boylan 
Kacy Burn 
Terry Choyce
Nicole Martelle 
Kathleen Pellerine 
Diane Swanzey (Provincial Award Recipient) 
Victor Tetrault
Frontier College Organizational Team