The 2018  Deferral of Property Taxes and Deferral of Local Improvement Charges Program is now open.
Program guide [PDF]
___________________________
If you need help paying your property taxes, the municipality offers a few choices. You can apply for:
A payment plan: rather than two large payments, you can pay in smaller monthly amounts.
A rebate: if your household income is less than $33,000, the municipal government will pay a portion of your property taxes. The amount of rebate varies with income and residential tax.
A rebate and a deferral: after the rebate has been applied to your tax account you can postpone payment of all or a portion of the balance. Interest is charged on the deferred tax amount. The rate of interest is set by Regional Council. The interest rate is Prime -2% for customers in the program and Prime +2% for customers whose income now exceeds the limits and must start a repayment plan. The 2018 program is open.
A deferral of local improvement charges: you can postpone payment of all or a portion of your local improvement charge.
You can also combine different options to meet your needs such as:
A rebate plus a payment plan to pay the balance in monthly amounts.
A rebate plus a deferral of the full balance.
A rebate plus a deferral of only part of the balance.
A rebate plus a deferral of the balance of tax due plus a deferral of local improvement charges.
Eligibility for a property tax exemption
To be eligible for a tax exemption in Halifax, you must meet the following conditions:
You must be the registered owner or co-owner of the property. Registration means that the title to the property is registered with the Nova Scotia Land Registry of Deeds in your name.

If there is more than one owner, all owners must sign the application form unless they live out of province.
All persons residing on the property must be disclosed on the application form.
If there is a living interest, title by adverse possession, power of attorney, or formal trustee, additional information is required, such as a copy of the will or trustee papers. Call 311 for assistance.

The combined gross household income of all persons living on the property must be $33,000 or less.
The property must be your permanent place of residence (your "home") not a cottage, second home, investment property holding, vacant lot, or income property.

A home includes a condominium, a mobile home, or a duplex.
Note: you can't apply for a deferral of property if the property is a mobile home on land not owned by you. A mobile homeowner can apply for a rebate or payment plan but not a deferral.
For more details on eligibility for different tax exemption programs, see the Residential Property Tax Exemption Deferral and Deferral of Local Improvement Charges Program Guide  [PDF].
How does a property tax exemption work?
If the Halifax Regional Municipality (HRM) approves your exemption, you'll be given a rebate on your property tax or local improvement charges. This rebate will be applied against any amount outstanding to cover the cost of taxes. If, after the taxes are paid, there is a surplus, you will be issued a refund by cheque or direct deposit. In every instance, you will be required to pay a minimum tax amount, which will be deducted from the rebate. See the table below for minimum tax amounts.
Checklist to apply
Your application must be complete to be processed. Make sure to include the following:
proof of household income from Canada Revenue Agency (Notice of Assessment) and statement of business activities or rental activities, if applicable
proof of rental income/expenses (Board) not claimed on personal income tax
application signed by the owner(s) who have title to the property
proof of power of attorney, executor, guardian, trustee, or living interest must be included unless you have previously submitted this to the Halifax Regional Municipality
letter from school regarding enrollment for students over the age of 18 with income
How to apply for help in paying your property taxes
The residential property tax exemption application, deferral, and deferral of local improvement charges form are available from June to December annually.
If you applied last year, application forms will be mailed out to you..
 
If this is your first year for applying, the application form and the guide for new applicants are available in municipal Customer Service Centres and on this website.
After you have filed your personal income tax for the current income tax and have received the notice of assessment back from Canada Revenue Agency confirming your income, you can then complete your application.
How much of a rebate can I get?
This table shows the rebates available by income level, and the minimum tax you are required to pay.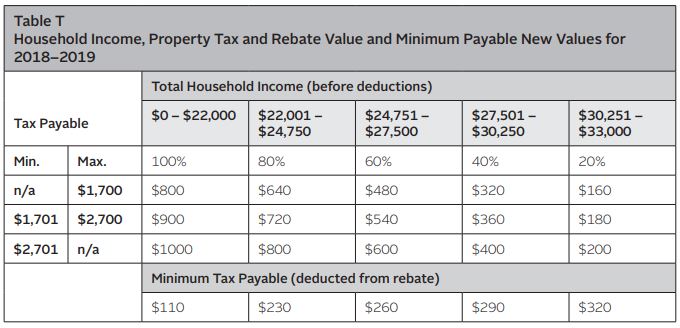 Deferral of local improvement charges program
Local improvement charges may be added to a property owner's tax bill for services such as sewer, water, or road work. These charges are paid once a year. If you need help paying for a local improvement charge, you can set up a payment plan or apply to defer the charges.