Recreational cannabis will be legalized on Oct. 17, 2018 and changes are happening at all levels of government to address its legalization. For the municipality, this means significant amendments to  By-Law N-300 (Nuisance By-law), which will enact By-laws N-303 and N-304 (Respecting Smoking) when they become effective Oct. 15, 2018.
Amendments are also progressing for the  Regional Plan and Land Use By-laws regarding appropriate zones and land use controls for commercial cannabis production facilities.
All smoking and vaping, including tobacco and cannabis use, will be treated the same. A public awareness campaign is underway outlining what the public needs to know about the by-law changes. 
Map of designated smoking areas on municipal property
CLICK HERE to view the map of municipal designated smoking areas (DSAs) that have been installed to date. As of Oct. 15, 2018, smoking and vaping, including cannabis and tobacco use, on municipal property is permitted only within the DSAs.
Installation of DSAs on municipal property is underway.

As of 4 p.m. Oct. 14, 2018 nine DSAs have been installed at Transit terminals throughout the region.

Crews are identifying potential locations to validate and install DSAs on municipal property.

The map will be updated regularly to reflect the current DSA locations .

Municipal staff will monitor DSAs to determine if the location is still appropriate or needs reconsideration.
Common questions
Where is smoking permitted?
Designated smoking areas (DSAs) will exist on some municipal property, and will be indicated by signs or stickers similar to this example.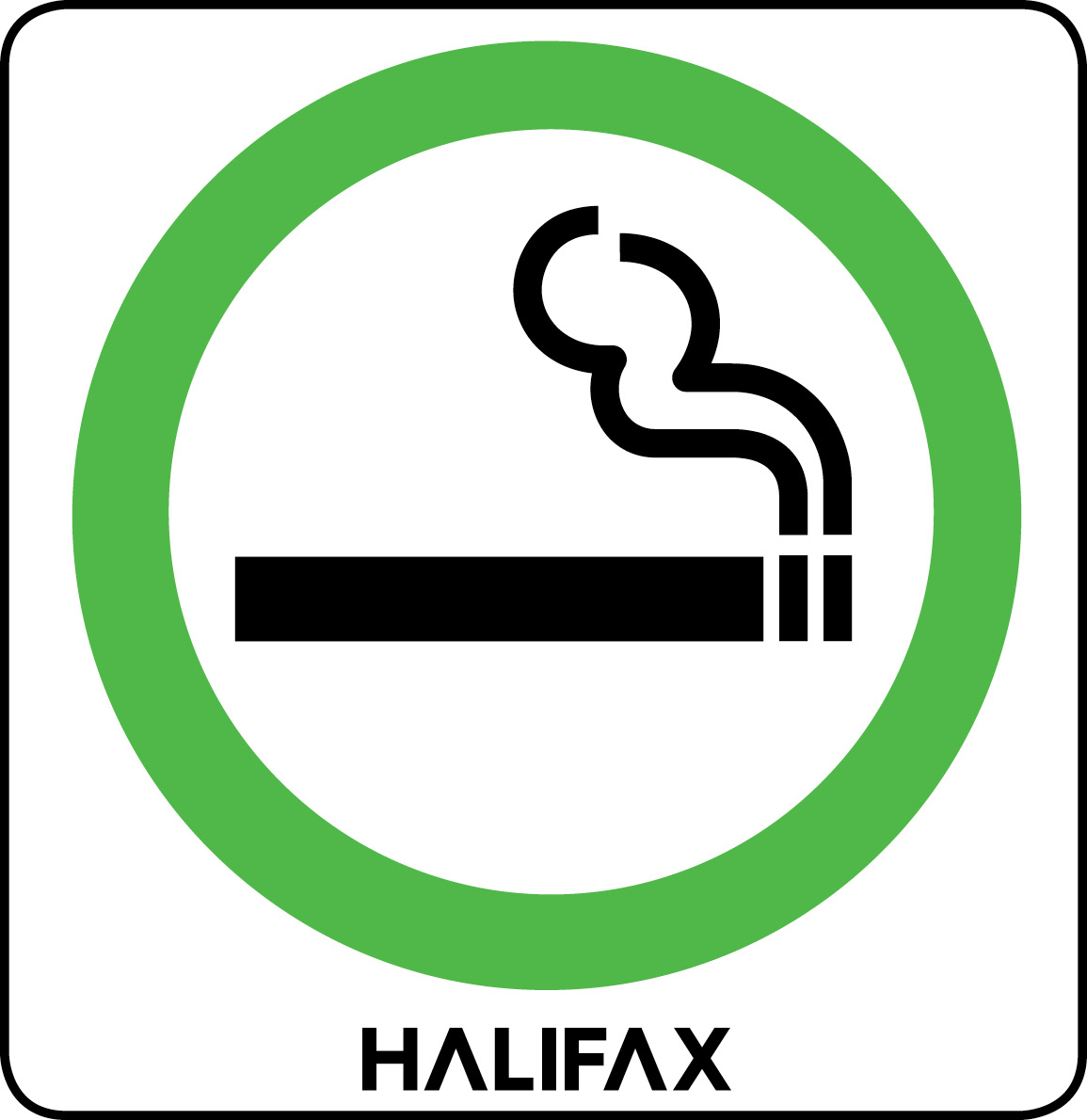 Each sign/sticker indicates how far the DSA extends for that location. DSAs installed to date are indicated on the online map. The municipality continues to identify locations and is accepting requests for additional DSAs for consideration. The map will be updated regularly, as the status of installed DSAs changes over time.
 
Signs/stickers can be permanent or temporary; for example, smoking permitted locations for an event on municipal property. 
Where is smoking NOT permitted?
By default, all municipal property is considered non-smoking (including streets and sidewalks) if not designated as a smoking area via installed signs/stickers similar to the example above. Municipal parks, trails, beaches, playgrounds, wharves and boat launches are already non-smoking areas and will continue to be so after the by-law changes.

As noted above, signs/stickers are being installed to indicate where people can smoke, which is a different approach from existing signs that indicate where people CAN'T smoke. 
How do I submit a request to mark a designated smoking area?
The municipality is accepting requests to mark designated smoking areas (DSAs) on municipal property. Click here to submit your request.
Decisions regarding DSAs will be assessed on a location-by-location basis. Amongst other considerations, each location must comply with the Nova Scotia Smoke Free Places Act, which prohibits smoking within 4 meters of windows, air intake vents and entrances to places of employment.
Smoking on private property will continue to be the responsibility of the property owner, although any smoking must adhere to the Province of Nova Scotia's Smoke-free Places Act.
How will you enforce these by-laws?
Municipal by-law compliance officers and Halifax Regional Police will enforce these amended by-laws along with all other municipal by-laws. 
When does this come into affect?
The municipality is enacting by-law amendments prohibiting all smoking on municipal property starting Oct. 15, 2018 in advance of the federal government's legalization of recreational cannabis on Oct. 17, 2018. 
Why treat tobacco and vaping the same as cannabis?
Recognizing by-law amendments would be needed to address the introduction of legalizing recreational cannabis, we saw this as an opportunity to address complaints we've heard over the years about tobacco smoke on public property as a health concern through second-hand smoke.

Additionally, when it comes to enforcement, we recognized it would be very challenging to enforce a ban on just cannabis, as it would be difficult to prove exactly what substance the person was smoking/vaping. Potentially, we would have needed to gather samples of the product and get them tested in a lab to prove the substance type. This process would be problematic which is why we adopted a blanket ban approach.
What happens if I smoke in a public space?
You could face a penalty from by-law enforcement. The fine is a minimum of $25 and a maximum of $2,000 per offence, and in default of payment, a maximum of 30 days in jail.
How do I report smoking in a public space?
Once the by-law amendments become effective on Oct. 15, 2018, call 311 to report any prohibited smoking or vaping. 
Recreational cannabis  
Until federal legislation comes into effect on Oct. 17, 2018, it is still against the law to possess, use, or sell recreational cannabis.
What are the age restrictions for cannabis?
The provincial government has set the legal age for cannabis use, purchase, cultivation, and possession in Nova Scotia at 19. 
How many plants can I grow?
In Nova Scotia, adults 19 years of age or older can grow up to four plants per household. Note the legislation stipulates it's per household and not per person. Therefore, it is irrelevant how many people live in a household.
Where can I grow cannabis?
In the urban and suburban areas of the municipality, plants will have to be grown inside or in a detached structure, like a shed or greenhouse, to help ensure public safety and to mitigate the potential impact of the smell of the plants interfering with a neighbour's enjoyment of their own property.
If you live on a lot where you don't have municipally provided sewer and water, you will be able to grow your plants outside as there is generally much more space between properties. 
I think a neighbour is growing more than four plants. What should I do?
The federal Cannabis Act determines the personal cultivation limits for Canadians. Once recreational cannabis use becomes legal on Oct. 17, 2018,  please call 311 to report non-compliance.
I'm concerned a commercial cannabis production facility could open in my neighbourhood. What's being done about that?
By-law amendments that will clearly define where production facilities can operate are currently being considered by Regional Council. The goal will be to balance economic development opportunities with concerns related to impacts on neighbouring properties.

Before these amendments can be approved, a public hearing will be held to receive feedback on these specific proposed amendments.
Regional Council will then make a decision on how to move forward.
Where can I legally buy cannabis?
The province has indicated that cannabis will be sold through the Nova Scotia Liquor Corporation (NSLC), both online and in 12 existing stores. The four NSLC locations selling cannabis within the municipality are:
Dartmouth – 650 Portland St.
Halifax – 5540 Clyde St.
Halifax – 3601 Joseph Howe Dr.
Lower Sackville – 752 Sackville Dr.
All except the Clyde Street store will have retail cannabis sold in stores that also sell liquor. The Clyde Street store will be a stand-alone cannabis retailer.
How much cannabis can I possess at one time?
The provincial government has set the possession limit at 30 grams of dried cannabis, or equivalent, when outside the home. 

There will be no restriction on how much cannabis you can keep at home or how you need to store cannabis in your home. Extra care is encouraged around how cannabis is stored, especially in a home with children and pets.
How will legalization affect those using cannabis for medical purposes?
The legalization of recreational cannabis will not affect the way patients access cannabis for medical purposes. However, those smoking cannabis for medical purposes must still adhere to municipal by-laws restricting smoking and vaping on public property.
I'm confused about which level of government is responsible for which part of legalization of cannabis. Can you help?
Yes, see the table below for more information. 
| Responsibility | Federal | Provincial | Municipal |
| --- | --- | --- | --- |
| Possession | Yes | Yes | |
| Types of cannabis products permitted | Yes | | |
| New criminal offences | Yes | | |
| Regulatory compliance | Yes | | |
| Industry regulation | Yes | | |
| Advertising regulations | Yes | | |
| Impaired driving | Yes | Yes | |
| Medical cannabis | Yes | | |
| Public health | Yes | Yes | Yes |
| Education | Yes | Yes | Yes |
| Taxation | Yes | Yes | |
| Cultivation and harvesting | Yes | Yes | |
| Sale and distribution | | Yes | |
| Retail model | | Yes | |
| Social consumption | | Yes | Yes |
| Protecting youth | | Yes | |
| Enforcement | Yes | Yes | Yes |
| Home cultivation | | Yes | Yes |
| Impacts on neighbourhoods | | | Yes |
| Zoning restrictions | | | Yes |