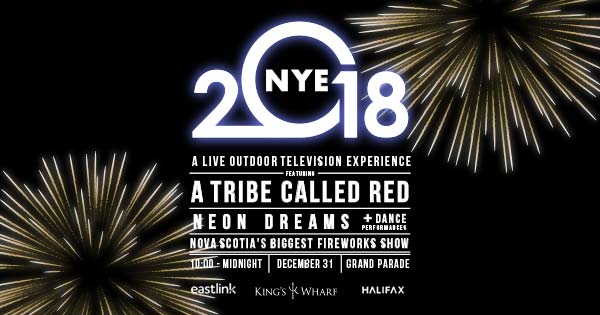 New Year's Eve Party in Grand Parade - Artist Announcement
NYE 2018
Grand Parade, Outside City Hall
10:00 PM – Midnight
Come Join us and Be Part of a Live Television Event
New Year's Eve 2018 Presented By Eastlink…Celebrate The New Year Outside City Hall featuring Juno award winners, A TRIBE CALLED RED.  Immerse yourself in the sights and sounds of the Indigenous scene's most exciting act. 
 
This live television experience features backstage Interviews, nationally recognized dancers and one of Canada's favourite new bands, NEON DREAMS. 
 
This event is FREE in Grand Parade with Atlantic Canada's biggest fireworks finale.
 
Brought to you by Eastlink, Kings Wharf, the Halifax Regional Municipality and C100/Virgin 101.3
Tribe Called Red 
If you're an indigenous person living in a country that was forcefully colonized, it's all too common to find yourself underrepresented and misrepresented if not blatantly and systematically devalued and attacked. Positive role models and a positive self-identity are hard to come by, yet the Canadian DJ collective A Tribe Called Red is a modern gateway into urban and contemporary indigenous culture and experience, celebrating all its layers and complexity.
The crew has performed high profile festival dates at Coachella, Bonnaroo, AfroPunk, Osheaga, and New Orleans Jazz Fest to list a few. In 2014, they garnered mainstream recognition when the band became the first Indigenous group to win the Breakthrough Group of the Year award at the Juno Awards (Canada's Grammys). ATCR was also long-listed for Canada's prestigious Polaris Music Prize in 2012 and 2013 and its debut album was included in the Washington Post's top 10 albums of that same year.
Looking to the future, without losing sight of their past, ATCR straddles a broad range of musical influences based in modern hip-hop, traditional pow wow drums and vocals, blended with edgy electronic music production styles. Currently made up of Bear Witness and 2oolman, ATCR first got together in 2008. They are part of a vital new generation of artists making a cultural and social impact in Canada alongside a renewed Aboriginal rights movement called Idle No More.
Neon Dreams 
Over the last couple of years, Halifax-based trio Neon Dreams have rapidly emerged as one of the brightest new stars on the Canadian music horizon. The success story they are writing has long and deep roots, however, for Frank Kadillac, Adrian Morris, and Matt Gats have been playing together in different configurations for the last nine years. The result is a tight-knit band with a strong personal and musical foundation, one destined to help Neon Dreams go a long way in the business.
Neon Dreams first made an impact on Canadian radio in 2016 with their breakout single "Marching Bands," featuring Kardinal Offishall. Recently certified gold, the smash hit brought Neon Dreams victory in the Best New Group or Solo Artist (Dance/Urban/Rhythmic) category at the 2017 Canadian Radio Music Awards in Toronto, during Canadian Music Week. 
The fact that the group beat out such prominent fellow nominees as Shaun Frank, Tory Lanez and Party Next Door in that category definitely placed Neon Dreams on the music industry radar.