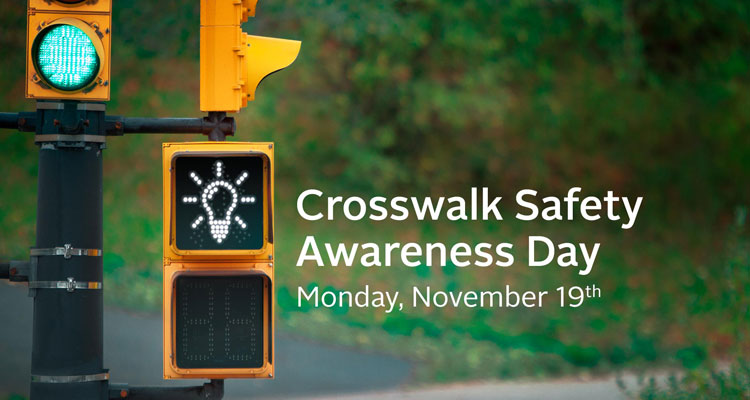 Heads Up Halifax and Crosswalk Safety Awareness Day
Heads Up Halifax is a campaign designed to help raise awareness about the responsibility shared by drivers, cyclists, and pedestrians when it comes to crossing the street safely. Heads Up Halifax also brings attention to Crosswalk Safety Awareness Day (CSAD), which will be held on November 19, 2018. Drivers and pedestrians are encouraged throughout the day to be even more mindful of crosswalk safety and to share their safe crosswalk experiences using the #headsuphalifax hashtag (only when it's safe to do so!).  
We'll also be looking for some bright ideas from the public to make crosswalks safer for everyone.  
 Let's put our heads together, Halifax 
We believe our communities can do amazing things, so we're asking you: how can we improve crosswalk safety? This year's initiative is all about finding new ideas to promote crosswalk safety awareness and encourage safer behaviour. If you want to make a real difference in your community, here's your chance — funding is available to bring the best ideas to life! The following FAQs explain the initiative and what we're looking for in a great idea.
How does the initiative work? 
We want ideas from the people who walk, drive, and bike through crosswalks every day. If you have an idea to make our crosswalks safer, you can fill out a submission form that will be posted to this page on November 19 along with the initiative's full rules. Our panel of judges will select the best ideas, which will be funded by Heads Up Halifax.
When/where can I submit my ideas?
Submissions kick off with Crosswalk Safety Awareness Day on November 19, 2018, and the deadline to submit is January 3, 2019. Our judges will evaluate and announce the winners on March 4. Funding will be awarded on April 15. Once we're open to submissions, send your PDF form and any attachments to headsup@halifax.ca, or mail a hard copy to: 
Halifax Regional Municipality, PO Box 1749, Halifax NS, B3J 3A5    Attn: Heads Up Halifax/Corporate Communications
What kinds of ideas are you looking for? 
We want ideas that are innovative or educational (or both!). We believe the best ideas will either encourage safer behaviour or improve the ways in which people currently use crosswalks.
What makes for a good idea?  
We want to hear all your great ideas. That said, submissions are more likely to receive funding if they are: 
Clearly communicated: How does your idea work and how will it directly improve crosswalk safety for both drivers and pedestrians? 
Viable: We love that you think big but consider what resources you'll need to bring your idea to life. 
Scalable: Can your idea be used in more than one community throughout the Halifax Region? 
Long-lasting: Will your idea improve crosswalk safety for years to come? 
Who can submit ideas? 
Anyone can submit ideas but to receive funding we require entrants to be part of (or partner up with) a registered non-profit. This means individuals and for-profit businesses must work with a community group, school, charity or other registered non-profit.  
Who decides which ideas receive funding?
Our panel of judges will consist of municipal elected officials, staff, and community leaders vested in crosswalk safety. 
What if I have other questions?
If you have any other questions about the initiative or your submission, please email headsup@halifax.ca.
Safe crosswalk behaviour
Since 2012, there have been over 1,000 victims of crosswalk collisions in the Halifax region. As part of the ongoing Heads Up Halifax campaign, remember to stop and make eye contact with drivers, pedestrians, or cyclists when approaching a crosswalk to ensure you are seen and your intentions understood. No assumptions. No surprises. Other good (meaning: safe) behaviour around crosswalks includes:
slowing down as you approach a crosswalk and scanning the street when approaching crosswalks and intersections

pressing the button to activate the overhead lights (when they exist) and not crossing the street when the flashing hand sign is present

avoiding all distractions when driving or walking into a crosswalk area, whether people or cars or bikes are present or not
Misconceptions about crosswalk safety
Halifax Regional Police and RCMP remind pedestrians and drivers of the laws around crosswalk safety.  
I can enter the crosswalk when the hand is flashing or countdown timer has started
This is false. It's against the law to enter the crosswalk if the hand is flashing or countdown timer has started. But if you've already started to cross when the hand starts flashing or countdown timer begins, don't worry, you can still finish your crossing.
I have to use the overhead flashing lights at a crosswalk where they're available
That's true. It's the law to press the button to use the overhead flashing lights at a crosswalk where they're available.
I can park my car two metres from a crosswalk
Nope. You can't stop or park a vehicle within five metres of a crosswalk.
Crosswalks only exist if they're marked
Not even close. Every intersection has a crosswalk. Crosswalks exist on all legs of an intersection, whether marked or unmarked. Either way, drivers must yield to pedestrians waiting to cross or when they're already in a crosswalk.