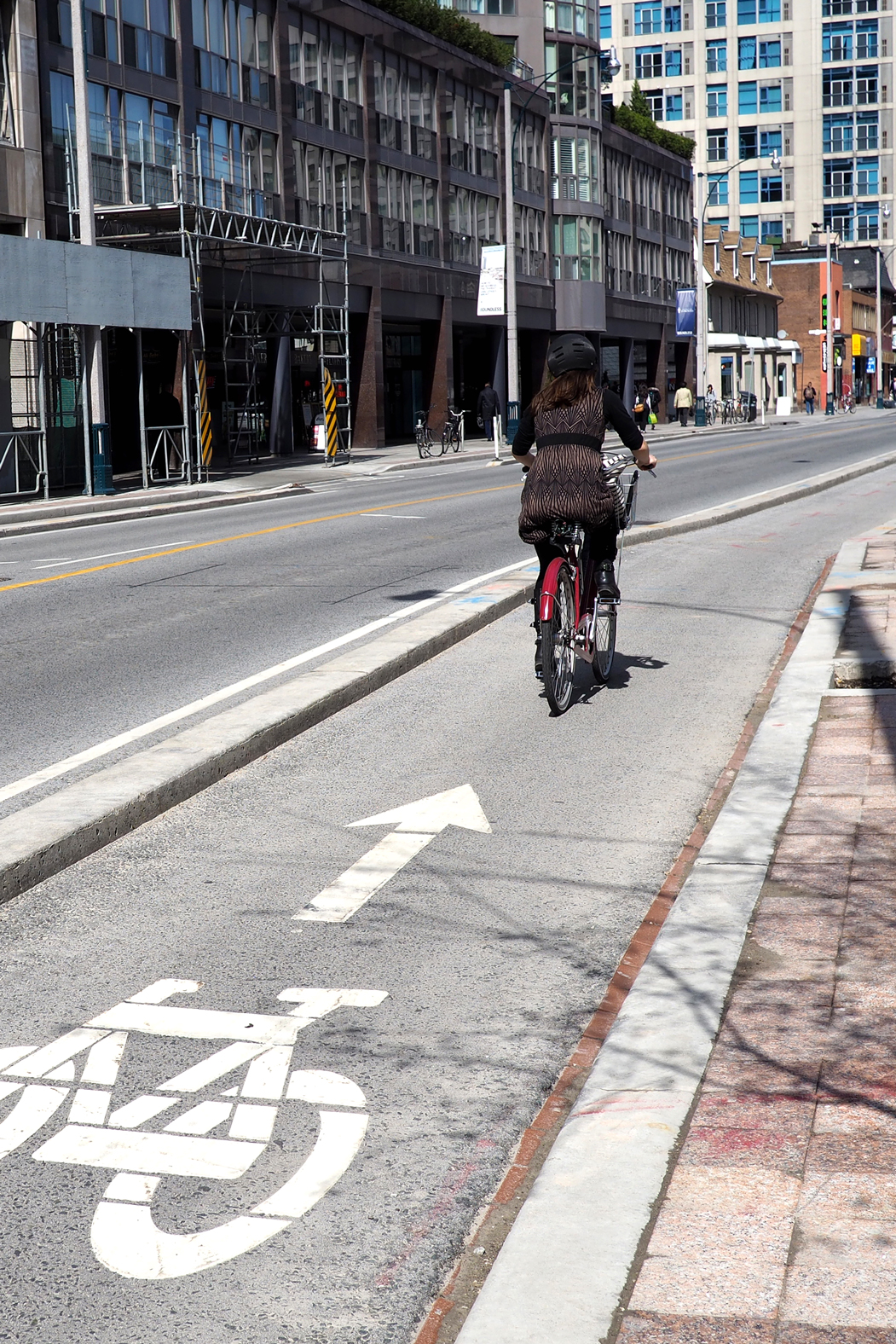 The South Park Street protected bicycle lanes were approved by Halifax Regional Council in March 2018 as part of the Regional Centre Cycling Network outlined in the Integrated Mobility Plan. The vision is to provide safe, comfortable, convenient routes for people of all-ages-and-abilities to cycle around the city and South Park Street is a key north-south spine route in the Halifax peninsula's bicycle network.

This project will introduce features new to the municipality such as a continuous physical barrier separating cyclists from traffic, two-stage turn boxes at signalized intersections, intersection conflict markings and the integration of bike lanes with bus platforms at transit stops.

Implementation of these protected bicycle lanes will (1) expand the core cycling network, (2) make it easier for people to choose cycling as a mode of transportation, (3) improve road safety, and (4) help attain the mode share targets set out in the Regional Plan.
Current Status: 
Phase one construction will begin on July 8th, 2019. Phase One includes South Park Street from Spring Garden Road to Inglis Street.
Project Overview
The South Park Street bicycle lanes are being upgraded and extended to create an "all-ages-and-abilities" cycling connection between Sackville Street and Inglis Street. The South Park Street facility will feature one-way protected bicycle lanes on each side of the street, with a wide buffer and pre-cast concrete curb to separate bicycle and vehicle traffic. This route will eventually connect to other planned bicycle corridors, including a new facility on University Avenue/Morris Street and enhanced bicycle lanes on Bell Road.
Halifax Transit provides service on South Park Street with Routes 4, 10 and 14. Where bicycle lanes intersect with transit stops, the shared bus stop-bicycle lane will feature:
A ramp in the bicycle lane to bring it to sidewalk height.
A shared bicycle lane-transit platform at sidewalk height.
Tactile Walking Surface Indicators (TWSI) to ensure that people with vision impairments are aware they are crossing the bicycle lane.
Pavement markings and signage to warn people cycling to slow down and yield to people boarding and exiting the bus.
There will be changes in the number and location of parking spaces on South Park Street as a result of this project. Where space permits, existing parking lanes will be moved away from the curb to create parking-protected bicycle lanes. From Spring Garden Road to South Street, there will continue to be short-term metered parking on both sides of the street. From South Street to Inglis Street, there will be on-street parking on the west side of the street only. Other changes to parking includes a small "permit parking only" zone and additional short-term parking on side streets for visitors to the area. The staff report for this project includes more information about the parking changes. 
Phasing: 
Construction of Phase One (Spring Garden Road to Inglis Street portion) in summer 2019. Construction of Phase 2 (Spring Garden Road to Sackville Street portion) is targeted for spring 2020 (pending removal of the construction encroachment on South Park Street near Sackville Street).
Project History: 
March 2018 – 
Regional Council approves the implementation of a protected on-street bicycle facility for South Park Street. Click here to view that report. 
December 2017 -
Regional Council adopts the Integrated Mobility Plan, which identifies South Park Street as a connection within the Regional Centre AAA Cycling Network.
January and February 2017 –
Public engagement sessions are held and a survey is posted to Shape Your City to collect feedback on the proposed options, including consideration for level of comfort and safety for people cycling and impact on parking along the proposed route.
April 2016 –
Initial open house is held for the project to present potential options for enhanced or protected bicycle lanes on South Park Street.