Welcome! To help you plan your cycling routes, the municipality produces two printed map documents and an online interactive map of existing bicycle facilities and suggested routes.
VISIT THE ONLINE INTERACTIVE BIKE MAP

Access our interactive web mapping app on your phone or computer. You can zoom, pan around, and find your neighbourhood to help plan the best cycling routes near you. If you click on a route on the map, a pop-up with more information will appear.  To help you navigate the terms and icons on the map, check out the Bicycle Facility Dictionary and Cycling Signage and Road Markings page.
REGIONAL CENTRE AAA POCKET BIKE MAP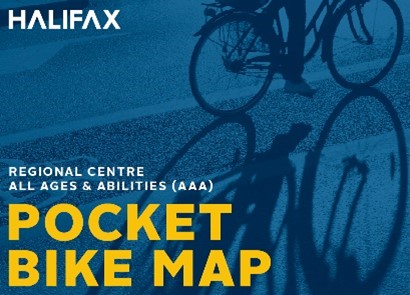 Our newest printed map focuses on all-ages-and-abilities (AAA) cycling facilities within the downtown core of Halifax and Dartmouth within the circumferential highway.  This map includes educational insets on how to use the new AAA bikeways and folds down in an accordion style that fits into your pocket. 
Latest issue: August 2022.
MUNICIPAL-WIDE BIKE MAP PAMPHLET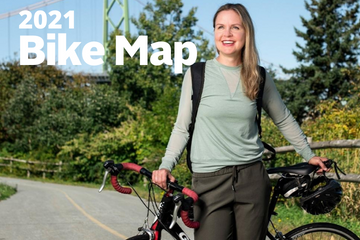 This larger map pamphlet includes all existing bike infrastructure and suggested routes within the municipality, including areas outside the urban core. There are inset maps to show greater detail on the communities of:
Upper Sackville, Lower Sackville, and Bedford area
Beechville, Lakeside, Timberlea, and Hammonds Plains area
Cole Harbour, Eastern Passage, Lawrencetown, and Prestons area
The pamphlet also includes secondary highways with paved shoulders and suggests some scenic day loops for those cycling longer distances recreationally.

Latest issue: June 2021.
 
WHERE TO PICK UP A MAP
Printed bike maps are distributed at the following locations (pending stock). They are also available at a number of bicycle sales + repair shops:
Pick-up Location (Pending Stock)
Municipal-Wide Bike Map (All of HRM)
Regional Centre AAA Pocket Bike Map (Downtown Only)
Pick-up Location (Pending Stock)
Municipal-Wide Bike Map (All of HRM)
Regional Centre AAA Pocket Bike Map (Downtown Only)
Acadia Centre
X
Alderney Gate CSC
X
X
Alderney Gate Public Library
X
X
Bayers Road CSC
X
X
Bedford Public Library
X
Bedford-Hammonds Plains Community Centre
X
Canada Games Centre
X
X
Captain William Spry Community Centre
X
Chocolate Lake Community Centre
X
X
Citadel High Community Centre
X
X
Cole Harbour Place
X
Dartmouth North Community Centre & Public Library
X
X
East Preston Community Centre
X
Emera Oval Pavilion
X
X
Findlay Community Centre
X
X
George Dixon Community Centre
X
X
Gordon R Snow Community Centre
X
Halifax Central Public Library
X
X
Halifax North Memorial Public Library
X
X
Keshen Goodman Public Library
X
X
Musquodoboit Harbour Public Library
X
Needham Community Centre
X
X
North Preston Community Centre
X
North Woodside Community Centre
X
Prospect Road Community Centre
X
Sackville Public Library
X
Sackville Sports Stadium
X
St Margaret's Centre
X
Tantallon Public Library
X
Woodlawn Public Library
X
X
Zatzman Sportplex
X
X
REQUEST A BIKE MAP
To request that a paper-copy bike map be sent to you in the mail, please call 311 or e-mail contactus@311.halifax.ca. You will be asked to provide:
Your name and contact information
Which version of the map you'd like to receive (e.g. Pocket Bike Map vs Municipal Bike Pamphlet)