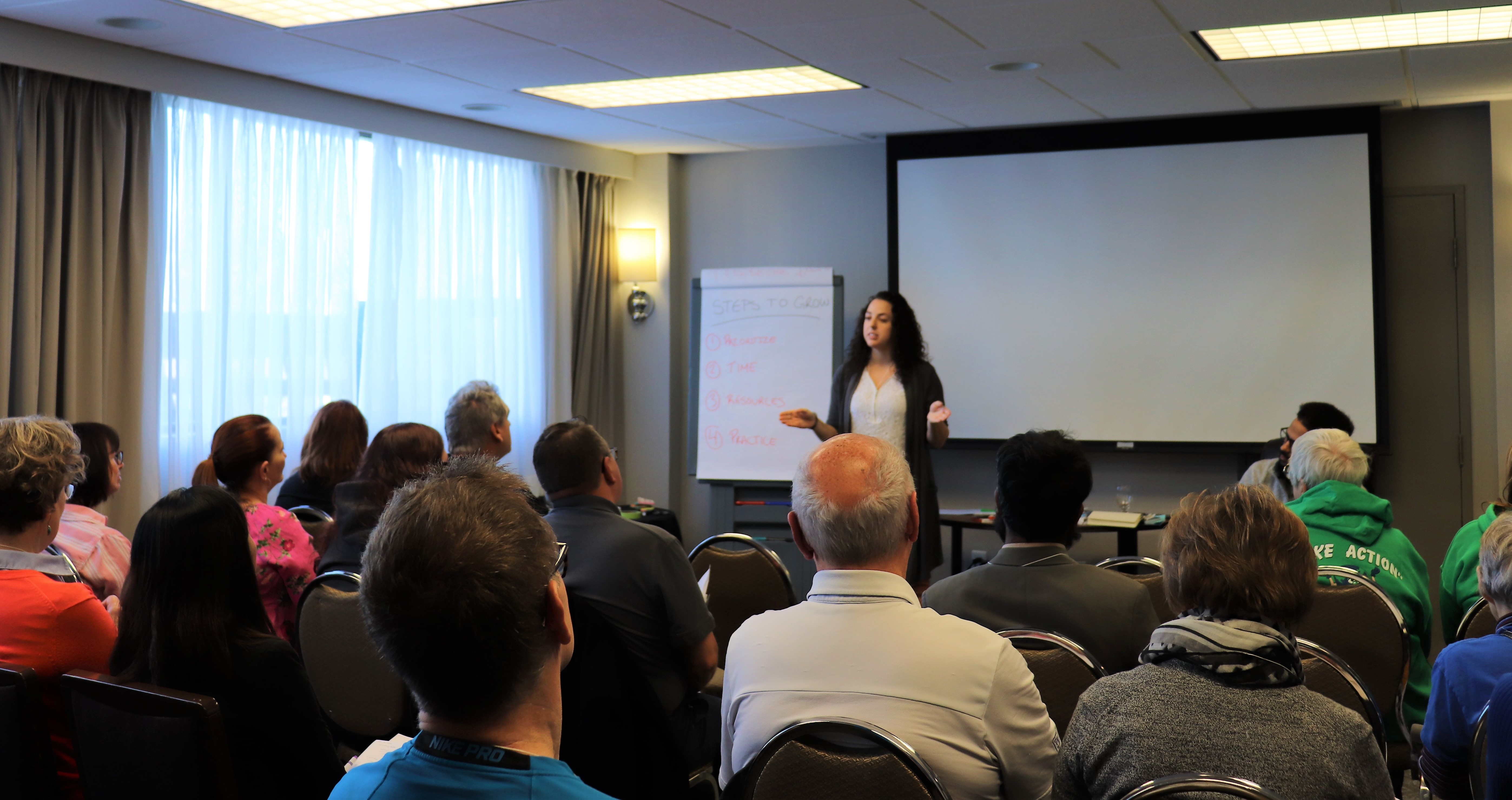 2021 Volunteer Conference Workshops
The 2021 Volunteer Conference takes place Friday, November 19 at Double Tree by Hilton. Browse through our list of workshops below and register online at halifax.ca/myrec.
Friday Morning Workshops
Shiny Object Syndrome vs. Marketing Strategy: How to connect with YOUR target audience to promote your organization by Christine Kimball, Corporate Communications, Halifax Regional Municipality 
At this session you will learn marketing fundamentals that will help you speak to and engage YOUR target market. This interactive session will take participants on a marketing journey to help them better understand how to connect with their community and to promote their organization. There are so many options available when it comes to marketing and promotion that sometimes it can become a bit overwhelming. This session will breakdown the marketing process into bite size pieces that can be customized and implemented into your marketing and communication plans.
Volunteer and Staff Burnout in the Community Sector by Annika Voltan, Community Sector Council of Nova Scotia
While burnout is hardly a new phenomenon in the sector, COVID-19 has only worsened the situation. Mental health and wellness are necessary to ensure staff and volunteers can continue to do the work they are passionate about. In this session, we'll hear about recent data on the topic and gain exposure to tools to increase resiliency, making time for your health, and integrating health and wellness into volunteerism (such as during meetings or regular activities).
Difficult Conversations and Conflict Resolution by Grant MacDonald, Governing Good NS
Working with volunteers in community settings can be challenging. There can be differences in personalities, communication, life experience and expectations. Sometimes a difficult conversation is needed to raise performance, deal with a complaint, provide useful feedback or ask someone to step down. Much can be done to prevent misunderstandings in the first place. When we must raise an issue, we fear it will not go well. How can we better prepare ourselves so to improve the chances for a useful meeting of the minds.  Drawing on participant examples and experiences this session will offers practical suggestions and tips.
Community Event Planning, by Michael Kelly, Hospice Halifax
Community events are often an essential part of promoting, fundraising, and celebrating the work of organizations, as well as a great way to bring the broader community together. In this workshop, participants will learn about the opportunities that come from hosting community events, such as partnerships, fundraising, and great exposure, which can help with volunteer recruitment. We will also reflect on what we have learned from COVID that will carry on as we continue to plan events in our communities.
Volunteer Recruitment and Engagement Panel featuring Joanna Bull, Ecology Action Centre, Micah Brown, BATLX and Former Football Professional, and Emily Masse, Canadian Red Cross.
Volunteers are the backbone of any not-for-profit or community-based organization. However, we know volunteer recruitment and commitment is a constant struggle. In this session, participants will learn from a panel of representatives from not-for-profits that have successfully recruited volunteers over the years. Delegates will hear about how volunteer trends are changing, what today's volunteers are looking for, supports that help with retaining volunteers, and the importance of recognizing your volunteers. Delegates will also get a chance to ask the experts questions.
Friday Afternoon Workshops
Running Effective Meetings by the municipality's Community Developers 
Meetings – one of the essentials of community work.  There are a lot of things to manage, such as sticking to the agenda, ensuring everyone has an equal chance to speak, ensuring a safe space for open dialogue, keeping board members engaged, making decisions, and setting actions to commit to for the next few months. Since COVID, we have all started using online platforms for meetings; therefore, we will also dive into online meeting etiquette. In this workshop you will gain tools and tips to plan and run effective meetings. You will learn about meeting structure and planning, facilitating an online meeting, keeping the meeting focused and on track, managing challenging personalities, making decisions and priorities and tools to follow-through with actions and review progress.
Fresh Approaches to Fundraising by Denise Green, MSVU
We all know that fundraising is a critical component of any group or organization. Despite this, most people feel uncomfortable when it comes to asking for donations to support the important work that they are doing in their communities. In this workshop, participants will hear about a variety of fundraising methods, and learn tips and tricks to make asking easier. Join us as we look at fresh new takes on how to reach your organization's fundraising goals.  We're going to be doing some thinking outside of the box in this session and building on the concepts of reach, connections, opportunities, and creativity.
Grant Writing by Jesslyn Dalton, Growth Spurts Funding Solutions
There are so many facets to writing a great grant application.  Topics explored will include communicating vision, project goals & impact, timelines and budget, as well as components to pay attention to after receiving a grant.
Engaging Youth by Becca Bishop, Youth Community Developer for the municipality 
Have you ever thought about engaging young people in your group or committee but don't know where to start? This workshop is about understanding why and how you turn that why into appropriate opportunities for young people within your organization. With 2 hours we will start to scratch the surface and set people up with some ideas and things to walk away with and develop at home.
Micro-Neighbourliness: Small Actions, Big Results! by Kate Moon and Shawna Shirley, Halifax Regional Municipality 
When the pandemic began, we spent increasing time in our hyper-local neighbourhoods. In response to lockdowns there was a proliferation of acts of micro-neighbourliness that inspired a sense of hope and connection when most needed. Learn about the concept of micro-neighbourliness, share, and explore how acts of micro-neighbourliness inject a valuable sense of play and belonging, and get ideas for how to sow seeds for larger change and collective action.