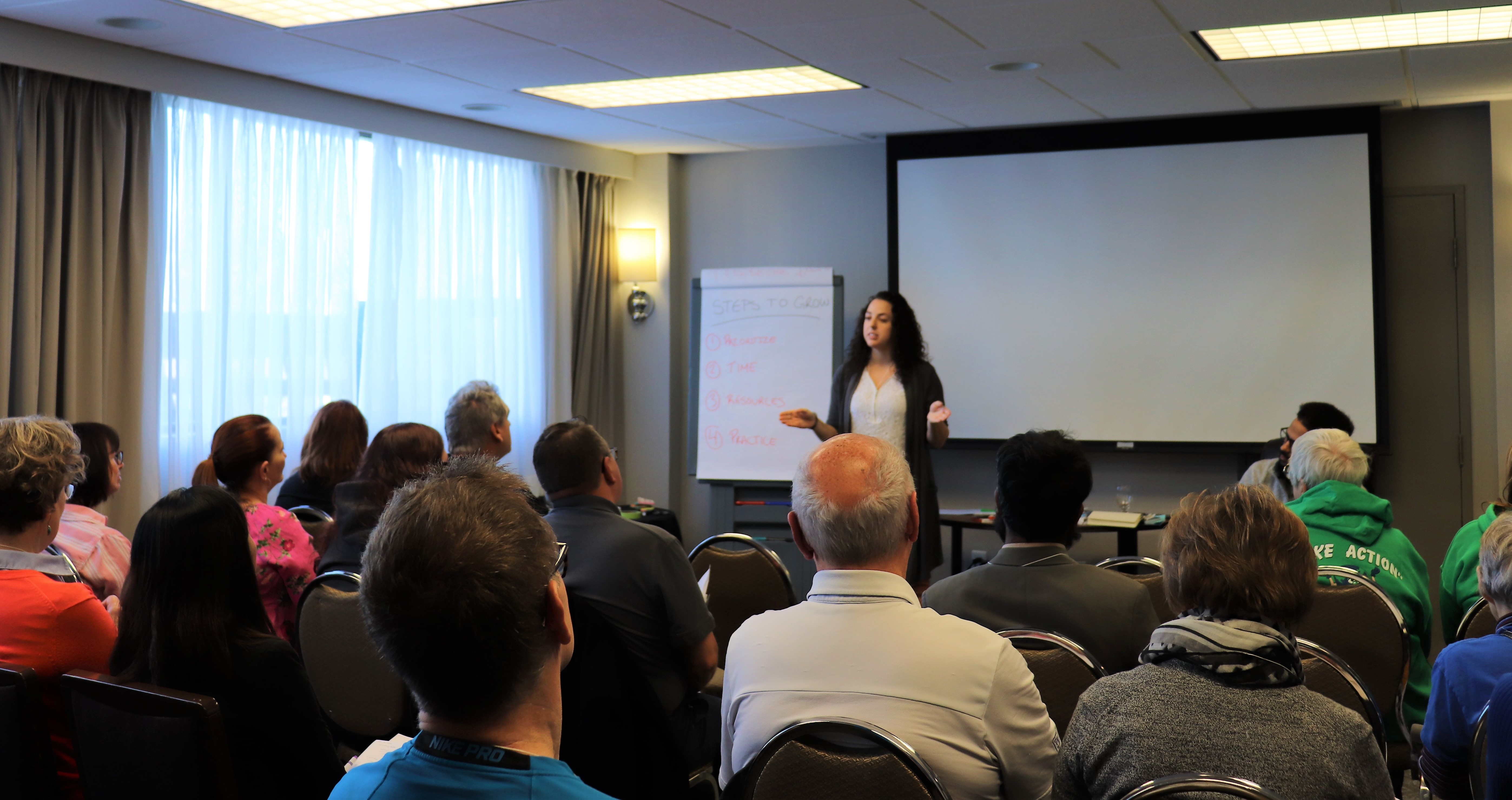 2022 Volunteer Conference Workshops
Friday, November 18 at DoubleTree by Hilton, 8 am - 4:30 pm
Morning Workshops:
Collaborating for Impact: Exploring New Ways of Working to Alleviate Administrative Burdens [FULL]   Annika Voltan, Impact Organizations of Nova Scotia
In this workshop, Annika will share recent research findings about how the Community Impact Sector is (and isn't) collaborating. Under the theme of sector transformation, participants will be encouraged to consider new ways of working to address the challenges faced in many organizations.
Boards: Let's Make them Better   Scott Ingram, HRM Community Facility Partnership Coordinator
Anyone who has served on a volunteer board knows there are hurdles, conflicts and times of spinning wheels and feeling like not much is being accomplished. Let's talk through some of those challenges to see how to make the next board meeting, board appointment or general service better. For those new to serving on a volunteer board, take some of the information and use it to avoid these things and make the best of your time and service.
Grant Opportunities Panel   Denise Van Wychen, Community Health Board;  Peter Greechan, HRM Community Grants;  Andrea Redmond, NS Department of Communities, Culture, Tourism and Heritage.
In this session, you will have the opportunity to learn from three panelists who manage grant opportunities for not-for-profit organizations. Panelists will go over their grant programs, some "dos and don'ts" for grant writing, the importance of planning ahead, and the value of partnerships and collaboration. Delegates will also have opportunities to ask the panelists their own questions.
Volunteer Recruitment and Retention [FULL]   Andrea Parker, Community Health Board Coordinator;   Karrie Ann Wilkie, Volunteer NS and Kings Volunteer Resource Centre;  Laura Seaboyer, North American Indigenous Games Director of People.
Volunteers are the backbone of any not-for-profit or community-based organization. However, we know volunteer recruitment and commitment is a constant struggle. This panel will be made up of representatives from not-for-profit organizations succeeding in volunteer recruitment. Participants will learn how volunteer trends are changing, what today's volunteers are looking for, supports that help with retaining volunteers, and the importance of recognizing your volunteers. Delegates will also have opportunities to ask the panelists their own questions.
Diversity & Inclusion in the Volunteer Sector [FULL] Colleen Belle, ISANS
This workshop offers participants the opportunity to better understand the concepts of diversity and inclusion and how these ideas relate to your roles as volunteers. It also offers an immigrant perspective, amongst others, to help volunteers maximize their ability to have positive impact on their evolving community constituents. Story-telling, videos, activities, discussions and Q & A are incorporated to help increase your effectiveness as a volunteer.
Afternoon Workshops:
Storytelling 101: Crafting an Impactful Narrative  Lydia Phillip, Impact Organizations of Nova Scotia
Often storytelling feels out of reach, associated with the creatives, the videographers, writers, and the artists. But storytelling is a communications tool that we can all leverage within the Community Impact (Nonprofit) Sector. This workshop is an introduction to storytelling for people, organizations, and communities. Learn about the variety of stories you can tell, the different ways of telling stories, and the many ways to connect with an audience to have your stories heard. You'll have a chance to reflect on your own storytelling, leverage your strengths, practice storytelling, and build confidence to tell stories that will connect with people and promote action.
The Fundamentals of Fundraising   Liz LeClair, Certified Fundraising Executive
Join Liz LeClair, Certified Fundraising Executive, for an introduction to fundraising.  Learn about the difference between being a 'funded' organization and a 'fundraising' organization.  Liz will give a high level overview of what it takes to move from a non-profit to a charity, discuss whether that is the right thing to do, and some quick tips on how to get started as a small shop.
Community Event Planning  Michael Kelly, Hospice Halifax
Community events are often an essential part of promoting, fundraising, and celebrating the work of organizations, as well as a great way to bring the broader community together. In this workshop, participants will learn about the opportunities that come from hosting community events, such as partnerships, fundraising, and great exposure, which can help with volunteer recruitment. We will also reflect on what we have learned from COVID that will carry on as we continue to plan events in our communities.
Understanding the Community You Serve [FULL]   Carolann Wright and Jenee Jarvis, Halifax Partnership
The workshop will explain why organizations should create community profiles on a regular basis to understand who they serve, their assets and barriers, and future desires. Doing this work will help your organization review your mission, strategic plan, and determine how to prioritize projects and programs. The workshop will go over what should be analyzed and how to go about collecting information. 
Accessibility in the Volunteer Sector  Melissa Myers, HRM Office of Diversity & Inclusion/ANSAIO
This workshop aims to familiarize volunteers with concepts around disability and accessibility. It covers the basics of disability and accessibility, including barriers to accessibility and examples of ways to accommodate individuals with disabilities, as well as best practices for accessible communication. Accessibility is key to creating an inclusive HRM. This workshop offers recommendations and takeaways to support you in considering accessibility in your daily work.
Building Youth Connections  Mookie Magloir, HRM Recreation Programming, and team
Based upon an example of a youth program this past summer, this workshop will breakdown how the program was initiated, steps taken to begin, recruit, and develop the program while giving participants an opportunity to identify their own youth program plan.