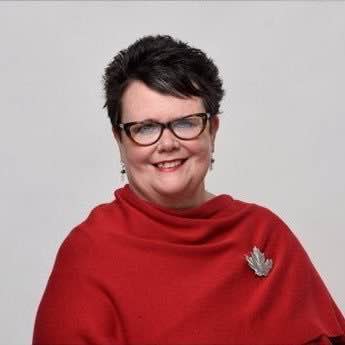 Keynote Speaker
Hon. Joanne Bernard, E.C.N.S

Joanne Bernard has been building communities for over 20 years in Nova Scotia.
In 2002, Ms. Bernard established the Marguerite Centre, the only residential facility for women recovering from addictions and abuse in Nova Scotia.  Her leadership in the women's community continued in 2005 as she was tasked to lead Alice Housing, which offers second stage housing for women and children leaving abusive relationships. 

Ms. Bernard has been recognized for her work in the non-profit field, having led Alice Housing to multiple Donner Awards. Professionally she has received the Peter F. Drucker award for Non Profit Management in Canada in 2011, the Holly House Award for her work on the issue of homelessness and in 2015 the Inspire Award for her Public Service.

A believer in the power of volunteers, Ms. Bernard has served on many voluntary boards including Bryony House, Stepping Stone, Silent Witness Nova Scotia, etc.
Elected to the Nova Scotia House of Assembly in 2013, Ms. Bernard was immediately appointed to the Executive Council of Nova Scotia where she served as Minister of Community Services, Housing Nova Scotia, Disabled Persons Commission, Voluntary Sector and the Advisory Council for the Status of Women.

Currently, Joanne is President and CEO of Easter Seals Nova Scotia and sits on the Board of Directors for the Mount Saint Vincent Alumni Association.
2018 Conference Workshops
FRIDAY MORNING WORKSHOPS
Grant Writing 101
Peter Greechan, Community Grants, Halifax Regional Municipality
There are some that believe grant writing is not a science but rather closer to an art. There is truth in this belief. The best way to become an efficient and effective grant writer can be based on experience: the number of grant applications you have completed for your organizations. However, there are some valuable tips to consider when preparing a grant application. The session will discuss and explore these tips as well as provide an opportunity for participants to share their own experiences.  The workshop is based on the "Do's and Don'ts" of effective grant writing.  

Exploring By-laws
Join representatives from Registry of Joint Stock Companies (RJSC) as they briefly review the various types of organizations you can form, creating and revising by-laws for your organization, as well as the role of the RJSC.  Discuss the essential elements of bylaws, including the important but often misunderstood role of an organization's membership.  Participants will also have an opportunity to talk about the role by-laws play in resolving disputes within an organization.  
Privacy Bootcamp for Non-profits
Catherine Tully, Information and Privacy Commissioner for Nova Scotia, Office of the Information and Privacy Commissioner for Nova Scotia
This interactive workshop will help participants understand privacy best practices using a series of problem solving exercises.  Participants will be provided with essential privacy management tools they can use to address privacy risks in their organizations.
Attracting & Managing Large Volunteer Groups
Panel Discussion with: Jennifer Lambe, Executive Director, HalCon 
Jamie-Leigh Haughn, Manager Volunteer Services, Feed Nova Scotia
Volunteer recruitment for your board or committee is one thing.  But what about when you have to recruit a large group for an event or project?  Join our panel with representatives who have experience hosting neighbourhood and regional events, as well as large scale processes with multiple tasks and schedules.  They'll give you a peek into attracting the right volunteers for the right roles, best practices on orientation and training, volunteer management plans for event day and how to keep volunteers motivated.
The Art of Chairing Meetings
Sharon Martin, Manager Youth Programs, Halifax Regional Municipality
Meetings – one of the essentials of community work.  There are a lot of things to manage – sticking to the agenda, controlling those that talk too much and supporting those that never speak.  And then there's coming out of there with decisions made and actions identified.  In this workshop you will gain tools and tips to plan and run effective meetings.  Be the Chair you've always wanted to be and the Chair everyone needs you to be to help make things happen.  
Getting Your Message Out
Jennifer Stairs, Communications Professional 
One of the pillars of a successful project is good communication, both with your team and with the public. Jennifer Stairs is a communications professional who has worked with municipal and provincial governments, political parties, not-for-profit initiatives and the Nova Scotia justice system. At this session you will learn how to create a communications plan, draft key messages, and basic crisis communications, as well as easy tips for pitching stories to news outlets, doing media interviews, and connecting with people on social media.
FRIDAY AFTERNOON WORKSHOPS
Budgeting Basics
Andy Conrad, Coordinator Facility Service Delivery, Halifax Regional Municipality
This workshop will help you understand what a budget is and how it can be your most valuable management tool.  Learn to use the budget to measure performance and your overall understanding of your risks and assumptions.  Whether you are developing a budget for your organization or an event, you will go through the process of budget development.
 
The connection between Human Resources and Volunteers – what should we be thinking about?
Kylene Mellor, CVA, IWK Health Centre and Volunteer Management Professionals of NS
What Human Resource practices, including Human Rights, need to be considered with activities such as interviewing, reference checking, file storage etc.?  Do we need to have standard procedures and policies? Do we need to be consistent? What else do we need to be considering? Come find out!
 
Dismissing Volunteers and other Volunteer Management Challenges
Berni Duda, CVA, Assistant Manager, NSHA Volunteer Services & Tracy Burgess, Coordinator, Volunteer Services at Hants Community Hospital, Nova Scotia Health Authority
As volunteers, sometimes you're responsible for managing other volunteers.  It's never easy to dismiss a volunteer but it may need to happen for a variety of reasons. This workshop will provide you with an understanding of why volunteers are in this situation in the first place, the importance of resolving difficult circumstances involving volunteers and the necessary processes and tools to guide the development of a resolution action plan. 
 
The Art and Practice of Decision Making
Dr. Brad McRae, Atlantic Leadership Development Institute
In this workshop participants will gain a greater appreciation of the decision-making process. Different decision-making tools will be explored that will help participants make better decisions in a variety of situations. Participants will leave this workshop with new skills, strategies and approaches when it comes to making effective, efficient and discerning decisions.
Why Engage Youth?
Adrianna MacKenzie, Executive Director, Chebucto Connections
Have you ever thought about engaging young people in your group or committee but don't know where to start? This workshop is about understanding why and how you turn that why into appropriate opportunities for young people within your organization. With 2 hours we will start to scratch the surface and set people up with some ideas and things to walk away and develop at home.
 
The 3 P's – Passion, Purpose and Persistence When Volunteering or Leading Organizations
Linda Meldrum, Rotary Club of Sackville and Area
This interactive session will focus on the importance of inspiring Passion, Purpose and Persistence when volunteering or leading groups of volunteers. You will also receive tips and ideas that you can quickly put to use when you return to your organization.  If you have sometimes felt challenged by volunteers who no longer appear to be engaged or you are looking to be the inspiration, then this session is for you.  Lastly, you will have the opportunity to "Stump the Expert" during a round table session that discusses some challenges that some volunteer leaders are aiming to solve
SATURDAY MORNING WORKSHOPS
Next Level Fundraising
Gillian Zinck, Manager of Revenue Development, Canadian Cancer Society
They say fundraising originated with the first volunteer.  We're not sure that's true but it is definitely top of mind for most volunteer organizations these days. Join us as we look at fresh new takes on how to reach your organization's fundraising goals.  We're going to be doing some thinking outside of the box in this session and building on the concepts of reach, connections, opportunities, and creativity.
Board-Staff Relations
Grant MacDonald, Governing Good
The relationship between boards and staff is complex because it is both an employer/employee relationship and a partnership. If there is confusion over roles it can be between the whole board and all staff, between individual board members and some staff, between the board and executive director or between the board chair and the executive director. This workshop will consider what participants desire in these relationships within their organizations and outline some easy steps to take to help move things closer to their ideal.
How do you know if your program is having an impact?
Bonnie Conrad, IWK Health Centre
This interactive session will host a conversation about the basics of program evaluation (what is it, what to measure, how to measure it, what to do with the information collected). Tools and resources will also be shared to help participants take action to evaluate their own initiatives.  It is ideal if participants come with a program/initiative they want to evaluate, including program goal, target audience, what is the program supposed to do (i.e. outcome objectives). This is a basic entry level overview of evaluation.
Creating Meaningful Opportunities for Diversity & Inclusion
To Be Announced
Greater diversity in community organizations can lead to meaningful inclusion.  Join a panel discussion to explore - What does diversity mean to your organization?  What are the benefits?  What is the risk of diversity not being a priority?
A question & answer period will follow with a look at how to apply this knowledge in your organization and create an organization that is representative of it's community.  Topics may include relationship building, engagement, programming, recruitment and succession planning, among others.
Restorative Communication: Creating Opportunities for Stronger Relationships and Respectful Exchanges in Communities
Gola Taraschi-Carr, Atlantic Restorative Company
At its heart, good communication always helps build community. Sometimes communities experience changes, challenges or conflict that inhibits strong and trusting relationships. We are not always our best selves when it comes to respectfully communicating our needs and listening to the needs of others. This is unfortunate because strong and trusting relationships are the very thing that every high functioning, effective and prosperous community requires. When we truly listen to each other and come to appreciate the diverse positions and life experiences of others, we are often in a better position to solve the challenges and problems that affect our communities. And then together, we can work to create peaceful, fair and just communities that work for everyone.