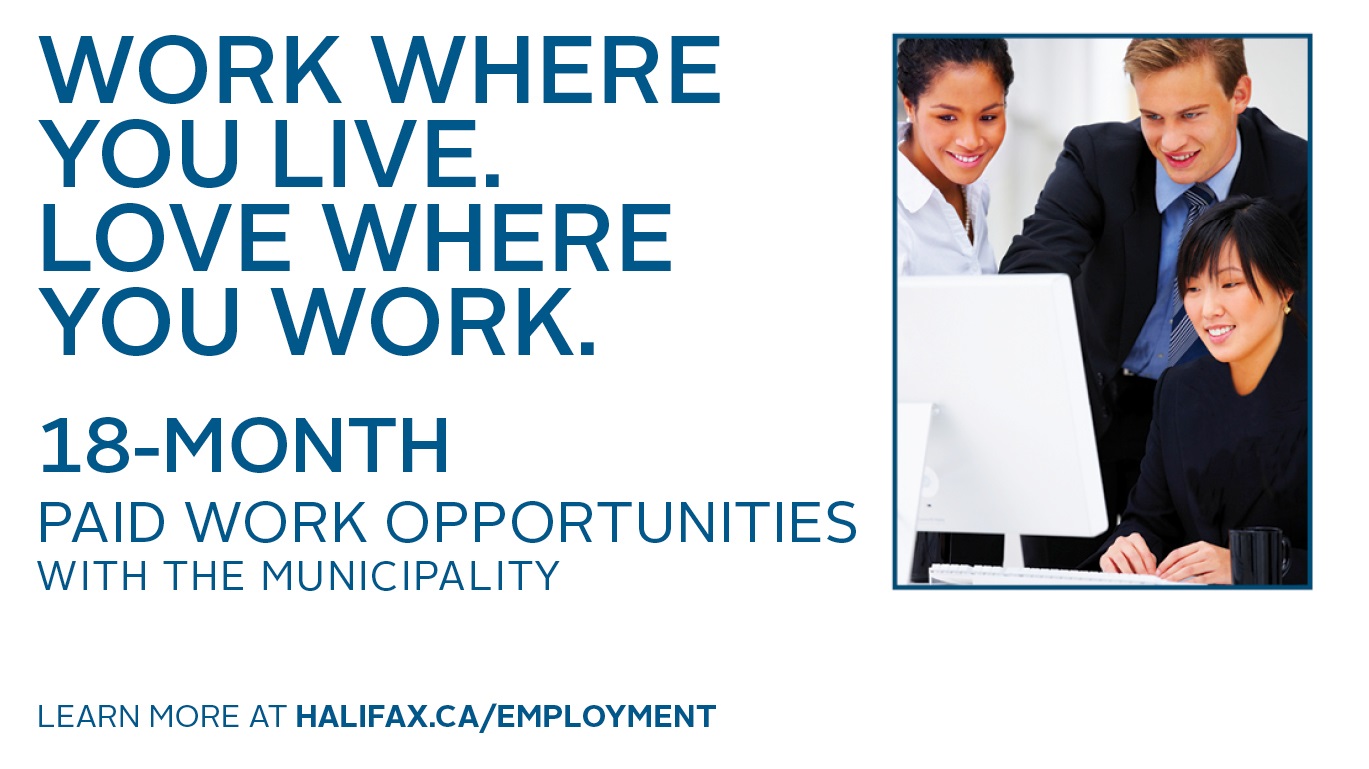 Halifax Regional Municipality offers paid opportunities for qualified candidates with an interest in public service. The program provides training and development opportunities to recent graduates within 36 months of graduation.
Testimonials from past and present interns
"Joining the municipality as an intern under the Bridging the Gap program has truly provided me with the exposure, experience and skills needed to succeed in any future role. The program also provided me with a unique opportunity to interact with management and staff across HRM who have consistently provided the support and guidance to help me succeed during my time as an intern." - Youssef Habboush, Program Engineer, Planning and Development
"The Municipality's Bridging the Gap program afforded me the opportunity to utilize the skills and competencies I gained while in university in a collaborative and engaging environment. I use the experience from the program daily, as the Policy and Research Analyst at the Halifax Chamber of Commerce, to focus on the issues that matter to our members. " - Kathleen MacEachern, Policy & Research Analyst, Halifax Chamber of Commerce 
The program
Interns apply for positions based on interest, qualifications and educational background.  The program is designed to provide accelerated learning and maximum exposure to government policy, program operations, administration and finance. Interns are hired through competitions advertised on the municipality's employment site.  Applicants go through the hiring process and successful candidates are appointed for a designated term.
Who is eligible?
Successful candidates will:
have a post-secondary education at the university or community college level
have graduated within 36 months
be legally entitled to work in Canada for the length of the term
meet the minimum qualifications of position
be a resident of Nova Scotia or attended a Nova Scotia University or College, with a strong interest in seeking employment in Halifax Nova Scotia preferred
value diversity
What are the current opportunities?
2018-2019 internships by business unit:
Planning and Development - Social and Economic Research Intern and Strategic Transportation Planning Intern
Finance and Asset Management - Junior Business Analyst
Transportation and Public Works - Integrated Mobility Planning and Design Intern
Human Resources - HR Programs and Policy Intern
Parks and Recreation - Fees Analyst
Halifax Transit - Communication Outreach Plan Intern and Mechanical Engineer Intern
Corporate and Customer Services - Junior Policy and Business Analyst and Junior Business Analyst
Halifax Regional Police - Junior Research Analyst
Fire & Emergency - Performance Business Analyst and Community Risk Analyst
Legal, Municipal Clerk & External Affairs - Customer Experience Intern
The program will launch it's 2019/20 cohort in the coming weeks. Current opportunities can be found on the HRM municipal employment site.