Regulatory Modernization Project
The Halifax Regional Municipality is committed to growing the economy, making it easier to do business in Halifax. Modernizing the municipality's regulatory environment by improving the quality of new and existing regulation and reducing red-tape from services is key. All municipal departments are working to streamline processes and design better, cost-effective regulations for residents, businesses and for government. All will save money and time and as a result be able to focus valuable resources where they're needed most.   
Since 2018 the Halifax Regional Municipality (HRM) and Province of Nova Scotia have been partnering to reduce red-tape for business and reform regulation in priority areas through the Joint Project for Regulatory Modernization. Both orders of government  understand the importance of collaboration and are working with business organizations to focus efforts in areas that will have the most tangible impact for business and public service delivery.  
A joint advisory panel includes representatives from the business sector, municipality and province who meet regularly to  share information and implement red-tape reduction action plans.  
Phase I and Phase II (below) work-plans for the Joint Project for Regulatory Modernization are largely complete and Phase III of the partnership will begin in 2021. Stay tuned for the new work-plan in the spring of 2021!  It will focus on deepening the Municipal-Provincial relationship to get the red-tape reduction work done, and on regulatory change in areas hit particularly hard by the COVID-19 pandemic. The Halifax Economic Response and Recovery Plan will help prioritize municipal red-tape reduction for business actions in 2021 and 2022.  
The Joint Project is taking concrete steps to address regulatory burden caused by rules,  processes, and steps that are unnecessarily complex, outdated, or redundant. These red-tape barriers are costly for business and government and impede economic growth and business innovation. Regulatory Modernization benefits the entire community .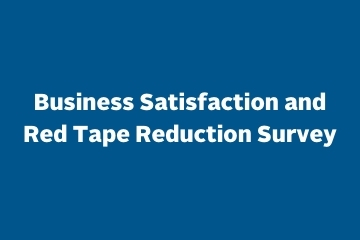 Business Satisfaction & Red Tape Reduction Survey 
Note: the deadline for the Business Satisfaction and Red Tape Reduction Survey has been extended until Sunday, July 11. 
The Halifax Regional Municipality is conducting a survey to collect information on how and where regulatory red tape is impacting businesses, whether that be through administrative or compliance obligations that may add unnecessary cost or burden to business owners. Input from this survey will help improve public policy delivery and regulatory quality.  If you are a business owner, we encourage you to take this survey and to share it with business owners in your network. The survey is available on halifax.ca/surveys from Wednesday, May 12 to Wednesday, June 30. 
Red Tape Awareness Week - January 21-25, 2021
The Halifax Regional Municipality is improving how we do business with our customers by reducing regulatory burden known as red tape. We're working with the Province of Nova Scotia on the Joint Project for Regulatory Modernization and with the business community to identify specific measures to improve the impacts of regulation on business.
The municipality wants to make it easier to do business here so we're investing in regulatory modernization by focusing on designing smarter regulation and reducing red tape. This is a win-win for businesses, residents, communities and governments who will save money and improve public service at the same time.
Progress to Date: 
New Online Permitting, Planning, Licensing and Compliance Solution 

When the COVID-19 pandemic began in 2020, the municipality quickly moved its permit, subdivision and planning application submission process online temporarily to support public health directives. Then on Dec. 15, 2020 Release I of the new Permitting, Planning, Licensing & Compliance technology was implemented.

Release 1 includes a fully digital permit application process, application tracking, estimate service, e-payment, reviews, inspection requests, and "print-your-own-permit" service. The new online solution is integrated with the municipality's mapping tools which provide imbedded checks for land use requirements, zoning, Halifax Regional Water Commission (HRWC) boundaries and more. This creates efficiency during the review process as staff now have more of the pertinent information required for reviews available through the solution.

Release I engagement involved live industry training as well as refreshed Planning & Development webpages including improved support material and tutorials.  Further industry training is being conducted throughout the beginning of 2021.

The new Permitting, Planning, Licensing & Compliance solution will significantly reduce red-tape for businesses, residents, and for the municipality, with both cost and time savings associated with this initative.    

Working with the Halifax Partnership to deliver a COVID-19 Economic Response and Recovery Plan  

In 2020 the municipality and Halifax Partnership developed a COVID-19 Economic Response and Recovery Plan to help get businesses and communities back on their feet. The Plan will be implemented over multiple years but priority actions have already been completed. 

The municipality has worked with Business Improvement Districts (BIDs) to prioritize implementation of related actions under the municipal Mobility Response Plan including:

Certain sidewalks and streets were expanded or closed to allowed for larger sidewalk cafes and to enable physical distancing,

15-minute pick-up and loading zones were created to accommodate delivery and pick-up needs for restaurants and businesses shifting to mobile food service.  In addition, for the month of December, 2020, Parking Services implemented "first 15 minutes free" at all parking spots in the Municipality

Sidewalk café fees were waived in 2020 to provide relief to restaurants and cafes that were particularly impacted during the pandemic,

Regulations were amended to allow for an annual sidewalk café license for businesses wishing to operate year-round patios.

Collaboration with the province and business organizations to modernize the regulatory environment for business   

In 2020, the municipality and the province worked with business stakeholders to implement Phase II of the Joint Project for Regulatory Modernization including a cross-government team to work together on a regulatory approach to support the NS Traffic Safety Act regulations and a joint initiative to measure the cost of internal/government red-tape.

The municipal Streets By-law was amended to allow for an annual permit, rather than applying for individual permits, to work in the municipal right-of-way to conduct routine work such as maintaining signs. Annual permits save time and money for businesses and for government.  More information on this project will be available soon. 

The municipality and the province are extending the Joint Project work into 2021/2022 to continue to improve regulation in areas that will help businesses weather the economic downturn and build long-term resiliency.    
News: 2019 Golden Scissors Award
On Jan. 24, 2019 Mayor Mike Savage and Premier Stephen McNeil were recognized with the Golden Scissors Award for collaborative work by both levels of government in cutting red tape. 
The Canadian Federation of Independent Business (CFIB), which issues the award, acknowledged the innovative approach of the Joint Project for Regulatory Modernization. – and the opportunities its creating to share information and resources for the betterment of local businesses and communities.
The full list of the 2019 Golden Scissors honourees is available at www.cfib.ca/GoldenScissors.
Next Steps - Phase III Regulatory Modernization
Regulatory improvement is not a one-time project, it's an ongoing process of regularly reviewing and updating regulations, conducting thorough regulatory impact assessments when government is considering new regulation, and continuously improving customer service and business processes. The Municipality is implementing a multi-year regulatory modernization program to reduce red-tape and improve the quality of regulation as a policy tool. Better regulation means better public outcomes. 
Phase two of the Joint Project Action Plan is scheduled to be completed by the end of 2020.
Objective 1

Identify areas of priority for improvement in municipal and provincial regulation to reduce regulatory burden for business and a plan of action to implement changes by the end of Phase II of the Joint Project, targeted for December 2020.

Actions
Improvements
Status
Actions
Improvements
Status

(1) Amend the Municipal Streets By-law regulation and simplify administrative processes to make it easier to service infrastructure in the Municipal right-of-way.

This will result in easier and faster permission for businesses doing routine sign maintenance and window washing including:

• Removing the requirement for two permits to just one

• Enable businesses to take out an annual permit to service infrastructure instead of multiple permits

100% complete

(2) Streamline the municipality's application review for high-volume, routine planning and development permits.

This will shorten wait times for more routine permits and free-up staff time to process major planning applications to help shorten planning application approval times.
100% complete

(3) Implement Phase I of a new digital - online program for the municipality's Permit, Licensing and Compliance (PLC) services beginning with building permits, plan review, and inspections.

*Future Phases will include licenses, planning applications, and subdivision

This will result in shorter wait times for customers and more effective municipal service delivery through electronic application submission, review, and approvals including:

• Faster and more accurate processing through a self-service customer portal

• Online payment system

• Improved document and work-flow management and customer communication

• Easier access to data which result in municipal service improvements

95% complete
Objective 2

Identify specific regulatory priorities to align municipal and provincial approach in areas that impact business using early engagement and coordinated action.

Actions
Improvements
Status
Actions
Improvements
Status

(4) The municipality will support the NS Business Navigators by providing information on Municipal regulation processes and standards, to help improve customer service and compliance.

This will remove the irritation of multiple steps and confusion for businesses who need information on Municipal and Provincial regulation and reduce the time it takes for businesses to work through the end-to-end compliance process.
50% complete (this action has been affected by the COVID-19 pandemic and will be carried over to the 2021/22 red tape reduction action plan)

(5) Develop a joint (municipal & provincial) inspection plan to improve the inspection process for business

This will result in:

• An easier and more transparent inspection process

• Improved municipal and provincial service by providing customer service training for inspectors focusing on the needs of smaller businesses and start-ups

• A new Inspection Navigator service to help business customers with the inspection process including compliance with multiple government inspections

• Stronger public safety outcomes with better compliance.

35% complete

(6) Convene focused working teams to align the municipality and the Province in reducing red tape for business in priority areas.

will bring the Province and HRM together earlier when regulations are being developed to avoid red-tape and align public policy. The first team will help develop new regulations for the NS Traffic Safety Act.
65% complete
Objective 3

Develop and implement a plan to assess the municipal regulatory impact and to monitor and measure regulatory burden reduction over time.

Actions
Improvements
Status
Actions
Improvements
Status
(7) Develop an action plan to help implement the Municipal Charter of Governing Principles for Regulation and begin measuring performance in priority areas of regulatory burden reduction.
This will improve HRM's process when considering new regulation or regulatory changes including:

• More consistent implementation of Regulatory Impact Assessment (RIA) tool and the Business Impact Assessment (BIA) tools to design better quality regulation

• Implement performance measurement activities including data collection and analysis to measure red-tape reduction and guide regulatory changes in priority areas.

80% complete
Objective 4

Take measures to improve internal government and external stakeholder engagement to help modernize regulation.

Actions
Improvements
Status
Actions
Improvements
Status
(8) Using a variety of engagement methods, conduct activities to communicate and consult with stakeholders on regulatory modernization priorities and projects.
This will raise awareness of the importance of red-tape reduction accountability for the Municipality and the Province to continue modernizing the regulatory environment. Information will be more accessible to the public and there will be more opportunities for stakeholder engagement in regulatory modernization initiatives.

This will result in better coordination between the Province and Municipality and higher customer confidence in public service delivery.

25% complete (This action has been affected by the COVID-19 pandemic and will be carried over to a 2021-22 red-tape reduction action plan.)
The Joint Project for Regulatory Modernization Advisory Panel includes the following organizations:
Canadian Federation of Independent Business

Construction Association of Nova Scotia

Halifax Chamber of Commerce

Halifax Partnership

Halifax Regional Municipality

Nova Scotia Federation of Municipalities

Province of Nova Scotia

Restaurants Canada

Spring Garden Area Business Association (representing all Business Improvement Districts in HRM)

Urban Development Institute
What is the Joint Project for Regulatory Modernization? 
The Province of Nova Scotia and the Halifax Regional Municipality are committed to working together to make real improvements in reducing red tape for business. The Joint Project for Regulatory Modernization was initiated through a Memorandum of Understanding between the municipality and province to work collaboratively with the business sector to identify what changes could be made in a short timeframe that would have a positive impact on business.
This collaborative initiative marks a significant step towards creating better regulation for better results. Regulatory reform includes, but goes beyond cutting red tape. It's about making it easier and less costly for businesses to work and interact with government – ultimately ensuring that everything we do creates value for the taxpayer.
As part of the Joint Project, the province and the municipality are working with business representatives on an action plan that will save time and money for business by streamlining approval processes, updating regulation, and improving customer service.    
What results have been achieved to date?
An advisory panel was created in early 2017 with representatives from the business sector as well as the Halifax Regional Municipality and the Province of Nova Scotia. This panel has taken steps to achieve the Joint Project objectives though an action plan that will be completed by late fall 2018.
A new Municipal Charter of Governing Principles for Regulation was adopted by Regional Council in December 2017, changing the way municipal By-laws are developed and implemented. Central to this new charter is the recognition that regulation should never be an instrument of first resort, rather it should be used only when necessary and where there is clearly no better policy alternative. Extra consideration will be given to the specific problem to be solved, policy options for addressing it, and whether regulation is the most appropriate tool.
To date, progress has been made to simplify sidewalk café licence applications as well as information for applicants regarding permanent and temporary sign regulation. 
Will the Joint Project make it easier to do business in Halifax?  
Yes. The actions being taken through the Joint Project will help by saving time and costs for business in several priority areas. By making it easier to apply for and process a sidewalk café license, temporary sign license, or noise exemption for recurring special events, businesses will spend less time with paperwork and fewer dollars trying to comply with regulation. Targeted communication and customer service supports will help businesses get the information they need in a timely manner to better suit their needs.     
Will the Joint Project result in cost savings for businesses?
Yes. Reducing the time it takes to apply for a license or find information on regulation results in tangible savings. No matter how small the change, incrementally, continuous improvements to process and regulation add up over time.
In addition to specific changes businesses will see from streamlined processes and updated regulations in priority areas, the municipality is adopting the province's Business Impact Assessment process which will be used to calculate the costs and benefits of proposed regulation. This will help the municipality assess whether the amount of time and effort it would take to comply with a proposed regulation is reasonable, whether the regulation would effectively address the problem it's meant to solve, and whether there is another tool that could do the job better.  
When will the Joint Project be completed?
The Joint Project, which was initiated in early 2017, will be completed by 2021.
Will efforts to reduce red tape continue after the Joint Project is finished?
Yes. Once the Joint Project is completed, both the province and the municipality will continue to collaborate on reducing red tape and regulatory burden for business by implementing the Charter of Governing Principles for Regulation and Business Impact Assessment processes.
The project will help set the stage for a more business-friendly approach to regulation, processes and services in the long-term. This will help grow the Halifax region's economy by putting conditions in place that increase business productivity, innovation and success.
By coordinating across regulatory and customer service programs such as the Nova Scotia Business Navigator Program, businesses will enjoy better access to what they need to be successful.         
How does the Joint Project relate to current regulatory review projects like the Centre Plan and Downtown Plan Review? 
The actions of the Joint Project will result in noticeable, incremental changes for business. At the same time, the municipality is undertaking several strategic planning review processes including updates and improvements to land-use policy and regulation for the Downtown Plan Area and Regional Centre.
Updates to community plans and land-use regulation across the municipality will be ongoing over the next several years. An extensive review and updating of the permit and licensing software system is also underway which will result in significant improvements for businesses including online processing, status tracking and payment.
The municipality is committed to continuous improvements to its regulatory frameworks and processes and its strategic planning improvements. This will help reduce red tape for business and improve public service delivery.      
How can I stay up to date on the progress of the Joint Project?   
Residents are encouraged to visit this webpage for ongoing updates regarding the status deliverables outlined in the action plan In addition to information posted via our primary Twitter and Facebook accounts, staff will be distributing two updates, via email, over the duration of the project. If you would like to receive these email updates please contact Holly Richardson, Project Lead, Regulatory Modernization at richarh@halifax.ca
Who do I contact if I have questions or comments?
Please contact Holly Richardson, Project Lead, Regulatory Modernization at richarh@halifax.ca