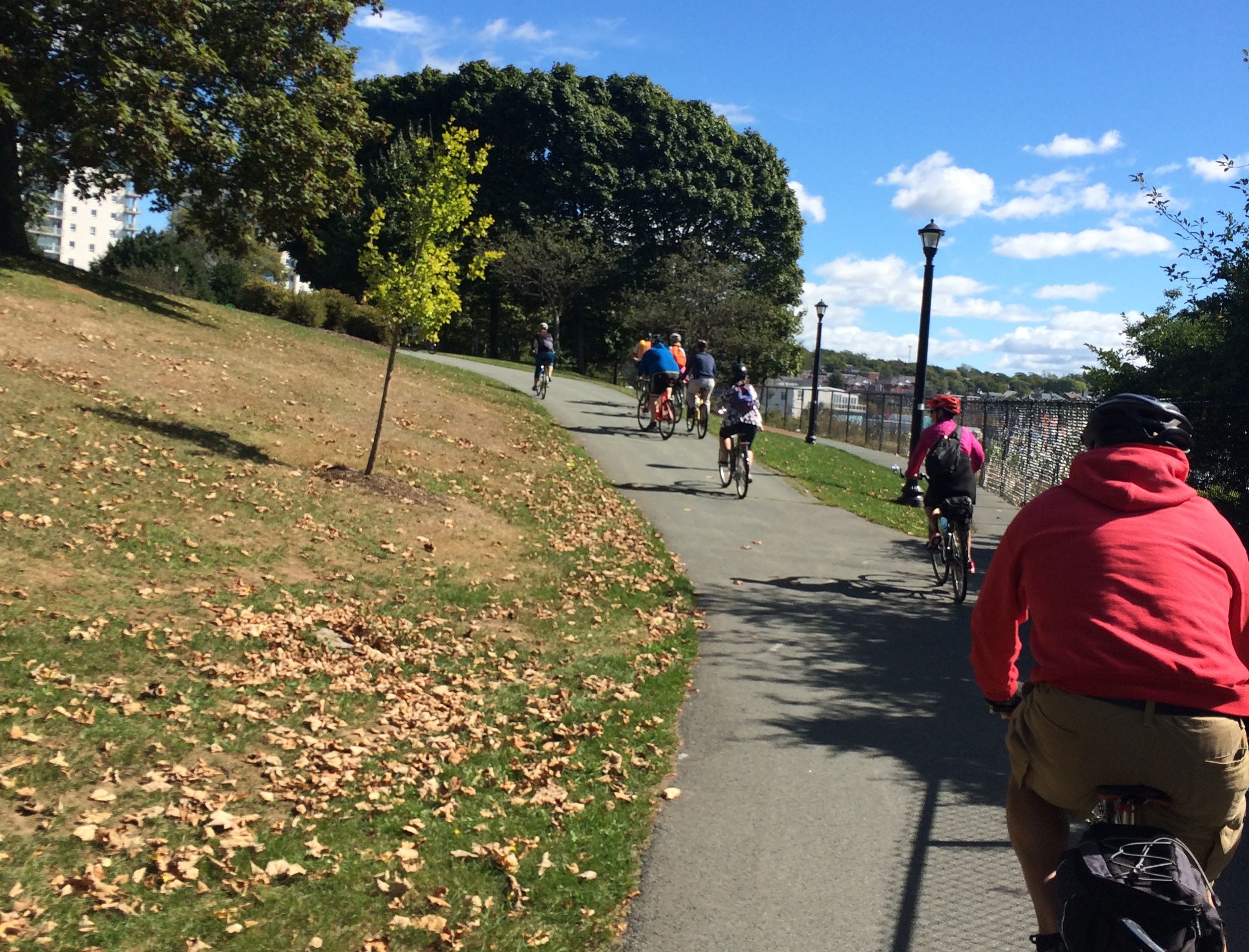 One of the active transportation (AT) facility types in HRM to support walking and cycling is multi-use pathways (MUPs), which are also referred to as AT Trails and Greenways. Multi-use pathways are typically at least three metres wide, can be surfaced with asphalt or crusher dust, and are designed for bi-directional walking, bicycling, wheelchairs, skate board, in-line skating (on asphalt), and strollers and are separated from roads and motor vehicles.  The 2014 Active Transportation Priorities Plan established an envisioned 320km network of these multi-use facilities.  As of 2021, there are 211.5km of multi-use pathways in HRM. HRM staff, as well as some community groups, are currently planning and implementing the remaining AT Regional Network.

Volunteer Trail Associations have planned, constructed, and maintained 65% of the AT MUP Regional Network for more than 20 years with support from HRM's AT Grant Programs. Majority of these facilities are located on Provincial land (typically on abandoned rail corridors, K-roads or in provincial parks). Some of these facilities are shared with other users as permitted, such as equestrian, ATVs, and cross-country skiing during the winter snowfall. 

Multi-use pathways are also built and maintained by HRM when they are within the municipal right of way or municipal lands and parks.  They are also often built as part of new developments instead of sidewalk infrastructure especially if they can connect to other destinations and other communities.
Local residents understand the challenges and opportunities within their own communities the best when it comes to Active Transportation needs, Therefore, HRM works with many non-profit community groups to form a vision and implement planning, community engagement, construction and maintenance.  Local community groups may also play a role in planning activities that promote the importance of being less car dependent and being aware of the benefits of regular walking and cycling to reach destinations.
Below is a list of Multi-Use Pathways that form part of the Regional Network:
Bedford and Sackville Region
Cole Harbour, North Preston, and Eastern Shore Region
Dartmouth outside the Regional Centre and Waverley Area 
Halifax outside the Regional Centre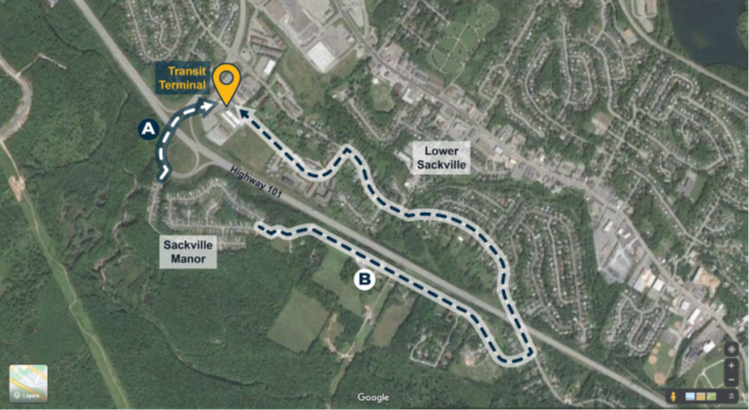 RECENT MULTI-USE PATHWAY PLANNING PROJECTS  
Highway 101 Exit 2 AT Crossing
Sackville Manor Mobile Home Park to Sackville Transit Terminal
The Halifax Regional Municipality is planning an Active Transportation facility crossing Highway 101, near exit 2, from Sackville Manor to Sackville Transit Terminal. The planning and engagement phase of this project will help ensure that these upgrades improve road safety and accessibility for all road users and meet the needs of the community.
The project will connect the Sackville Manor Mobile Home Park on the south side of Highway 101 to the Sackville Transit Terminal and beyond on the north side of the Highway. Currently residents of the mobile home park are required to travel along Walker Street Service Road and Old Sackville Road to reach the transit terminal and other commercial businesses and services on Sackville Drive. 
More information on this project can be found on Shape Your City.
 
Lucasville Greenway
Lucasville Greenway Association has developed a concept for a multi-use pathway that would parallel Lucasville Road, providing a safer place for residents to walk and bicycle and enjoy their community.  Based on this concept, HRM is working with the group to develop a functional plan to inform implementation, cost and which side of the road it would be located on.  The goal is to connect community destinations with Lower Sackville and Hammonds Plains Road.
Sackville Greenway
The Sackville Greenway plan was initiated by the Sackville River Association and specifies a 7km active transportation corridor that connects Feely Lake to Fultz House (Cobequid Rd. and Sackville Dr.).  The corridor follows the Little Sackville River and will connect where people live to where they shop, go to school and access services.  

The first 1.3km segment between Glendale Dr. and Sackville Dr. was completed in 2018.  It connects neighbourhoods to the Sackville Dr. business area, Downsview Mall, sport fields and the Lion's Club.  The next planned segment extends this facility to Old Sackville Road.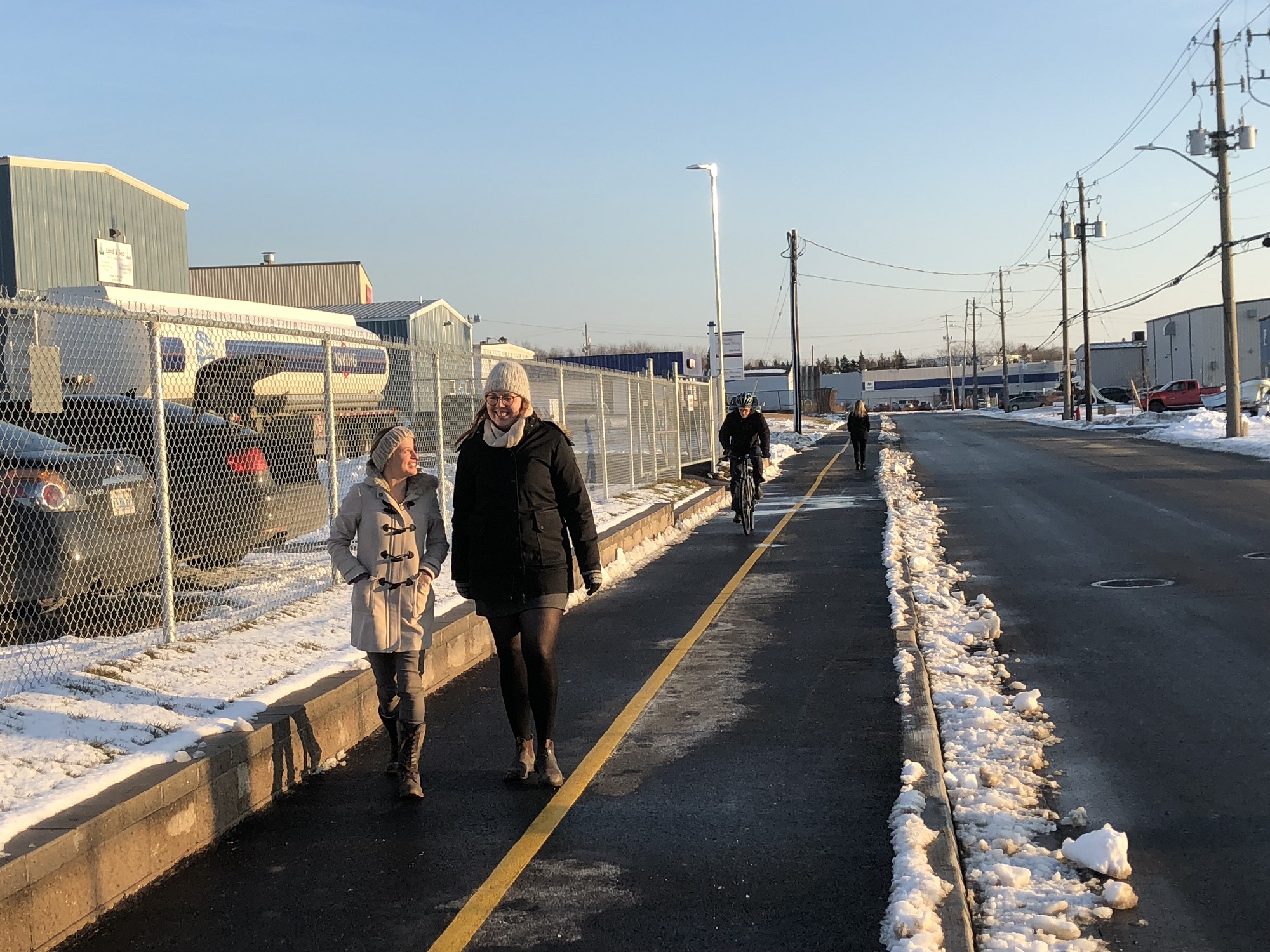 Woodside Greenway
This active transportation connection is part of the Regional Centre All-Ages-and-Abilities Bikeway Network and was built in 2018.  The project connects the existing multi-use pathway on Mount Hope Avenue that terminated at Orion Cres. to Pleasant Street, close to the Woodside Ferry Terminal and Dartmouth Harbourfront Greenway.  The project includes additional sidewalks and accessible bus stops within the Woodside Industrial Park.  This is now part of a 6km corridor that extends into the Portland Hills community, connecting to parks, a school, shopping and a library.  
Porters Lake Exit 20 AT Connector
This link is located at Exit 20 of Highway 107 and will enable the rail trail connection of the Trans Canada Trail from Cole Harbour to Porters Lake.  This connection reinstates where Highway 107 severed the former railway corridor and will connect the Blueberry Run Trail to the Porters Lake commercial area and the Porters Lake Elementary School, Lake and Shore Recreation Center and the MetroX Park and Ride bus service.
Gaetz Brook Greenway
Planned and developed by the SATA Trails Society with financial support from HRM and other funders, the Gaetz Brook Greenway extends 7 kms along the abandoned rail corridor from the East Chezzetcook Road to the intersection of Highway 107 and Trunk 7 in Musquodoboit Harbour. 
The Gaetz Brook Greenway provides a safe alternative to the busy Trunk 7 for walking and cycling for the East Chezzetcook, the Porter's Lake, and Musquodoboit Harbour communities. 

The hub location of Gaetz Brook Greenway facilitates connections to Gaetzbrook Junior High School, church, garden clubs, The Lions Club, Canadian Legion, as well as the nearby Business Park (e.g. a bike repair shop, local coffee shops, stores etc. ).