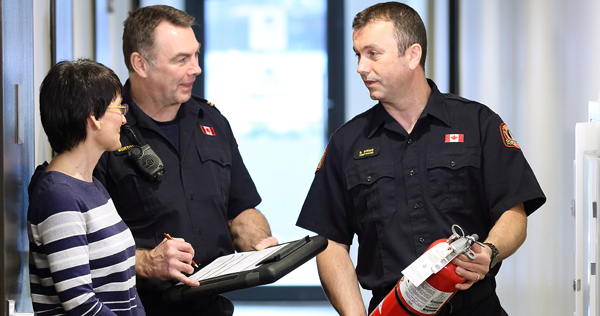 We are currently recruiting Fire Inspectors
Are you interested in becoming a Fire Inspector with Canada's oldest fire department? Halifax Regional Fire & Emergency (HRFE) is currently recruiting Fire Inspectors to join our Fire Prevention Division!
The recruitment and selection process for this position includes a knowledge test, a panel interview and background screening.
A career as a Fire Inspector is both challenging and rewarding, offering individuals the opportunity to serve their community while working as a member of a highly skilled professional team. HRFE is dedicated to enhancing and preserving the quality of life, property and environment, through leadership, partnership, and effective response to emergencies.
Under the direction of the Division Captain Fire Prevention, the Fire Inspector is responsible for conducting building inspections for HRFE in accordance with the requirements under the Nova Scotia Fire Safety Act.
HRFE will be hiring nine (9) Fire Inspectors with anticipated start dates beginning in April 2022.
Learn more about the position and submit your application!
Do you have questions about this position? Would you be interested in attending a virtual information session to learn more? We will hold a virtual Information Session via MS Teams on Thursday, April 28 at 6 p.m. (AT).  To confirm your participation, please email firerecruit@halifax.ca
Quick Reference Guide for applying for a job with the Municipality
Quick Reference Guide to Your HRM Candidate Zone
Halifax Regional Fire & Emergency – Fire Prevention Division
HRFE's Fire Prevention Division oversees Fire Inspections, Code Enforcement, Fire Investigations and Public Fire/Safety Education for the Municipality.
Some of the main functions of the Fire Prevention Division include:
Fire Inspections: Our Fire Inspectors are responsible to inspect all A, C (more than three units), D, E, and F occupancies for code compliance. Secondarily we inspect tents, sidewalk cafés, fireworks events, special events, food trucks, and industrial burn sites. We also assist with the Fire Safety Maintenance Inspection program, process alternate solution proposals and issue maximum occupant loads.
Fire Safety Maintenance Inspection (FSMI) Program: The program involves a detailed prescriptive inspection of occupancies by fire crews in coordination with the FSMI Program Administrator and Fire Inspectors.
Fire Investigations: Our Fire Investigators are responsible for investigating the origin and cause of fires by which property has been destroyed or damaged within the Municipality.
Public Education: HRFE is involved in various public education activities to promote fire and life safety in HRM. These include things like:
Attending special events, home shows, newcomer welcoming events

Presenting safety material to schools, community groups, building tenants

Supporting fire station tours

Administering the Juvenile Fire Setters Program (TAPP-C)

Performing home visits under the Practise Using Safety at Home program
Alarmed & Ready Program: Through this program, HRFE provides and installs combination smoke/CO alarms to those who may not have the means to obtain them.
The Fire Prevention Division team consists of:
Division Chief

Division Captain

FSMI Program Administrator

Administrative Support

Fire Inspectors

Fire Prevention Officers