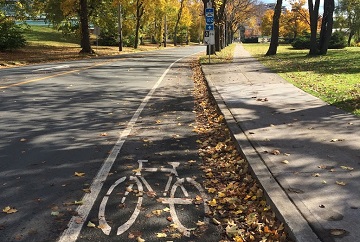 The Halifax Regional Municipality is committed to connecting people to destinations via cycling and to making cycling accessible for people of all ages and abilities.
The Regional Centre All-Ages-And-Abilities (AAA) Cycling Network is being built as a comfortable, convenient network of cycling routes to provide people with more transportation options. The implementation of this network is being funded by the federal, provincial and municipal governments through the Investing in Canada Infrastructure Program.
Below is an update on the current status of several bikeway projects aimed at transforming your daily commute, your trip to the grocery store, or your family's Sunday ride.
South Park Street Bikeway Enhancement and Extension
The South Park Street bicycle lanes are being upgraded and extended to create an all-ages-an-abilities cycling connection between Sackville Street and Inglis Street. The South Park Street AAA facility will feature one-way protected bicycle lanes on each side of the street, with a wide buffer and concrete curbs to separate bicycle and vehicle traffic and parking. This route will eventually connect to other planned bicycle corridors, including a new facility on University Avenue/Morris Street and enhanced bicycle lanes on Bell Road.
Construction of Phase One of the project is complete. Construction for Phase 2 (Spring Garden Road to Sackville) is being constructed in 2020.  For more information about the South Park Street AAA Bikeway, click here.  To read the staff report on the project, click here. 
Vernon/Seymour Local Street Bikeway
Construction of Phase One of the Vernon/Seymour local street bikeway on Vernon Street from Quinpool to Watt Street is complete. This route features:
Centre-painted bicycle lanes to facilitate bicycle movement at Quinpool Street
Signage
Curb extensions to reduce crossing distances for people walking and to slow traffic along the street (e.g. at Pepperell, Shirley, Cedar, Jubilee, and Watt St)
Through-movement restrictions to reduce vehicle volumes (shortcutting)
Phase Two of the project is being constructed in 2020 and includes installation of signals to facilitate the skewed crossing of Coburg Street.  For more information about the Vernon/Seymour Local Street Bikeway, click here. To read the staff report on the project, click here.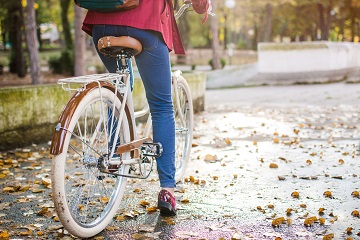 Allan/Oak Street Local Street Bikeway
Construction of Phase One on Allan Street (east of the intersection at Harvard Street) is complete. Features include: 
Curb extensions to reduce crossing distances for people walking and to slow down traffic along the street
Signage
Speed humps to further reduce traffic speeds
Design for the section between Harvard and Connaught is underway.  For more information about the Allan/Oak Local Street Bikeway, click here. To read the staff report on the project, click here. 
Barrington Greenway Extension
The Barrington Greenway was extended between North Street and Niobe Gate In addition to the multi-use pathway, the project upgraded the sidewalk on the west side of the street and added transit priority measures for buses traveling southbound on Barrington Street. For the full staff report on the project, click here. 
Woodside Walking and Bicycling Connections
In fall 2018, the municipality completed 1.2km of new multi-use pathway and new sidewalk in Woodside. The new facilities connect communities such as Portland Hills and Russell Lake to destinations in Woodside, the Woodside Ferry Terminal and continuing along the Dartmouth Harbourfront Greenway into downtown Dartmouth.  This is a new segment of the Regional Centre AAA Cycling Network that also includes new sidewalks and makes Halifax Transit stops accessible.
This new facility is now part of a 10km corridor connecting communities, schools, transit, parks, tourist attractions and more.
Almon Street Bikeway Planning
Planning is currently underway for developing a AAA bicycle facility on Almon Street from Windsor Street to Gottingen Street. Staff will take a recommendation for a concept design to Regional Council in 2021.
When this project began, some options were presented to the public for feedback. After receiving over 500 comments from the public via the public meeting, online survey responses, and individual communications, municipal staff decided to delay a recommendation to Regional Council so that additional options for a protected bicycle lane could be explored. For more information about the most recent design options that are being proposed and to read the What We Heard Report, click here. 
Downtown Bikeways
The Downtown Bikeways includes AAA bicycle facilities on Hollis Street, Lower Water Street, George Street and Terminal Road. The facility on Hollis Street is being constructed in 2020.  Lower Water Street is being implemented as a tactical urbanism project in 2020.  Design will begin soon for Terminal Road, George Street and Hollis Street south of Terminal Road.  For more information about the planning process, click here.
Macdonald Bridge Bikeway Connector 
The Macdonald Bridge Bikeway provides a key connection for cycling between Halifax, Dartmouth, and beyond. Accessing the bikeway from either side of the harbour, however, can be challenging for many. Some of the current challenges include long, steep climbs and busy streets and intersections approaching the Macdonald Bridge. The municipality wants to make it possible for people of all ages and abilities to access the Macdonald Bridge Bikeway. To improve this crucial connection, the Bridge Bikeway Connector project includes a flyover ramp from North Street to the bridge, 3.5 km of bicycle facilities on North Street and Wyse Road, and safety improvements at intersections on both the Halifax and Dartmouth sides of the bridge. 
Detailed design is underway and new bicycle facilities for the Dartmouth side are targeted for 2021. Bicycle facilities on the Halifax side, along with a bicycle facility on North Street and improvements at the North and Gottingen Street intersection are targeted for 2022. To read the full staff report on the implementation of the Macdonald Bridge Bikeway Connectors project, click here. 
North End and West End AAA Bikeways Planning
The municipality is working to implement two new AAA bikeway connections on the Halifax peninsula:
North-end bikeway between Africville Lookoff Park and Cogswell Street
West-end bikeway between Windsor Street and West End Mall/Mumford Transit Terminal
For the most part, the connections will be local street bikeways where bikes and cars share the road on streets with low traffic volumes and speeds. Treatments to make the bikeways safer may include traffic calming, traffic diversion and treatments to facilitate the crossing of major streets. However, some parts of the proposed route may require protected bike lanes or multi-use pathways to make the connection.  Implementation is being phased, with the first segments to be constructed in 2021.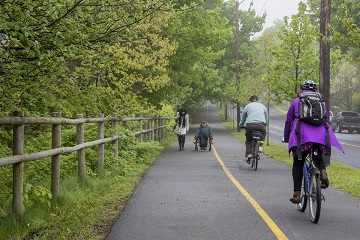 Halifax Urban Greenway Planning
The Halifax Urban Greenway is a corridor that will connect the Chain of Lakes Trail to Point Pleasant Park through the west side of the Halifax Peninsula. Phase One was completed on Beaufort Ave in 2010. This next phase aims to extend the existing pathway northward as far as Jubilee Road (via Conrose Park) and southward to connect to Point Pleasant Park.
After engagement with the public and key stakeholders, the municipality is working on options for implementation of the next phases. The next step is to choose the next section to implement and initiate detailed design. To learn more about this project, click here. 
Other Cycling-Related Projects
The Bayers Road Transit Priority project includes a multi-use pathway. With this project, there will eventually be a connection between to the Chain of Lakes Trail and the Halifax peninsula.
As part of the Cogswell District project, AAA bikeways are being planned for Barrington and Cogswell streets. To find out more about one of the biggest city-building projects in the history of Halifax, click here.