Response to COVID-19: Transportation Recovery Plan
In anticipation of the further lifting of Public Health restrictions, the municipality is preparing to implement adjustments to the transportation network, as part of the collective effort to reduce the spread of COVID-19.
As the need for social distancing will remain in place for the foreseeable future, and transportation patterns evolve throughout the recovery phase, the municipality is identifying required adaptations to the use of its streets, sidewalks and bike lanes.
Municipal staff are actively engaged in planning for measures that can be deployed quickly, while also considering what will be needed over the coming months in response to Public Health directives.
The municipality will focus on the following key areas:
Necessary adjustments to the transportation systems that will allow for the safe movement of people and goods

Safety of front-line workers while supporting both operational and remote workforces

Delivery and pick-up needs for restaurants and other establishments

Adjustments to crowded areas, such as narrow sidewalks, to support safe social distancing

Create clear messaging related to transportation recovery efforts
More information will be available in the coming weeks.
Updates will be shared via @hfxgov on Twitter and on this web page.
For more information on municipal services during the COVID-19 pandemic, visit halifax.ca/coronavirus.
Street Improvement Pilot Program
The Integrated Mobility Program (IMP) focuses on complete streets and puts pedestrians first. The IMP supports the use of pilot projects to test new street design and placemaking strategies to improve the safety and comfort of pedestrians. These pilot projects allow the municipality to roll out improvements faster and to test potential solutions without committing expensive resources. Pilot projects use inexpensive materials to make temporary street enhancements are also referred to "tactical urbanism."
 
The Street Improvement Pilot Project program will use a toolkit of materials and designs to test and evaluate innovative ideas. Using a palette of simple, inexpensive materials, will allow the municipality to be nimble in its response to opportunities/ challenges that present themselves. 

Project sites are selected and designed in-house by Planning and Development staff, in collaboration with other business units including Transportation and Public Works (TPW), Halifax Transit and Parks and Recreation. Where possible, partnerships with local Business Improvement Districts (BIDs) may be sought. 
Here are some examples of street improvement pilot projects in our region:
1.    Corner of Wentworth Street & Ochterloney Street (downtown Dartmouth):  For phase 2 the jersey barriers have been removed and replaced with bollards at the south corner where these two streets intersect to reduce the pedestrian crossing distance and limit illegal parking near the crosswalk.   
2.    Coburg Road & Edward Street:  This is a fitting example of how a pilot project can inform and influence permanent changes. The original request here was to review the intersection angle and pedestrian crossing distance along the side of St. Andrews Church.  As a pilot project, the intersection was realigned and narrowed with a temporary concrete barrier to confirm the layout. After a trial period and engagement with the church, particularly around how to address existing accessible parking and loading, a previously planned street renewal was designed to make permanent changes. This design was informed and influenced by the results of the pilot project. 
3.    Agricola Street:  Bollards have been installed to improve pedestrian safety by reducing the pedestrian crossing distance.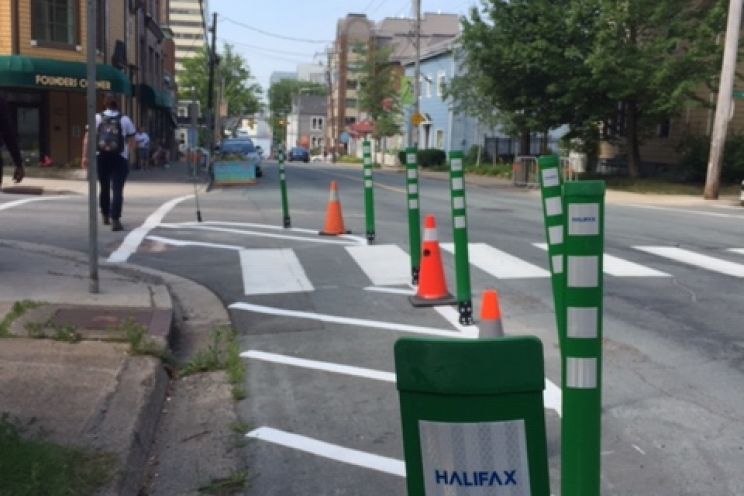 Tactical urbanism in play at the corner of Wentworth and Ochterloney - Downtown Dartmouth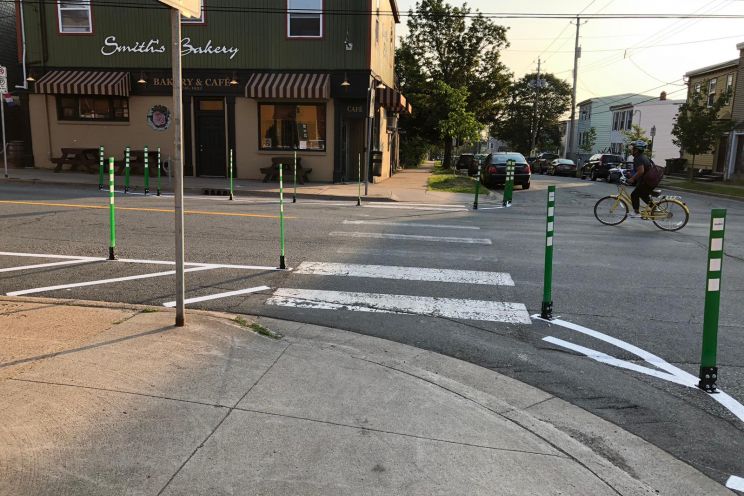 Tactical urbanism on Agricola Street
Spring Garden Road Stoplet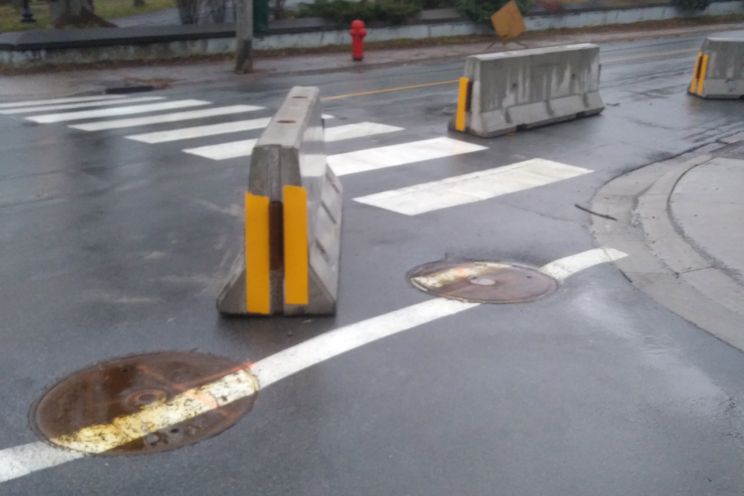 Tactical urbanism in play at the corner of Wentworth and Ochterloney - Downtown Dartmouth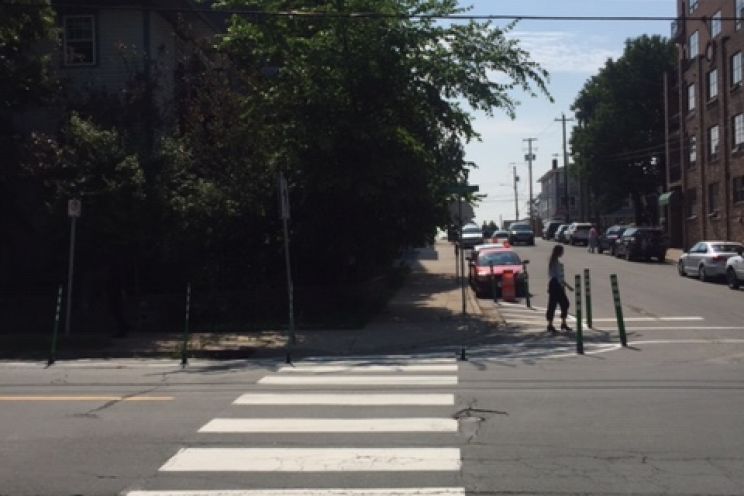 Tactical urbanism in play at the corner of Wentworth and Ochterloney - Downtown Dartmouth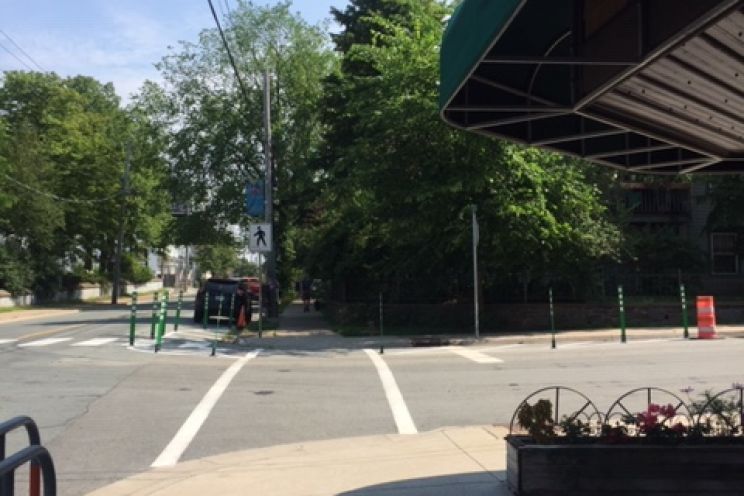 Tactical urbanism in play at the corner of Wentworth and Ochterloney - Downtown Dartmouth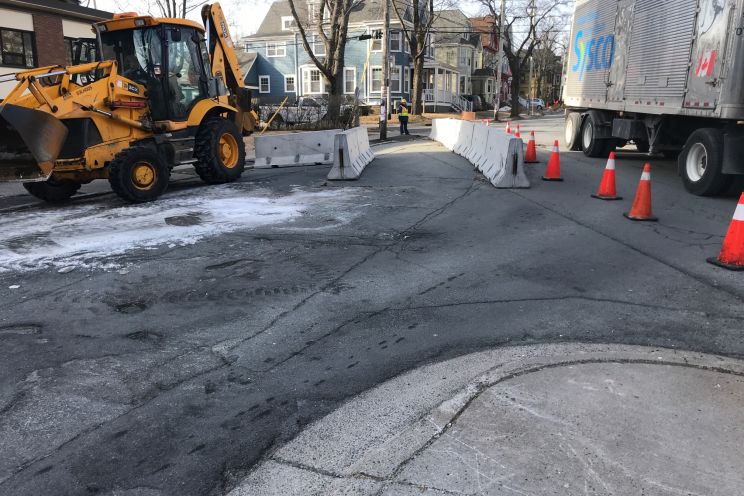 Street Improvement Pilot project at the corner of Coburg Road and Edward Street
Tactical urbanism on Agricola Street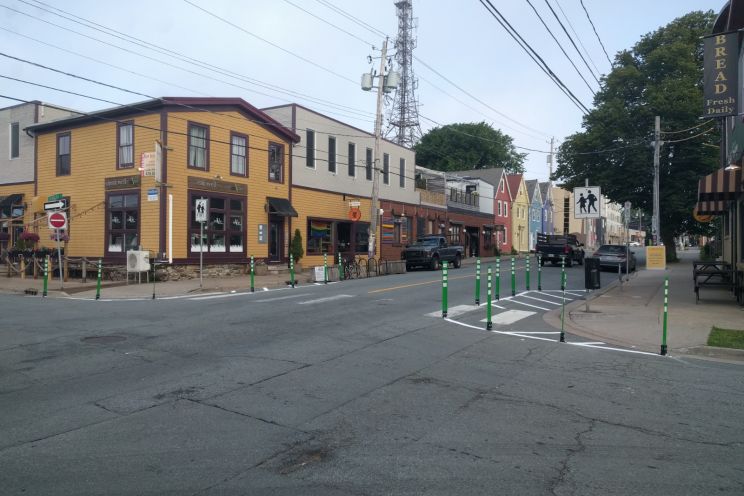 Tactical urbanism on Agricola Street