Sackville and Little Sackville Rivers Floodplains
On August 14, 2018, the municipality published the findings of the Sackville Rivers Floodplains Study (2017).  This study involved an assessment of the Sackville River and the Little Sackville River, and their watersheds, to produce updated floodplain maps. Areas at risk of flooding were evaluated using updated information and computer modelling that accurately predicts the impact of rain storms on the rivers.

The new floodplain mapping shows a larger flood impact for the 1-in-20 and 1-in-100-year weather events when compared with older (1980s) flood risk mapping.  The 1-in-20 flood event refers to floods that have a 5% chance of occurring in any given year, while the 1-in-100 flood event refers to floods that have 1% chance of occurring in any given year.  The municipality is using this new information to update planning documents to regulate the type of new development that may be allowed to take place in the identified floodplain areas. 
Determining if you live in a floodplain
View the interactive map to see if your property falls in the vicinity of the Sackville Rivers floodplains. Almost 900 properties have now been identified as being in the immediate vicinity of the proposed 1-in-20-year floodplain for the Sackville and Little Sackville Rivers (the number of properties previously in the vicinity was about 500). The map shows two floodplains, 1-in-20-year floodplain and 1-in-100-year floodplain based on the 2017 study. Please note that each type of floodplain is defined in the common questions section below.
__________________________________________________________________________
Public Open House
Thanks to everyone who dropped into one of the public open houses that were held on Thursday, September 20, 2018 at the Kinsmen Community Centre in Lower Sackville and Saturday, September 22, 2018 at the  LeBrun Recreation Centre (Lion's Den) in Bedford.
Miss the meetings? View the presentation poster and maps: Overall Area Map; Area Map 1; Area Map 2; Area Map 3
________________________________________________________________________
Please contact us if you have any comments or questions about what went on at the open house or the Sackville Rivers Floodplains Study.
________________________________________________________________________
Response to the Sackville Rivers Floodplains Study
In response to the updated floodplain mapping, municipal staff are reviewing policies in the following four Municipal Planning Strategies (MPS) and Land Use By-laws (LUB). 
These documents outline how and where various land uses are permitted. The information about floodplains has recently been updated using new information, technology and modelling tools. The current MPS and LUBs do not include the most recent floodplain data produced by the Floodplain study (2017). The municipality will update the documents and review all related policies and regulations in light of the study. 
Process
This update of the Sackville and Little Sackville Rivers floodplains and associated amendments is being considered under the municipal planning strategy amendment and land use by-law amendment process. See the Council report. 
What is a floodplain?
A floodplain is an area of land adjacent to a watercourse which experiences flooding during high flow periods because of, for example, high rainfall or snow melt runoff events. When left in a natural state, floodplain systems store and dampen floods. Natural floodplains can add to our quality of life by providing open space, habitat for wildlife, fertile land for agriculture, and opportunities for walking, fishing, hiking and biking. However, if floodplains are not left in a natural state, river flooding can be amplified as a result of increased ice jams, flow restrictions or faster floodplain flow.
What is a floodplain map?
A floodplain map is a document used to identify areas that are at risk of flooding under certain conditions. Floodplain mapping is an important component of land use planning and can help increase public awareness of flood risks.
What are 1-in-20 and 1-in-100-year return period flood events?
These terms refer to the probability of a flood event occurring in any given year.  
The 1-in-20-year return period flood event, referred to as "floodway", is where the most frequent flooding occurs and where the flow of water is the fastest. The floodway is flooded on average once every 20 years. In other words, this floodplain has a 5% chance of flooding in any given year.

The 1-in-100-year return period flood event, referred to as a "floodway fringe", is where the area of land has a 1% chance of flooding in any given year. The floodway fringe is the area between the floodway and the outer limit of the floodway fringe.

Changing weather patterns, erosion and new development affect the flood risk areas and the extent of the floods, including the depth of the water and the duration of the flooding. 
Why were the floodplain maps for the Sackville Rivers updated? 
Cities across Canada are experiencing an increase in extreme weather events, often with heavy rainfall over a short period of time. Extreme events can lead to river flooding as the ground cannot absorb all the rainfall in time. 

The municipality has a responsibility to regulate development in areas prone to frequent flooding to ensure the protection of people and infrastructure. The regulated floodlines of the Sackville River and Little Sackville River were developed in the 1980s and have become outdated over time due to changes in land use and precipitation patterns. Due to these changes, the municipality engaged consultants to conduct a study using current science and technology to update the floodplain maps of this area and reflect those changes. 

The 2017 Sackville Rivers Floodplains Study report confirms that the 1-in-20-year and 1-in-100-year return period floodplain mapping prepared under the 1980s joint Canada-NS Flood Damage Reduction Program is out of date and needs to be amended. The findings of the 2017 study were presented to Regional Council on August 14, 2018.
How are floodplains determined?
The Sackville Rivers Floodplains Study (2017) used the newest technologies and computer modeling along with updated data which did not exist for the previous hydrotechnical studies. The flood risk areas were evaluated using the following information:
•    information collected from phase 1 of the study (2015)
•    existing and planned development
•    historical and recent storm events including rainfall and seasonal weather characteristics
•    topography, water level and flow measurements
•    ice jam analysis
•    current research on climate change impact scenarios
Is development permitted within 1-in-20-year floodplain? 
Within the existing 1-in-20-year floodplain zones (FW-Floodway zone in Bedford, P-3- Floodplain zone in Sackville, FP- Floodplain zone in Beaver Bank/ Hammonds Plain/ Upper Sackville) development is limited to resource, agriculture, forestry, fishing and fishing related, water control and utility structures, open space, recreation and conservation related uses. Development is limited in these existing floodplain zones as new structures or changes to grades can impact the flow of water and increase flooding impacts.
Existing businesses and homes that are not permitted in the existing floodplain zones are consider non-conforming uses and are subject to the protections and restrictions set out in the Halifax Regional Municipal Charter.  Such uses are permitted to continue to exist and may be repaired and maintained provided the structure is not enlarged.  Where there are non-conforming uses in a structure, the structure may not be rebuilt or repaired if destroyed or damaged by fire or otherwise to the extent of more than seventy-five percent of the market value of the building above its foundation.  In addition, non-conforming uses may not be recommenced if discontinued for a continuous period of six months. This project is reviewing these existing land use controls and whether or not any changes should be made for the updated (2017) floodplains.   
Does my property insurance include floods? 
Provincial and municipal levels of government do not regulate insurance costs or coverage. Please check with your individual insurance provider for information on coverage options.  Suggested question to ask your insurance provider: Does my insurance cover water, septic or sewer back-ups, flooding from an overflow of a river, the accumulation of water from a heavy rainfall and extreme storms, and other damage if my property is within a designated floodplain?
How does living in a floodplain affect my property value? 
Overall, there is no clear indication that loss of property value will result from disclosure of a floodplain map. It is more likely that the value of a home is impacted by recent flood events rather than the possibility of future flood events.
How can I prepare for a potential flood? 
There are several websites, including FloodSmart Canada, and online documents such as Floods: How to Prepare  and Floods: Knowing the risks. Suggestions range from not storing valuables in the basement, watertight doors and windows, elevating utilities, basement infill and installation of flood openings, wet flood proofing to sandbag dykes or temporary walls.
How long will it take for the new floodplain zones to be established?
The updated documents are targeted to be presented to Regional Council for approval in winter 2020. The process will include public consultation, policy review, recommendations from the North West Planning Advisory Committee, the Regional Watersheds Advisory Board, the North West Community Council, and approval by Regional Council. If approved by Regional Council, the updated documents will also be reviewed by the provincial government.
Do other areas across the municipality face similar issues?
Yes, however, no other rivers in the Halifax Regional Municipality were designated in the 1980 Federal Flood Reduction Program. The Sackville Rivers experienced and still experience frequent flooding. This was a concern in 1980 because of the amount of development occurring at the time. 
Are other cities facing the same problem?
Yes. Many cities in Canada and around the world are facing the same challenges. Changing weather patterns, erosion and new development can affect the flood risk areas and controls on new development are often implemented whenever financial, safety and environmental impacts are a concern.
 
What are the current plans for flood mitigation? 
The municipality is in the process of assessing what can be done to help with flood mitigation, including investigating potential funding sources and researching flood preparedness.

The Sackville Rivers Floodplains Study (2017) focused on estimating potential flooding during extreme rainfall events. The report includes recommendations for flood mitigation that focus on the protection of natural buffer areas that dampen floods, and enhancing or restoring natural vegetated areas in the floodplain. This can increase the potential for infiltration of water into the ground and restore a more natural hydrologic setting to the area.

What will the municipality do to help the land owners in the 1-in-20-year floodplain?
The municipality is currently investigating options for flood mitigation. 

In the short term, risks of flood damage can be reduced by following some simple measures, as described in the resources listed below.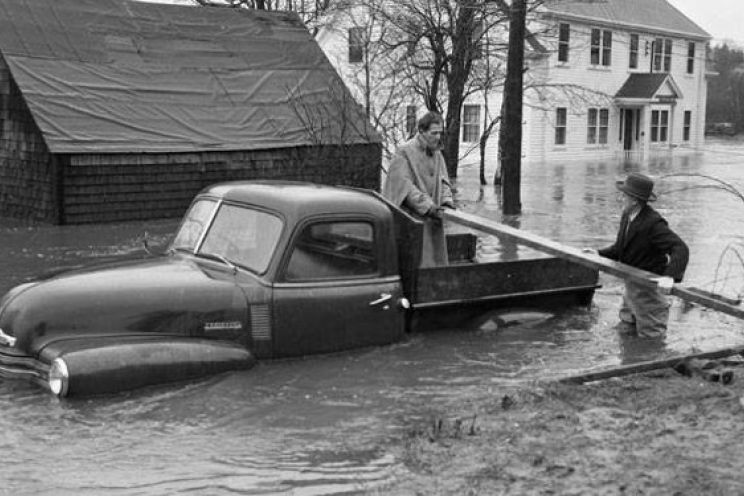 Union Street Flooding, Bedford, 1956
Photo courtesy of Chronicle Herald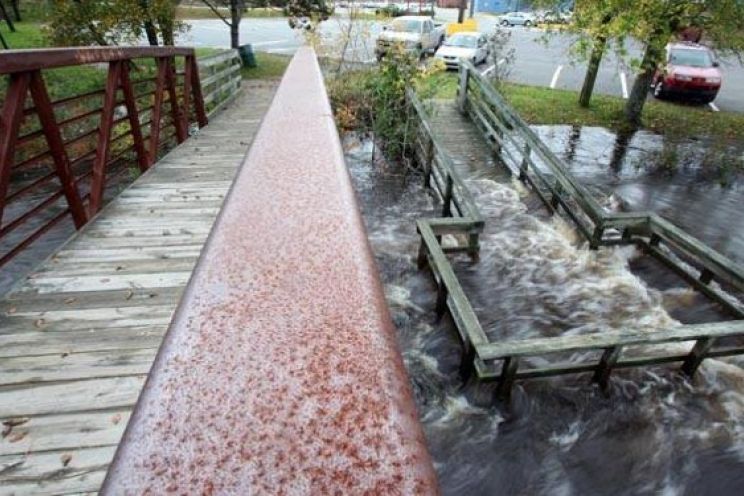 Little Sackville River in Bedford overflows
Photo courtesy of Eric Wynne, Chronicle Herald, Oct 23 2011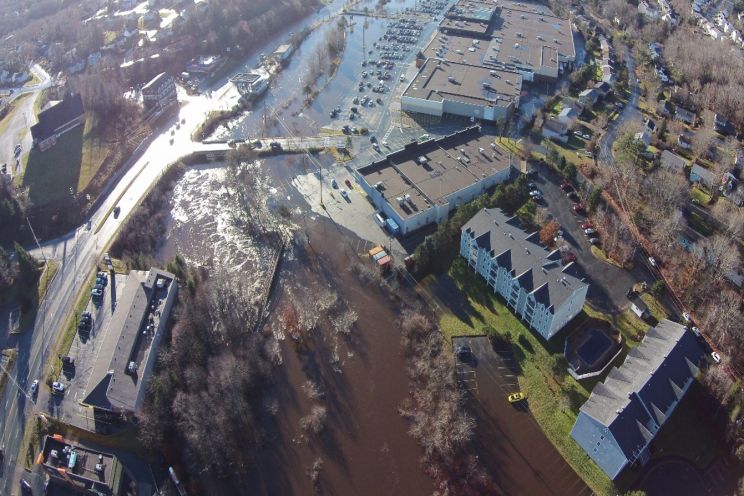 Ariel Shot over Bedford Place Mall, Dec 2014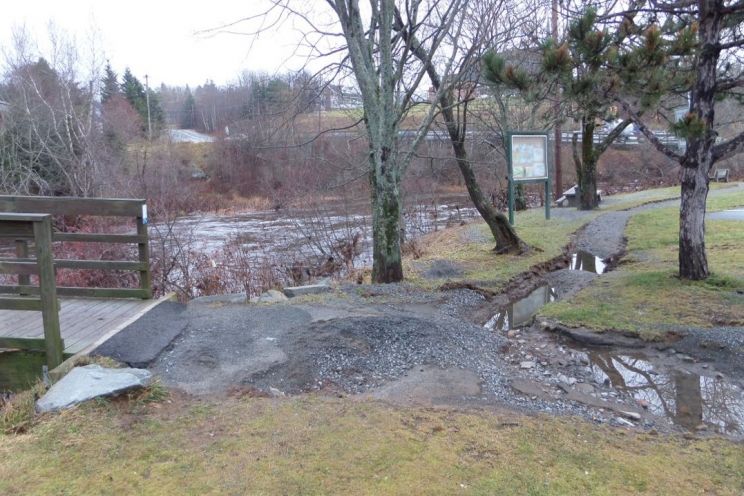 Bedford Sackville Greenway Trail Erosion, Dec 2014
Photo courtesy of CBCL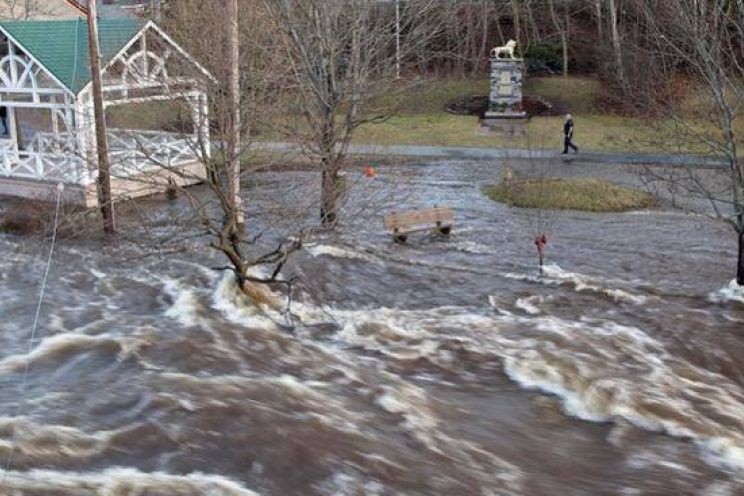 Fish Hatchery Park, April 2015
Photo courtesy of Chronicle Herald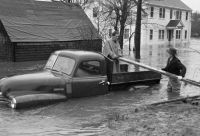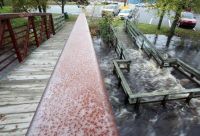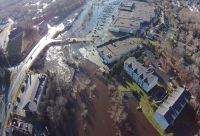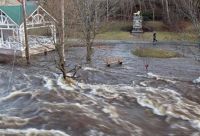 Additional Floodplain Regulation and Resources
Federal Resources
Provincial Resources
NS Government Flood Information
What to do if Your Property Floods
The Province of Nova Scotia include flood risk in the Statements of Provincial Interest. The flood risk statement applies to all flood risk areas that are designated under the Canada-Nova Scotia Flood Damage Reduction Program. The Sackville and Little Sackville Rivers are included in the program. The goal of the statement of interest for flood risk is to protect public safety and property and to reduce the requirement for flood control works and flood damage restoration in floodplain.