Working together to develop a shared vision for a great street in Halifax
Spring Garden Road is one of the region's busiest pedestrian shopping streets and a major corridor for Halifax Transit. Anchored by the popular Halifax Central Library at one end and the spectacular Halifax Public Gardens at the other this area could benefit from street and sidewalk improvements. Stemming from the Halifax Economic Strategy, Council approved two priority streetscape projects to signal their commitment to the downtown core with meaningful investment. Argyle/ Grafton was completed in 2017 and Spring Garden Road was approved as the second project. The Integrated Mobility Plan approved in December 2017 underscores the need to take a "Complete Streets" approach which considers how streets function as places as well as a transportation links, and aims to improve comfort and safety, particularly for pedestrians, bicyclists and transit users.
Update - March 2021
The Spring Garden Road Streetscaping project has hit a significant milestone with the tender release for construction. The tender is up now and closes on March 30, 2021. 
November 2020 - One-way Changes 
Construction of a new traffic signal at Sackville Street and Dresden Row has been completed.

To improve traffic circulation in the area and increase loading and parking space on the side streets, parts of Dresden Row and Birmingham Street are becoming one-way. Dresden Row will be northbound, between Clyde Street and Artillery Place, but will remain two-way between Artillery Place and Sackville Street. Birmingham Street will be southbound between Clyde Street and Artillery Place. These changes came into effect Tuesday, Dec. 1.

View an information handout showing the changes coming to the intersections and the one way streets.

Accompanying these one-way changes are a temporary pilot project at the irregular intersection of Artillery Place, Queen Street, and Birmingham Street. This project will test out a new intersection design to improve the safety of this intersection, and will be in place the week of November 30. View the design.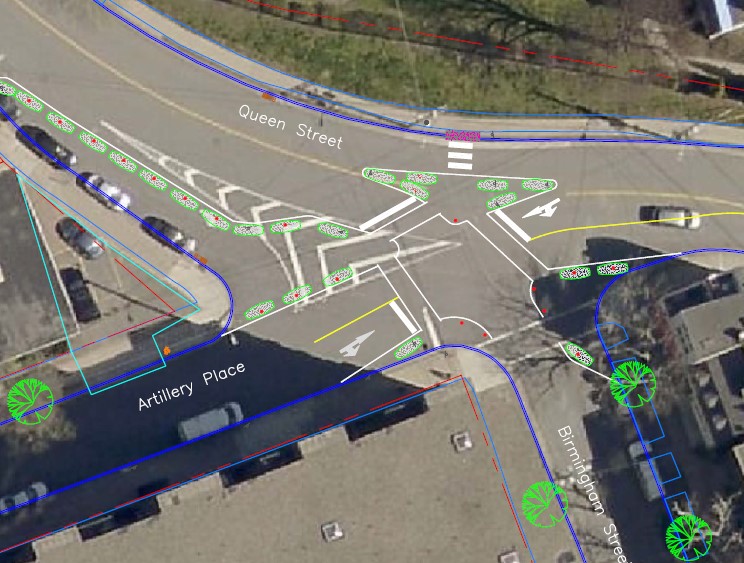 Learn more about this and other Street Improvement Pilot projects in the municipality.  
Want to check out the final SGR design? View the online photo gallery or video.
For up-to-date project information and all documentation head to ShapeYourCity.