Construction  Update - Phase 1 Continued Bayers Road - (Between Vaughan and Connaught Avenues) - April 23, 2021
Road construction will take place on Bayers Road, between Vaughan and Connaught avenues, beginning Monday, April 26, 2021. 
 
Crews will be on site weekdays from 7 a.m. to 6 p.m. Lane drops will be in place while work is underway. This work is expected to continue until the end of July 2021. 
This work is required as part of phase 1 of the Bayers Road Transit Priority Corridor project, which involves the widening of this section of Bayers Road, to add dedicated bus lanes in both directions. Once complete, the dedicated bus lanes will allow residents to travel more conveniently and efficiently through this corridor. 

This project is a key component of Halifax Transit's Moving Forward Together Plan and the Integrated Mobility Plan, which recommend investment in transit lanes for the Bayers Road corridor, and will give priority to buses over general traffic, improve transit reliability and ultimately encourage more people to use transit.
In addition to regular public service announcements, general project construction updates will be posted to this page as required. Your patience is appreciated while this work is completed.
For details, read the staff report.

Questions?  
Construction inquiries - Manuel Cierra, Construction Services or call 311
Overall project inquires - Abdullah Mofarrah, P.Eng, Project Manager, Project Planning & Design or call 311
 
Frequently Asked Questions
Q: Why is this project necessary?

Traffic congestion on Bayers Road has significant impacts on Halifax Transit and reduces the ability to provide a high quality, reliable service to residents. Since the current road is too narrow to accommodate the desired transportation vision included in the Integrated Mobility Program (IMP) and the Moving Forward Together Plan (MFTP), roadway widening is required to add dedicated bus lanes.

Q: How will this project improve things?

Bus lanes will allow buses to move freely through congested traffic conditions, improving transit travel time, reliability, and allowing more people to travel more conveniently and efficiently.

Q: How will this project impact vehicle traffic?

The loss of one outbound traffic lane on Bayers Road between Connaught Avenue and Windsor Street may increase traffic congestion during peak periods; however, the remainder of the Bayers Road corridor will not see a reduction in traffic lanes and traffic congestion is expected to remain similar to current conditions. The removal of buses from general purpose traffic lanes will have a benefit to traffic flow. New turn restrictions will prohibit vehicles from turning right onto George Dauphinee Avenue and MicMac Street from Bayers Road.

Q: How will this project affect pedestrians and cyclists?

The addition of a multi-use path on the south side of Bayers Road between Romans Avenue and George Dauphinee Avenue will provide a significantly improved pedestrian and cycling experience. 

Q: How will on-street parking be impacted by the project?

Dedicated bus lanes require that on-street parking is prohibited in order to allow buses unimpeded use of the lanes. The time periods during which dedicated bus lanes are in effect can vary, and a final decision has not yet been made on the time period during which the lanes on Bayers Road will be operational.

Q: When will Phase 2 begin? 

The construction timeline for Phase 2 from Connaught Avenue to Windsor Street has yet to be determined.

Q: What impacts will construction have on the area?

This project is expected to cause disruption for local residents, and the project team continues to coordinate with utilities and other stakeholders to develop a plan that will minimize the impacts as much as possible.

Q: Is the municipality purchasing land as part of this project?

Yes, since the current road right of way is too narrow to accommodate the planned bus lanes, roadway widening and property acquisition in some areas will be required. Municipal staff have been in contact with affected property owners since summer 2019.
______________________________________________________________________________________________________________________
OPEN HOUSE:
Thanks to everyone who attended the open house on Wednesday, January 29, 2020.  
Copies of the information posters used at the Bayers Road meeting can be found on Shape Your City Halifax and  below: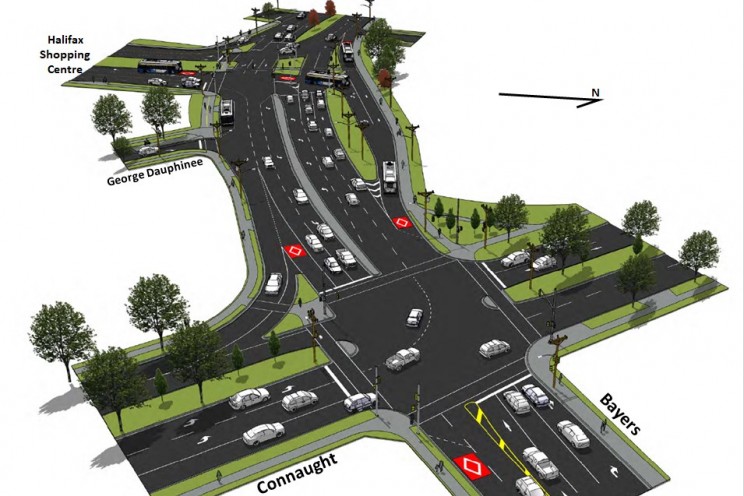 Bayers Road at Connaught Avenue Rendering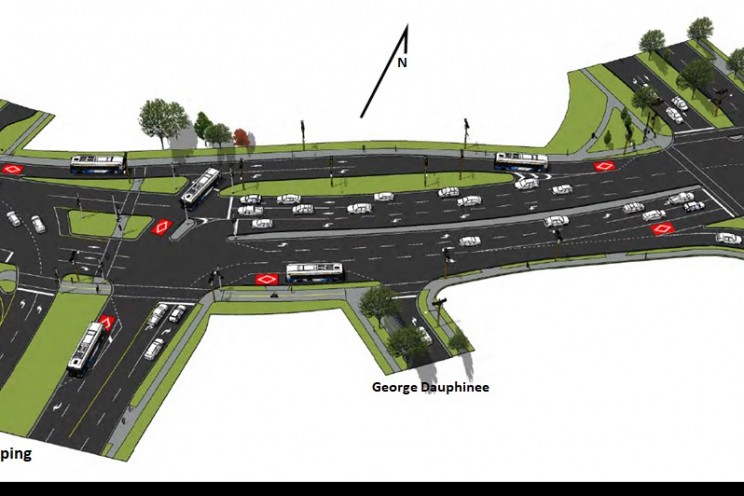 Bayers Road at Connaught Avenue and Halifax Shopping Centre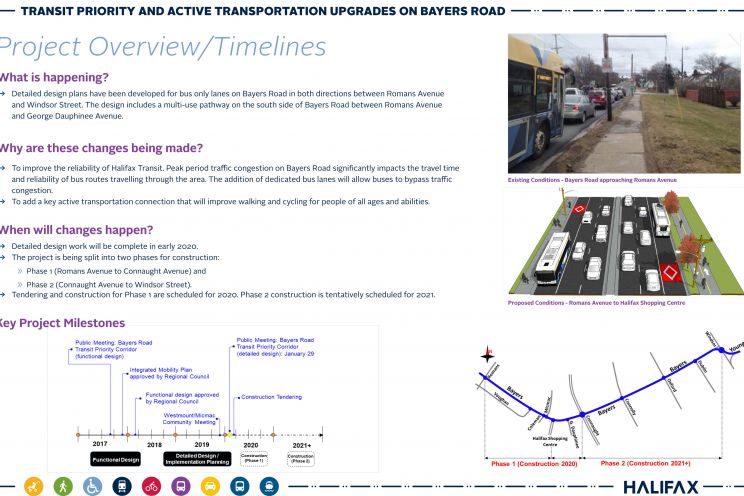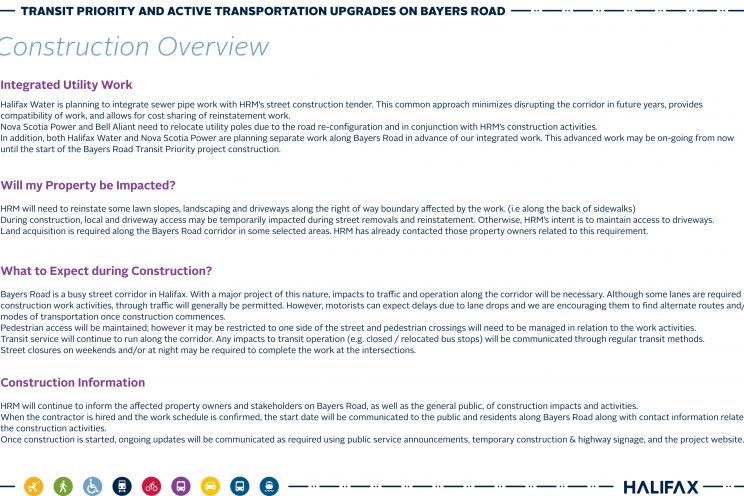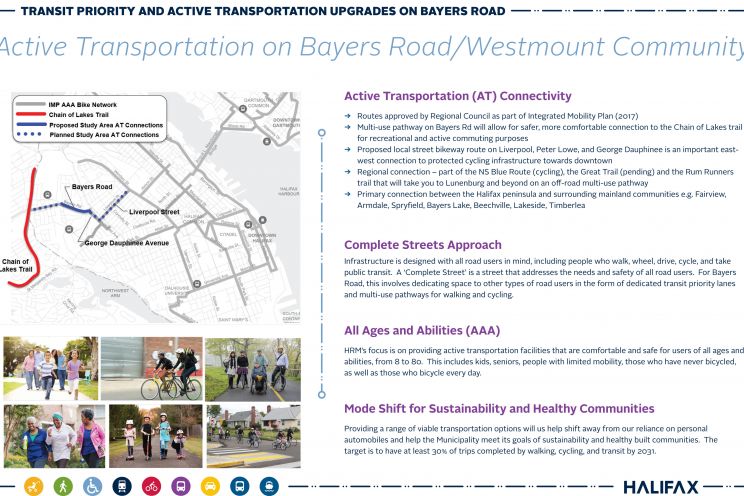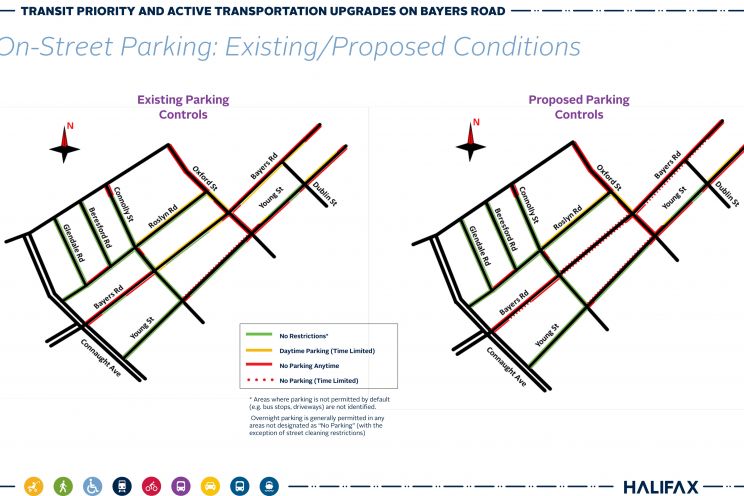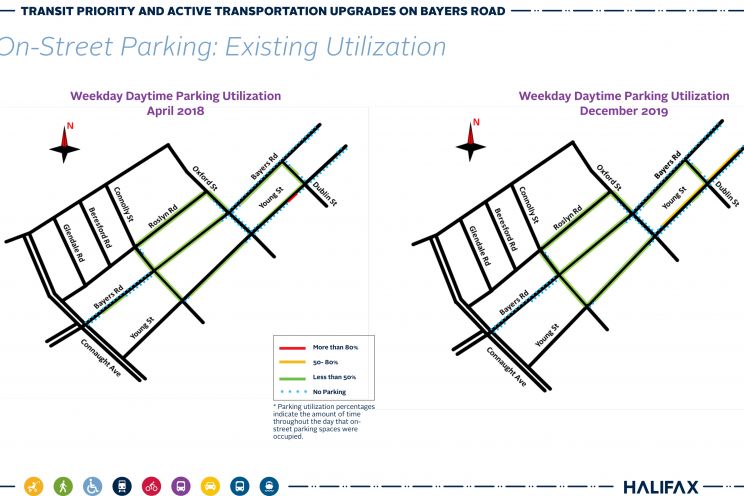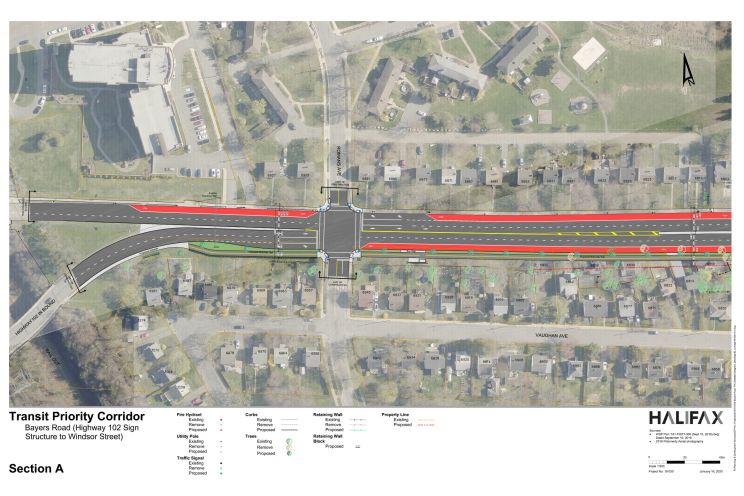 Bayers Road Detailed Design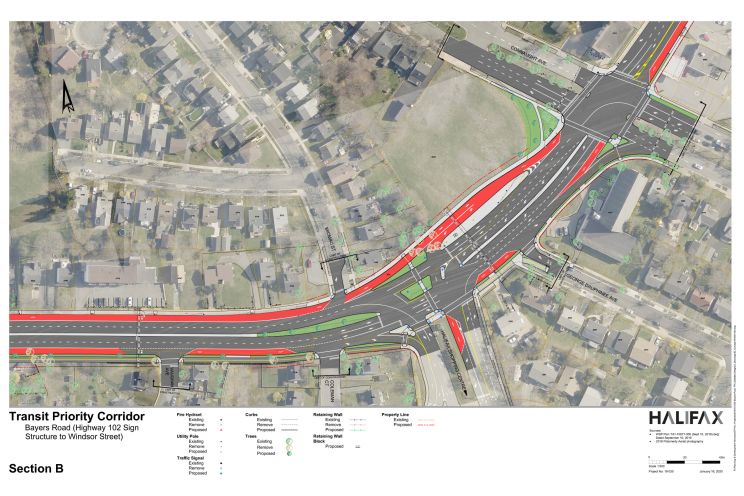 Bayers Road Detailed Design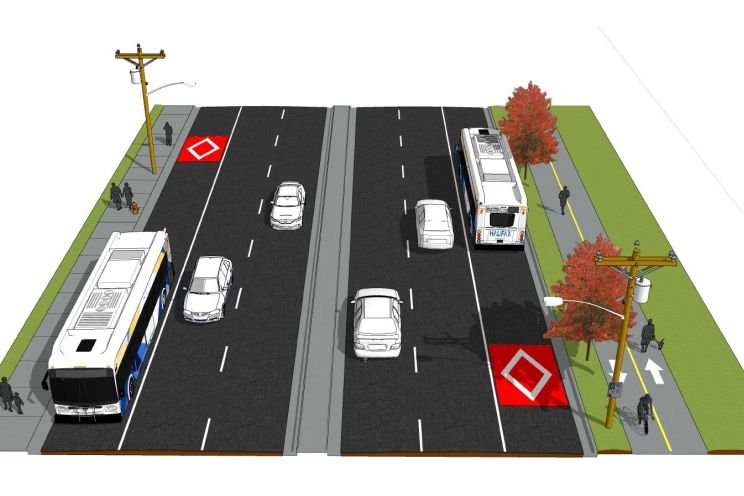 Romans Ave. to Halifax Shopping Centre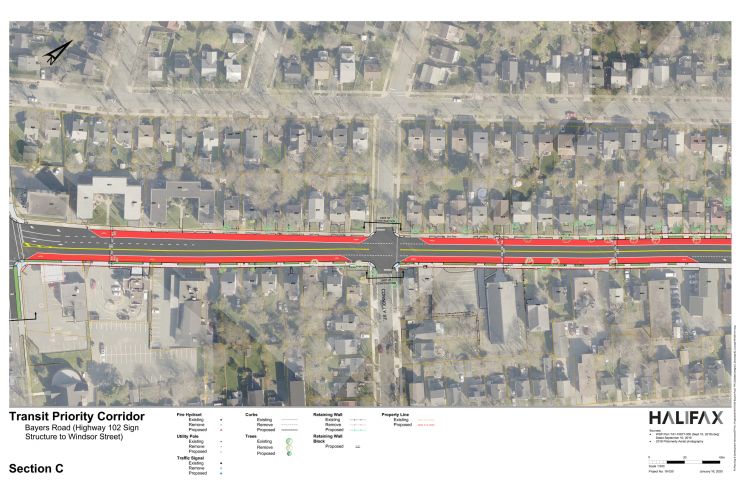 Bayers Road Detailed Design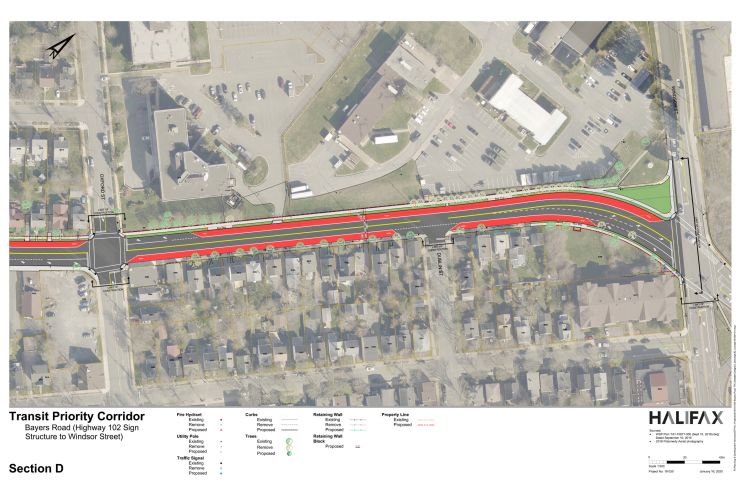 Bayers Road Detailed Design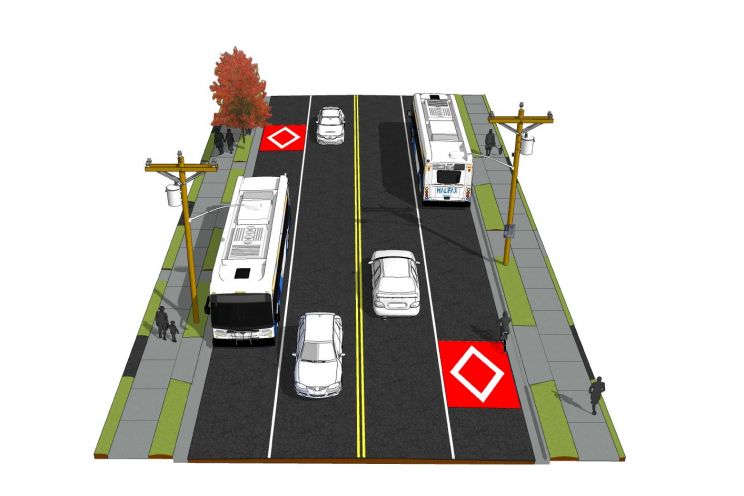 Connaught Ave. to Windsor St.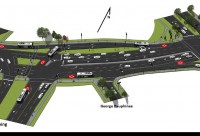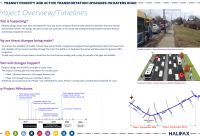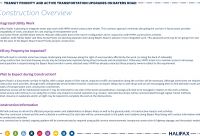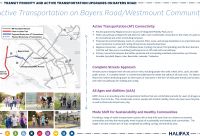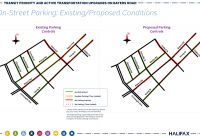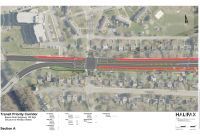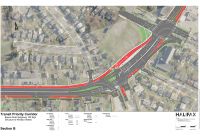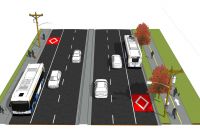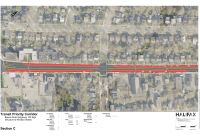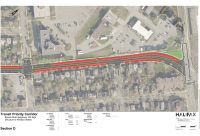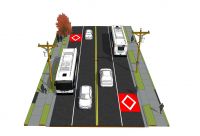 RESIDENTS MEETING - GEORGE DAUPHINEE AVENUE, MICMAC STREET & SURROUNDING AREAS
The Bayers Road design includes proposed access changes that will restrict right turns from Bayers Road to George Dauphinee Avenue and Micmac Street. Municipal staff held a community meeting on Thursday, December 12, 2019 at the Anglican Church of Apostles to discuss these changes and to solicit feedback from residents on how they would be impacted. Invitations for the meeting were sent by mail to residents of the Westmount subdivision and of Micmac Street and the adjacent streets. Approximately 100 residents attended the meeting, which ran from 6:30 until 9:45 p.m. and included a summary presentation followed by a question and answer period.
View the letter to residents that was sent in January 2020 which contains an overview of "what we heard" at the meeting as well as responses to common concerns and frequently asked questions. 
Based on the feedback received from residents, staff worked with our design consultant to explore possible design alternatives that could potentially avoid the proposed turn restrictions while still achieving the project objectives.  Based on the results of this additional review, an acceptable solution was not identified. View the follow-up letter to residents. 
Related Files
Questions?
Contact Mike Connors (Transportation Engineer, HRM Transportation Planning) .